Great Barrier Reef! 52 years after its first run on television (a number familiar to many DC fans), DC Universe is proud to present the 'Aquaman' animated series remastered in high definition for the very first time. Originally paired with 'The New Adventures of Superman,' these two series comprised 'The Superman/Aquaman Hour of Adventure' back in 1967. If you've not yet taken the plunge, here are our top seven reasons to dive right into this animated classic...
THE AQUAPETS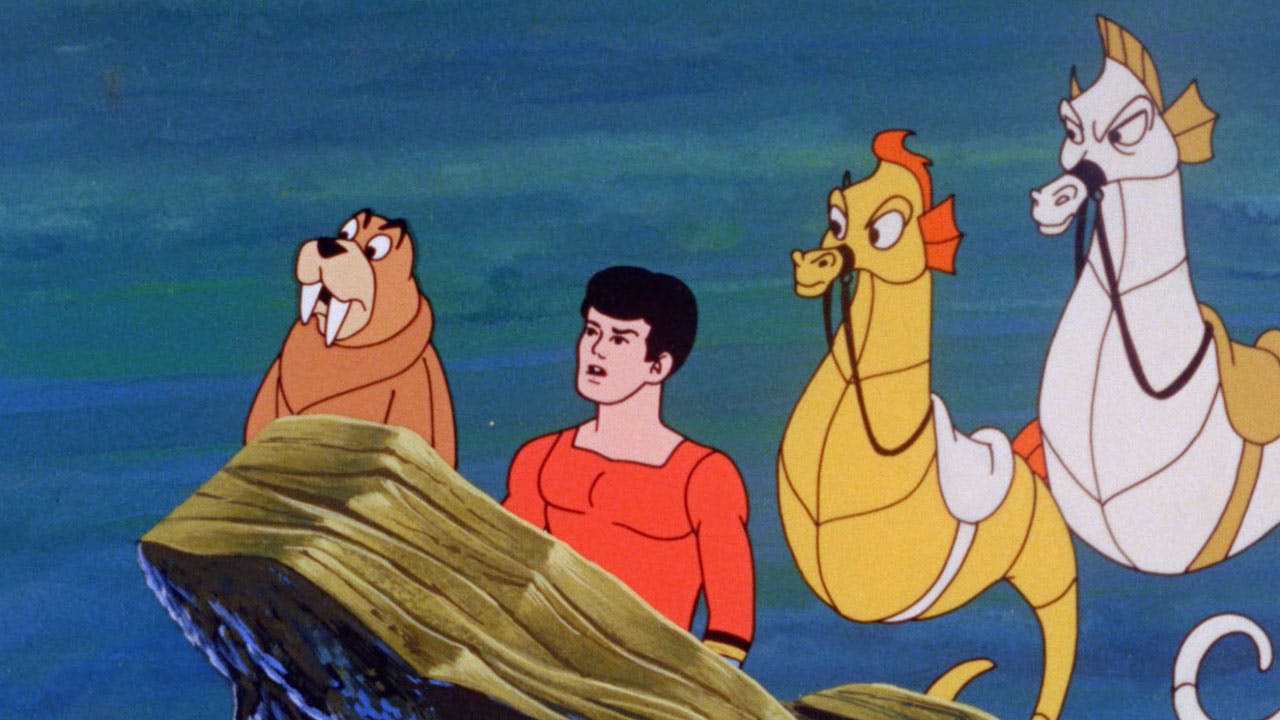 Superman has Krypto, Batman has Ace, and Aquaman has...Tusky. Tusky may look a bit goofier than the faithful hounds of the World's Finest, but a more faithful and lively companion you'll never meet. Closer to a sea dog in behavior than a walrus, Tusky proves throughout the series, time and again, that he truly is Aquaman's Best Friend. Tusky's hijinks with the sea pony Imp provide much of the series' comic relief, kept in check only by Aquaman's own noble steed -- Storm the giant seahorse. Aquaman charges towards danger on Storm like a knight into battle with such valor and purpose that one can be forgiven if they momentarily forget how crazy it looks to ride a giant seahorse. But this show's spirit of casting restraint to the sea is all part of its charm. More than that, it's all comic accurate! Check out early issues of Aquaman's first comic series and you'll see Imp, Storm, and Tusky all right there on the page.
MERA AND AQUALAD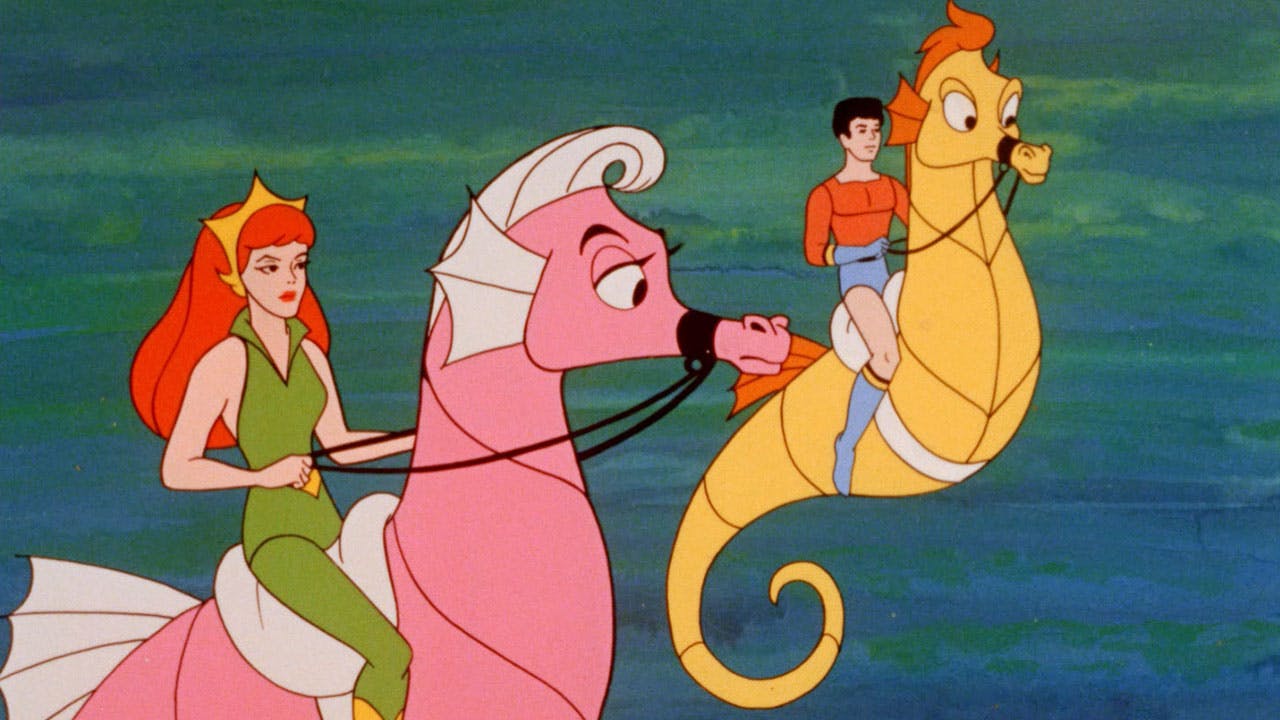 Debuting in 1960 and splitting off to join the Teen Titans in 1966, Aquaman's sidekick Aqualad has spent far less time by his mentor's side than in his own quest to seek independence. But to understand the hero who now calls himself Tempest, one must look back to those simpler times when he and the King of Atlantis worked in tandem. Nowhere will you find a purer expression of the peak of their partnership than in the 1967 'Aquaman' animated series, in which Arthur and Garth protect Atlantis and its waters from all manner of opposing threats.
But as partners go, if you're a modern fan of Aquaman, you're no doubt a fan of Mera, Aquaman's loving wife who, over the years, has grown in power and courage to rival his own. But while Mera has always loved Aquaman as he does her, it took some time for Mera to become the active figure in Arthur's battle against the murky depths of villainy that she is today. There's nothing like watching 'Aquaman' to help you appreciate just how far she's come.
BLACK MANTA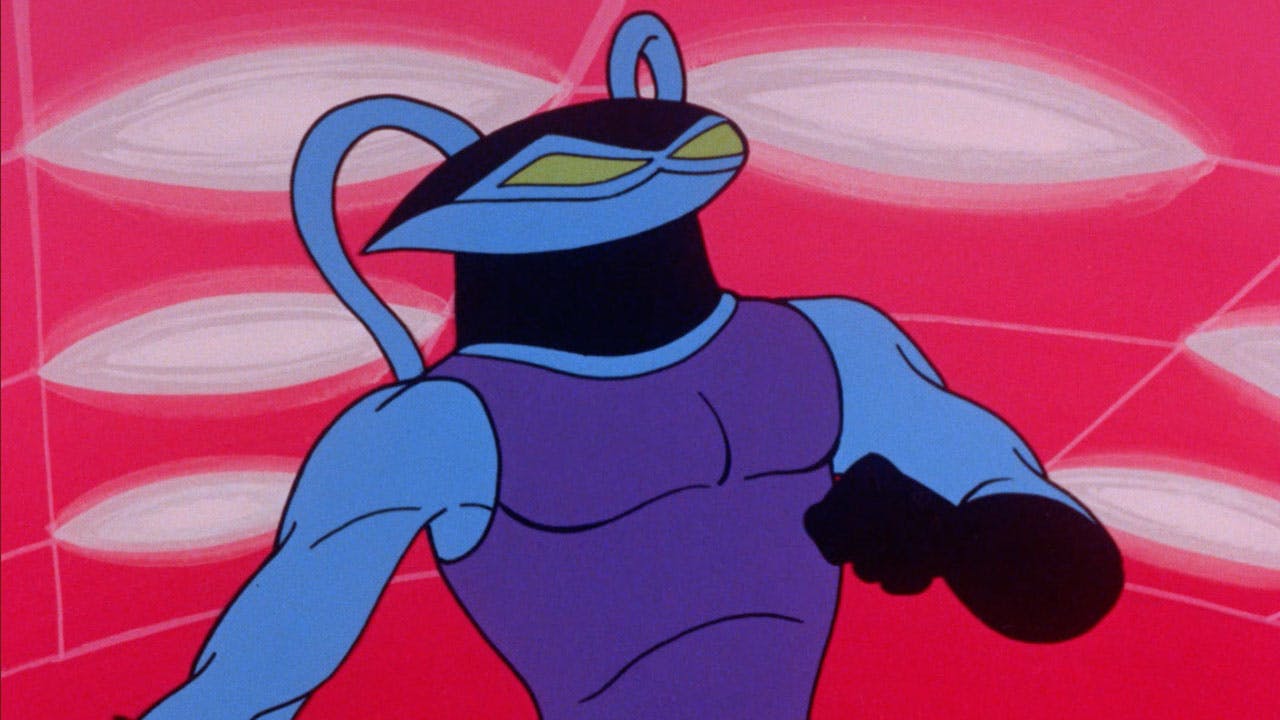 Like many DC Super Heroes, one of the best things about Aquaman is the unique dynamic he shares with his arch-villain. The 1967 'Aquaman' series is where the world got to know Black Manta, with his dark bodysuit and alien saucer-like helmet, complete with hateful, angular lenses. In a cast of secretive Atlanteans, there's no more human presence in Aquaman's undersea life than the fortune-seeking Black Manta — and yet, also none who appears more inhuman. Black Manta's desire to exploit the treasures of the sea for his own gain stand as a metaphor for how humanity as a whole exploits our world's oceans without a thought for the life which teems just below its surface. Super-villains like Joker or Sinestro can only be found in the pages of a comic book. But the avarice and environmental exploitation of Black Manta is all too real, and we can learn a thing or two from Aquaman by the way he always swims up to look the dark plunderer's helmet in its dead eyes.
TED KNIGHT, 'SUPER FRIENDS' NARRATOR!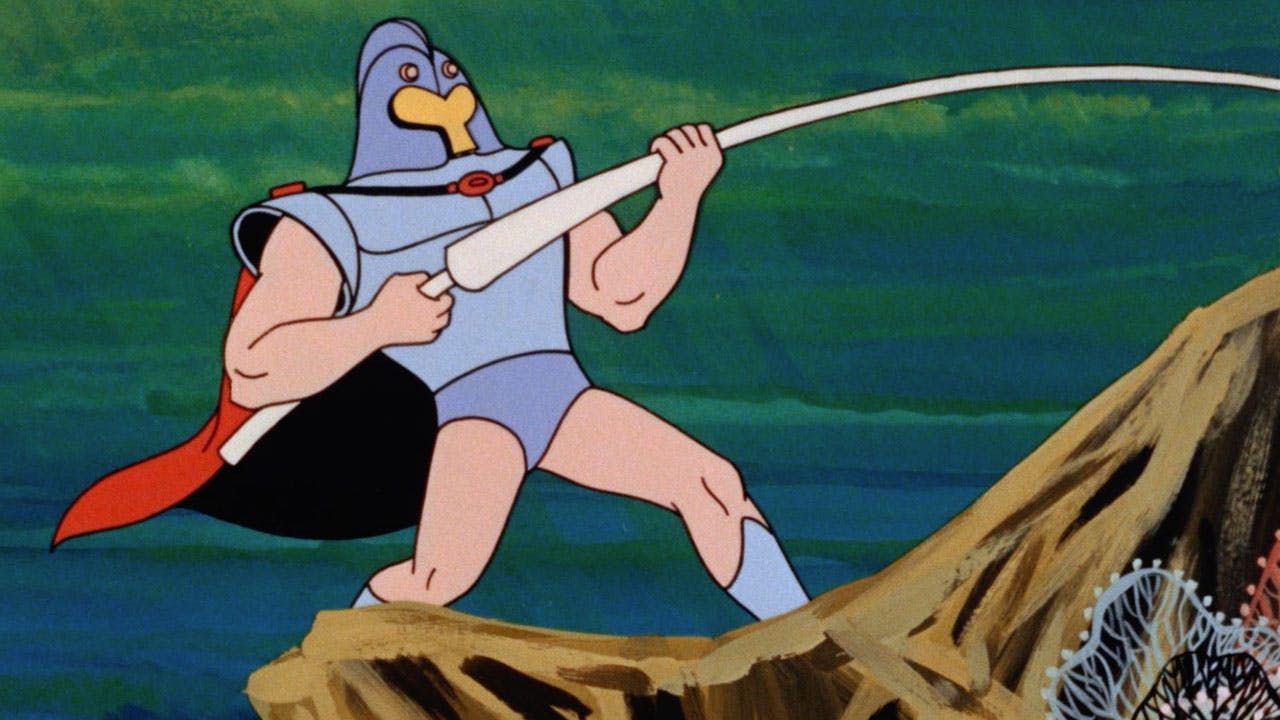 In 'Aquaman,' the blustering, arrogant, and self-assured voice of Black Manta always seems to express that fortune is just around the corner, and the nuisance of Aquaman and his compatriots will be no obstacle to his inevitable rise to glory. That talent comes to us courtesy of actor Ted Knight, whose name is well-known to fans of 'The Mary Tyler Moore Show' and 'Caddyshack.' (And not to be confused with the Golden Age Starman of the same name… though the coincidence is poked fun at in a blink-and-you'll-miss-it joke in 'Batman: The Brave and the Bold.') But the talented Ted Knight isn't just Black Manta — he was also the series' other two recurring villains, the Fisherman and Torpedoman. He was also Imp, Storm, and Tusky. And he was the series' narrator, providing tension (just listen to the way he pronounces Aquaman's name -- "Aaack-wa-man") and important scene-setting context throughout te sea king's undersea adventures. Ted Knight would continue in this role for the start of Filmation's next major DC project… the 'Super Friends' cartoon series. If you can hear the phrase "MEANWHILE, AT THE HALL OF JUSTICE" in your head as you read it like we do, that's Ted Knight's woody intonations you're hearing. (Or, in later seasons, hearing imitated.)
TRAVEL TO THE OUTER LIMITS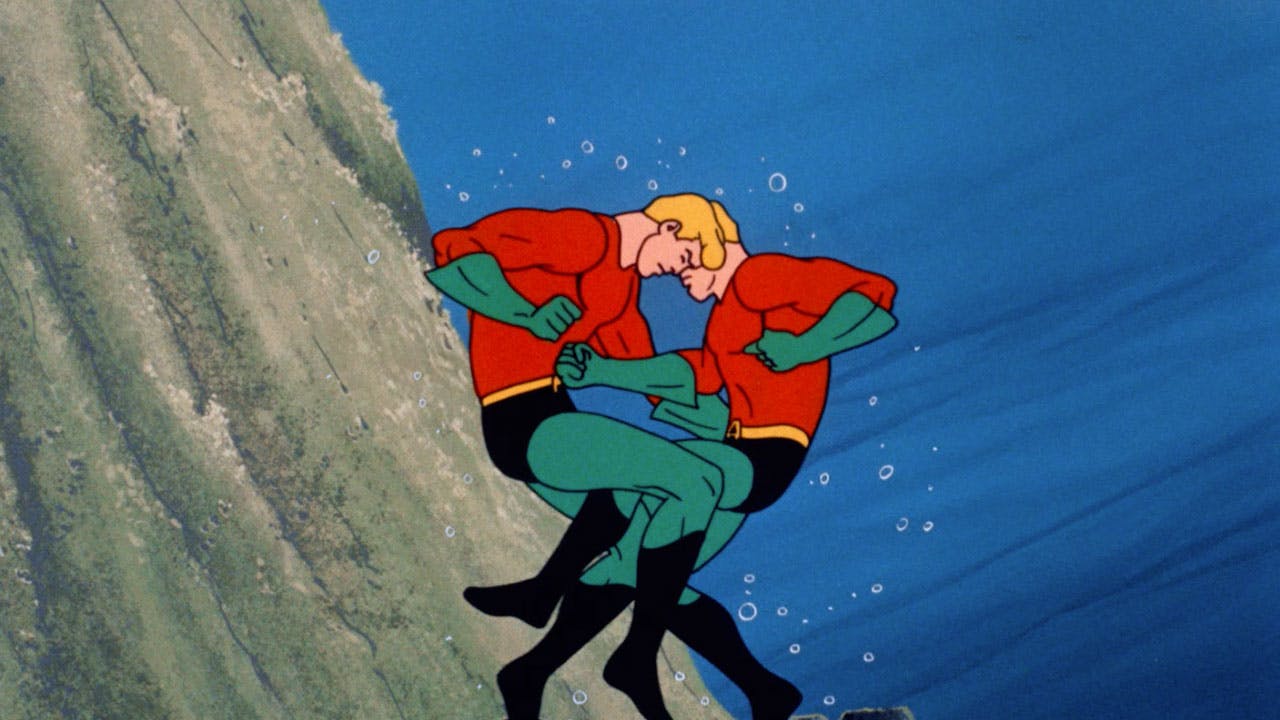 We will control the horizontal. We will control the vertical. We will control… the nautical? Fans of classic '60s science fiction will not want to miss one episode of 'Aquaman' in particular. In "The Mirror-Man from Planet Imago," 'The Outer Limits' narrator Vic Perrin appears for an eerie chapter about a shapeshifter from a distant world who assumes the form of Aquaman himself to take control of his life. While this premise is treated with typical 'Aquaman' bombast, it's one which, thanks to Perrin's contributions, can take hold in the viewer's mind, and force them to reckon with the idea of being replaced in one's own life. Those interested can follow Vic Perrin through the DC Universe into 'Challenge of the Super Friends,' where he joins the Legion of Doom to voice the despotic Sinestro.
SILVER AGE SUPER STARS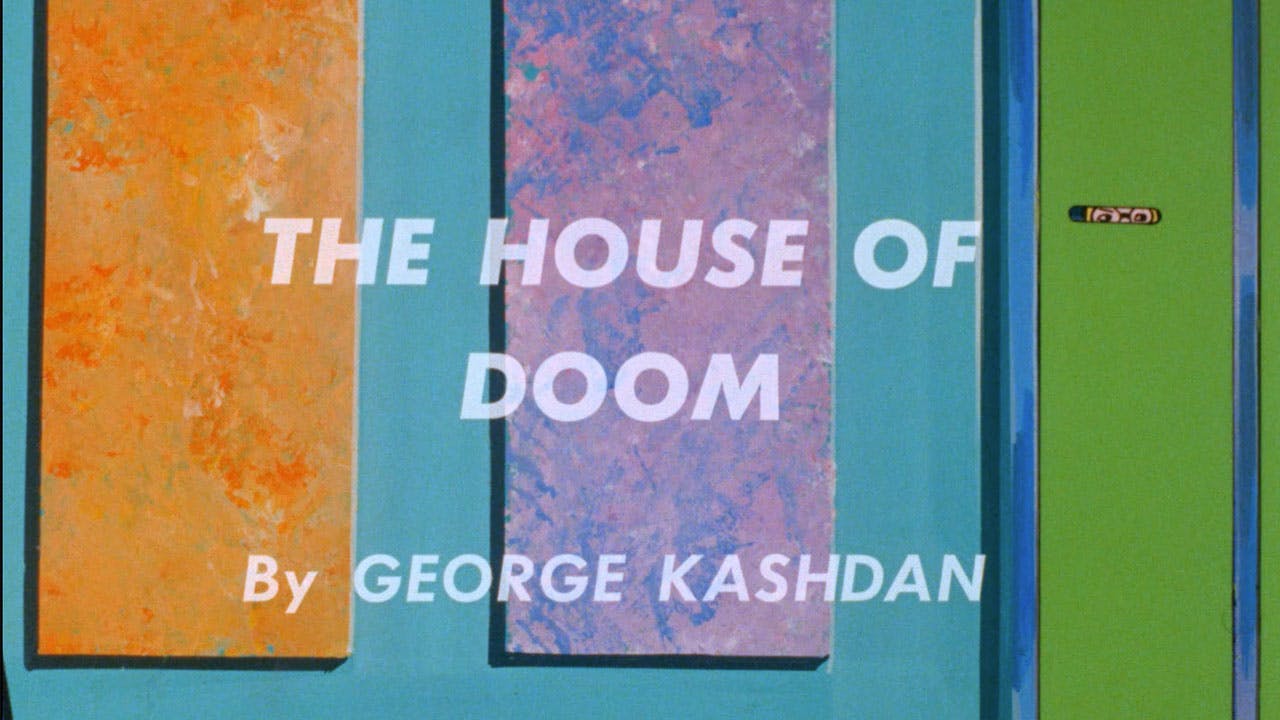 Saturday morning cartoons of the 1960s and beyond were well-known for the liberties they took with their source material, as elements which were deemed unattractive or too confusing for television were chipped away until they took an entirely new shape. But quite surprisingly, the 'Aquaman' series of the 1960s hews particularly close to the comics. That's in no small part due to the efforts of the show's writers Bob Haney and George Kashdan, who collaborated on many of DC's Silver Age titles as writer and editor. In fact, it was their work which formed much of Aquaman's world as we know it today, creating the characters of Black Manta, Tula (AKA Aquagirl), Vulko, and Ocean Master during his tenure, as well as the Teen Titans themselves, where Aqualad spent much of his time. We can also thank Bob Haney for the co-creation of the DC Universe favorite 'Doom Patrol,' and the original 'Super-Sons' in late issues of 'World's Finest.' The Silver Age of comics was an era dominated by a few looming giants expressing a boundless creativity in wild abundance, and Haney can be counted among them. 'Aquaman' presents a rare opportunity to see some of the many ideas which have transitioned from page to screen authored and adapted by the original creator himself.
BOO-WOO-WOO-WOO-WOO-WOO-WOO-WOO-WOO!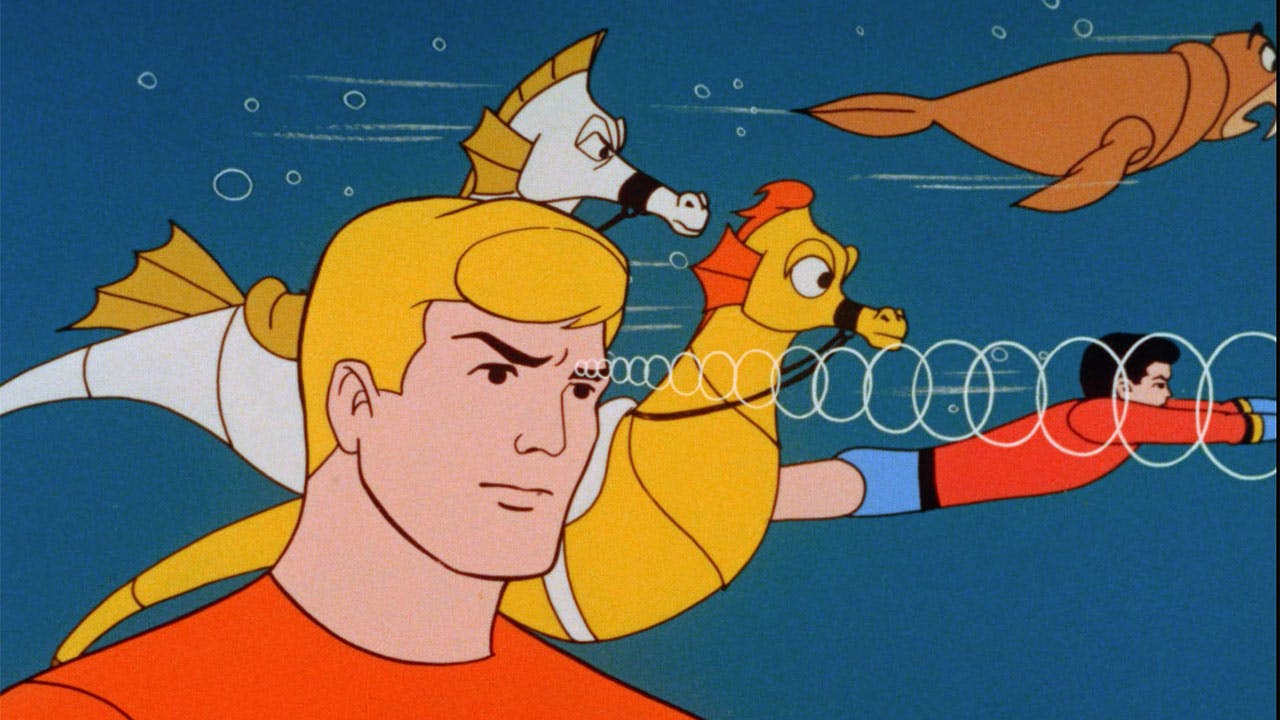 QUICK: When you think about Aquaman, what's the first thing you hear? If you've ever seen a 1960s or 1970s DC animated series before, then it's probably one noise in particular: the haunting telepathic wave that Aquaman uses to summon the denizens of the deep, emitting a pitched echo like a submarine radar through the briny waters over which he holds dominion. Though also used in early cartoons as a sound effect for Green Lantern's ring, there's no mistaking to whom that sound truly belongs. (After all, water is known for its enhanced ability to transmit sound, while none can travel in space.) It's a timbre that carries with it a pure sense of sweeping nostalgia — a sort of real life telepathy that triggers buried memories of watching cartoons with dinner plate eyes, and scarfing bowls of sugary cereal as Aquaman and Aqualad race across the screen on the backs of giant seahorses. For many of us, our love of comic books and superheroes is a way of reconnecting with the humble joys of our own past. And sometimes, nothing can cut quicker and deeper and purer to that warm feeling of youth than a simple soundwave.
Are you a fan of the 'Aquaman' animated series? Let us know in our Community!