There's no denying that there's something… theatrical about the DC Universe. The bold costumes, the high drama, the writing that gives everybody the exact right thing to say at the exact right moment. And when it comes to theater, there's no more intense expression of the form than the musical. So when animation gives the great players upon the stage of DC their voices, it's an irresistible temptation to allow these heroes and villains to break out in song. Don't believe us? Here are some can't miss musical moments in animation throughout the years that will have you clamoring for an encore.
"Say That We're Sweethearts Again"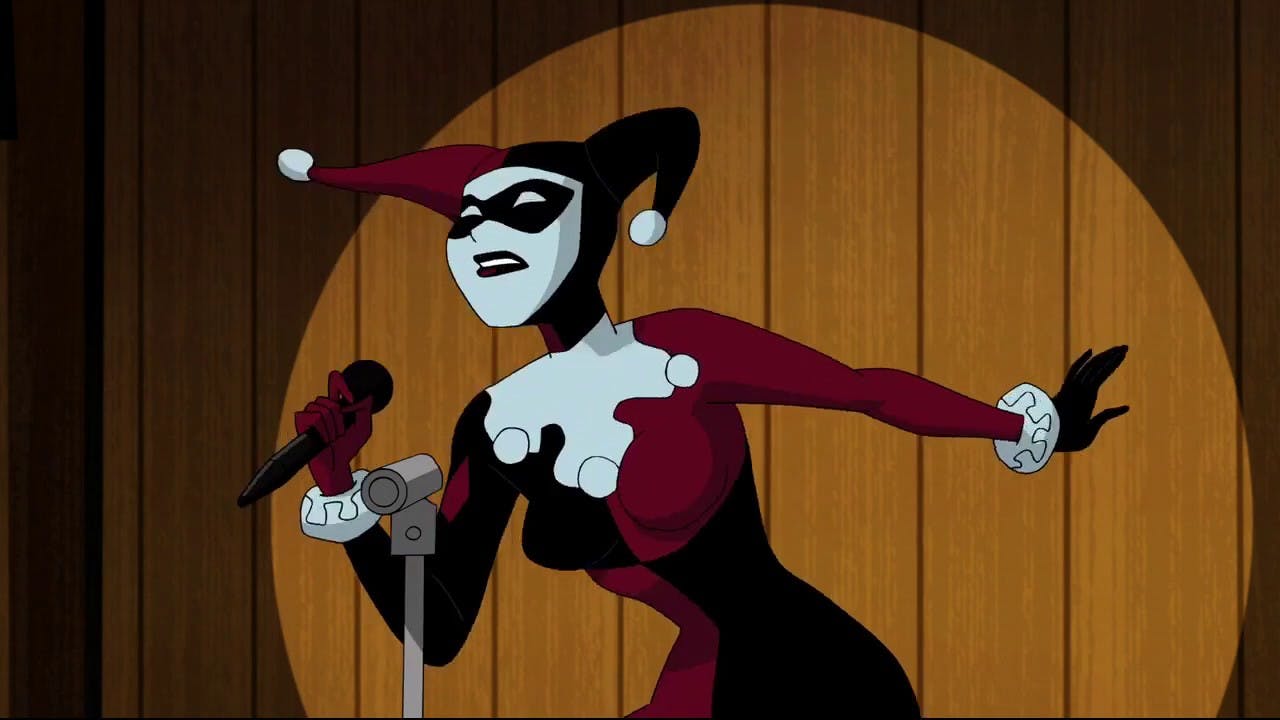 Performer: Arleen Sorkin as Harley Quinn
Episode: Batman: The Animated Series, "Harlequinade"
As 'Batman: The Animated Series' co-creator Paul Dini has said on many occasions, there would be no Harley Quinn without Arleen Sorkin. An old friend of Dini's, the accomplished soap actress provided both inspiration and the signature, original voice of the Queenpin of Crime. So when Harley got her own turn in the spotlight in "Harlequinade," the opportunity to show off Sorkin's musical chops was irresistible. As Robin works behind the scenes to free Batman from capture at a mob-controlled gambling den, the co-conspiring Harley Quinn takes the stage to distract the goons with a darkly humorous cabaret number about her destructive relationship with The Joker. In the days before "Mad Love," it provided a perfectly shot across the bow establishing exactly who Harley Quinn really was.
Key Lyric: "Life used to be so placid, won't you please put back that acid?"
"Doom Patrol Go!"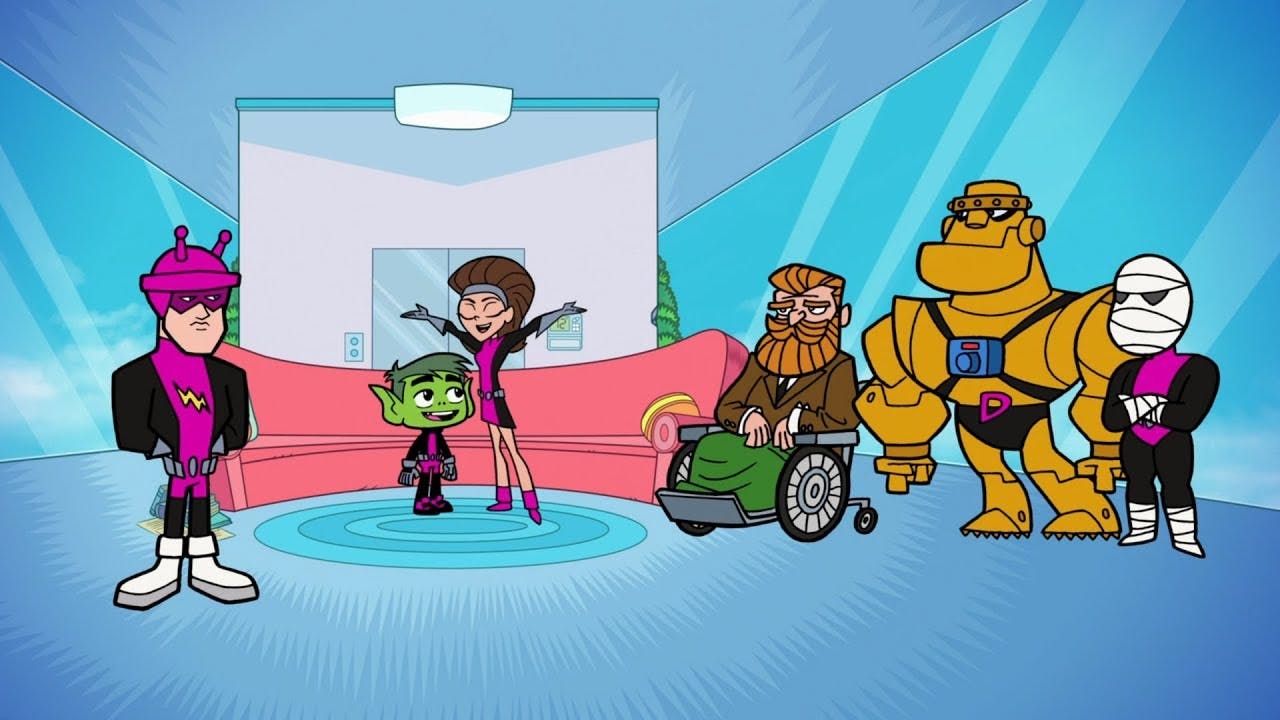 Performer: The Cast of Teen Titans as Doom Patrol
Episode: Young Justice: Outsiders, "Nightmare Monkeys"
After feeling the mode for six years, the triumphant return of 'Young Justice' was the first announced feature to really get us excited about DC Universe. And in typical 'Young Justice' fashion, every new episode brought with it delightful surprises that not even the most experienced DC fans could possibly anticipate. One of the biggest: a surprise cameo in "Nightmare Monkeys" by the entire cast of 'Teen Titans,' performing the roles of Beast Boy's former teammates on the Doom Patrol in a hilarious send-up of the "Teen Titans Go!" animated series. As Beast Boy relives the traumatic memory of losing his family for the second time, the Doom Patrol sings a happy, oblivious song about the inevitability of their deaths in full-blown Puffy AmiYumi style.
Key Lyric: "Not sure what else you could expect when there's 'Doom' right in our name!"
"Grey and Blue"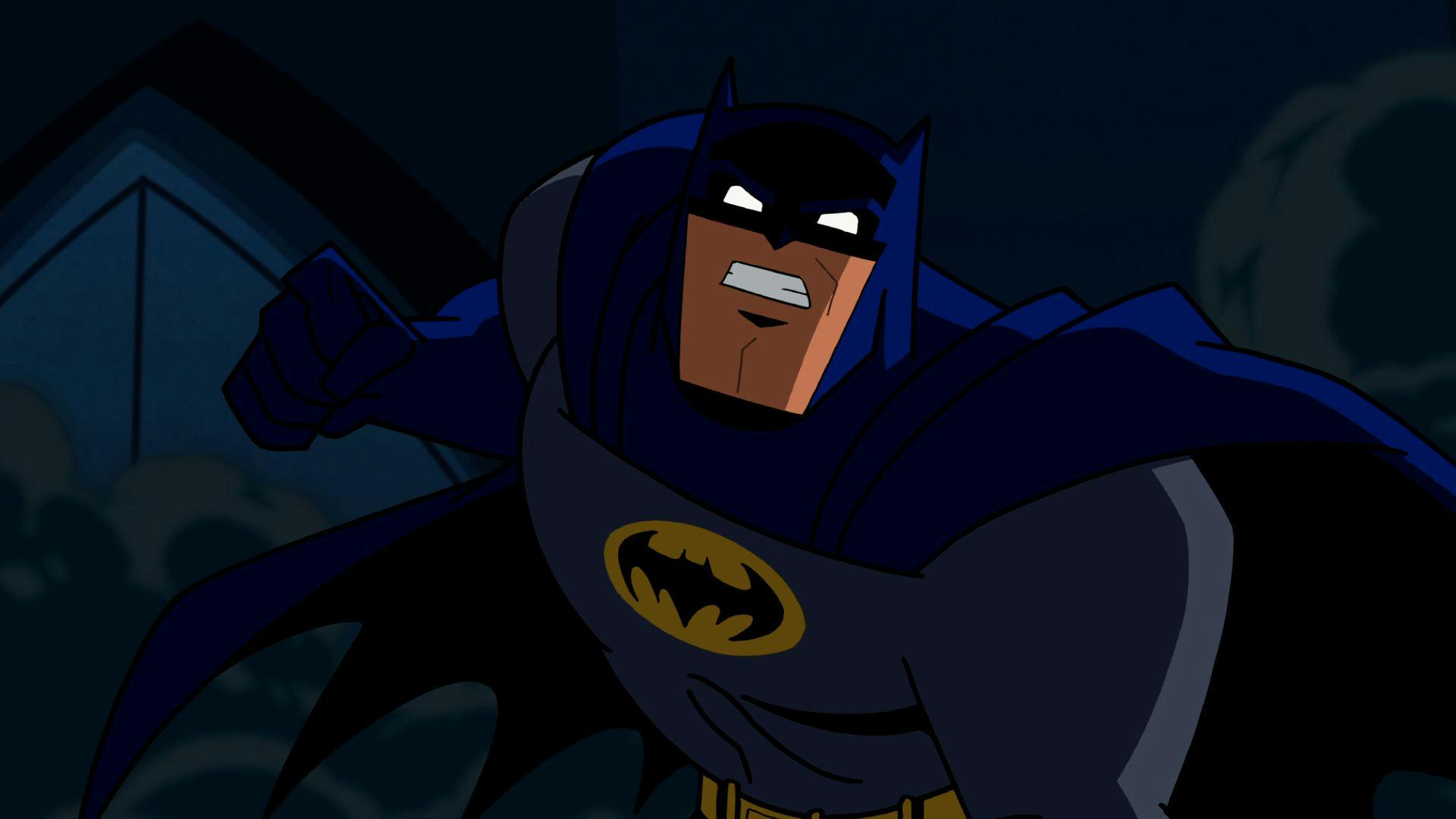 Performer: John DiMaggio as Vigilante
Episode: Batman: The Brave and the Bold, "Night of the Batmen!"
Davy Crockett, John Henry, Casey Jones - all the great folk heroes of the west have ballads the cowboys sing to each other on lonely cattle trails beneath the stars to make the cold nights a little warmer. And as a hero who's been all over this great big world of ours through time and space, Batman should be no exception. So when it comes the decidedly cowboy-flavored Vigilante's turn to team up with the Caped Crusader, he does the Batman justice by composing an appropriate song for their showdown, with a haunting melody reminiscent of "Ghost Riders in the Sky." Batarangs will do the job, but music can be an effective crime fighting tool, as well -- especially when you have weapons hidden in the guitar.
Key Lyric: "He fought the vilest villains, too numerous to list; rendering his verdict with bat-wing covered fists…"
"The Legend of Batman"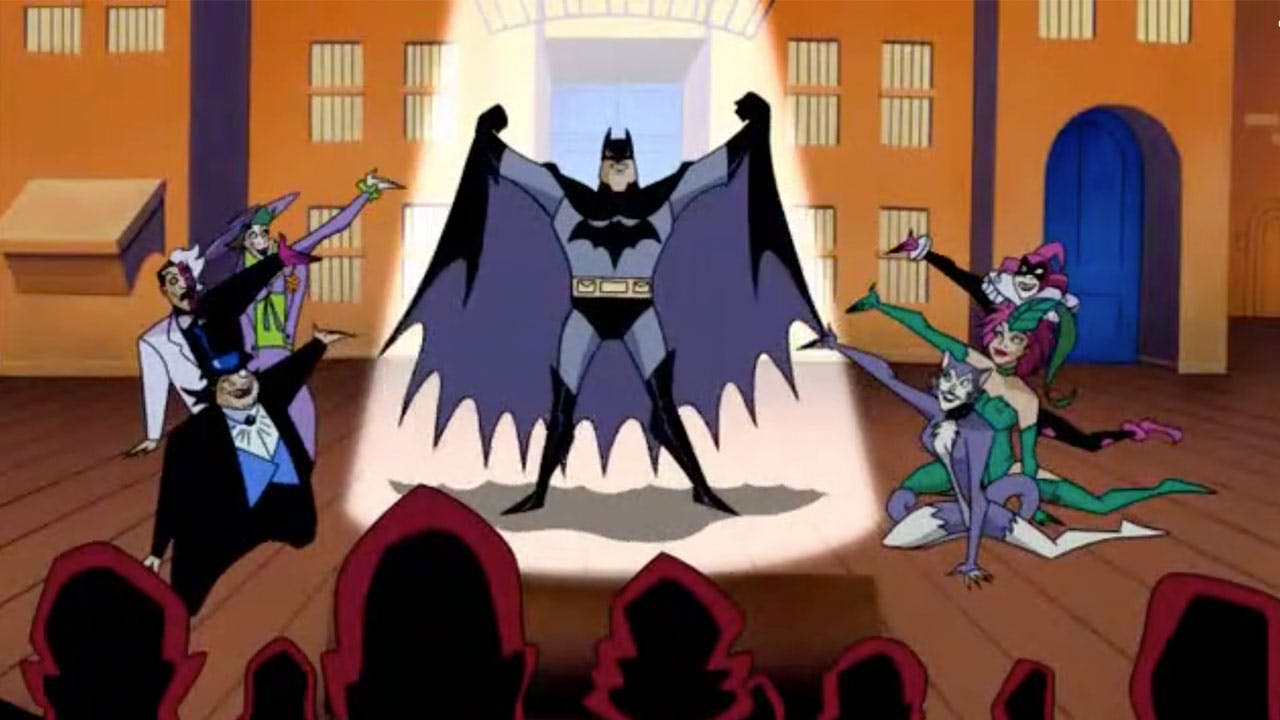 Performer: Kevin Conroy as "Batman"
Episode: Batman Beyond, "Out of the Past"
For many, many Batman fans, Kevin Conroy is THE voice of Batman. From 'Batman: The Animated Series' to the 'Arkham' video games, Conroy's dark tones have formed the voice many of us hear in our heads even as we read the comics. So when Terry McGinnis takes Old Man Bruce to a musical based on his own career for his birthday, the only man who could play the overblown Off-Broadway Batman on stage was Conroy himself, exaggerating his own persona to a dramatic degree for maximum effect. As for Old Bruce, he's not so convinced that this "gift" of Terry's isn't secretly some form of torture paying him back for his tough love on Terry. "It's schway!" Terry insists, in the future vernacular of his time. Bruce's immortal review: "It's schwarbage."
Key Lyric: "I am Gotham's darkest knight, the villains' darkest fright, turn on the signal light!"
"Aquaman's Rousing Song of Heroism!"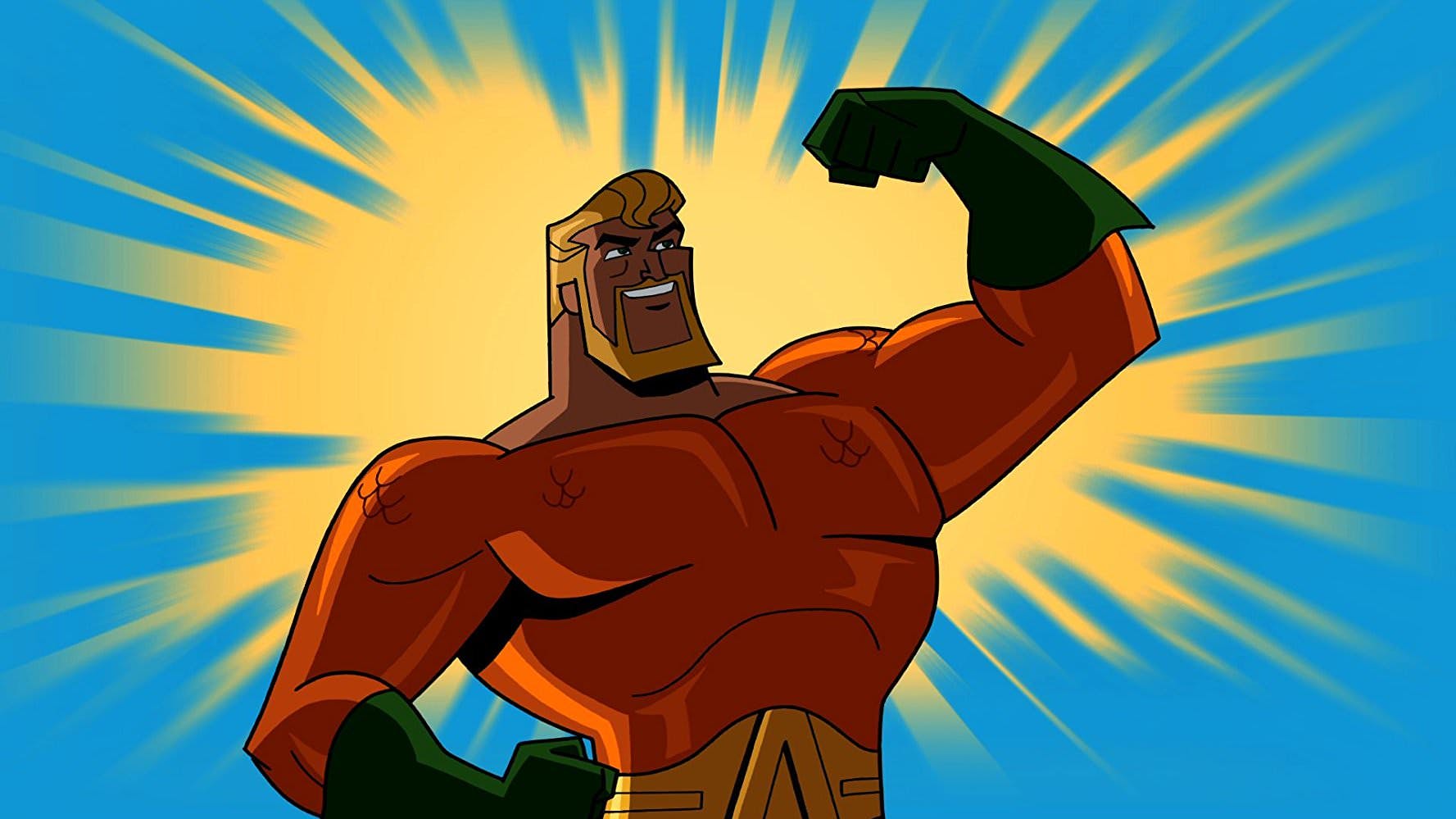 Performer: John DiMaggio as Aquaman
Episode: Batman: The Brave and the Bold, "Powerless!"
With a bombastic, Brian Blessed-like performance as Aquaman which formed brand new, never explored depths for the character, John DiMaggio was the dulcet heart of 'Batman: The Brave and the Bold.' Aquaman's unquenchable appetite for adventure and unshakeable belief in everyone around him to be their best selves was an unmatched delight throughout the show's three season run, building him into the series' most beloved recurring companion at Batman's side. So in a series loaded with show stopping musical numbers, it was only appropriate that the final song in its run be sung by the show's own aquatic avenger. Quite appropriately, Aquaman uses his time in the spotlight to inspire a fallen, depowered Captain Atom, with a performance all about how true power comes from within. And perhaps to everyone's surprise but Aquaman's, it actually works.
Key Lyric: "Super-breath can come in fire, frost, or just plain bad; shrinking's a power, but it's kind of sad…"
"Am I Blue?"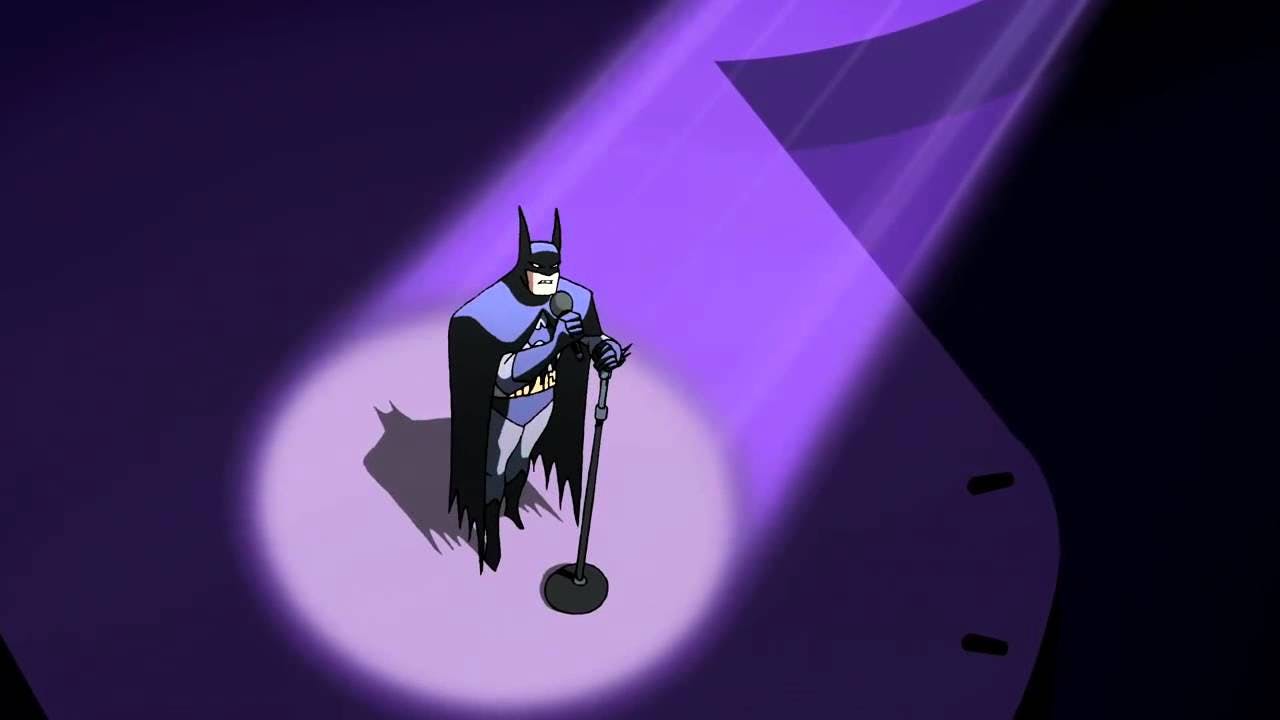 Performer: Kevin Conroy as Batman
Episode: Justice League Unlimited, "This Little Piggy"
In "This Little Piggy," Batman and Zatanna embark on an epic quest which takes them to the underworld and back to change Wonder Woman back after the evil witch Circe turns her into a pig. But when Circe herself proves to be the only one who can reverse the curse, she demands in exchange something of Batman that he's never given freely before, and once revealed can never be undone: emotional vulnerability. Batman proves unexpectedly up to the challenge when he bares his soul on stage, performing a haunting rendition of the classic Jazz standard "Am I Blue?" while Zatanna and Circe alike dab at their tears. The second musical performance by Conroy as Batman, "Am I Blue?" expresses Batman's own mournful helplessness of being trapped in a losing battle, where no matter how hard he tries to uphold the light, night always descends on Gotham once more without fail.
Key Lyric: "Am I blue? You'd be too, if each plan that you had done fell through…"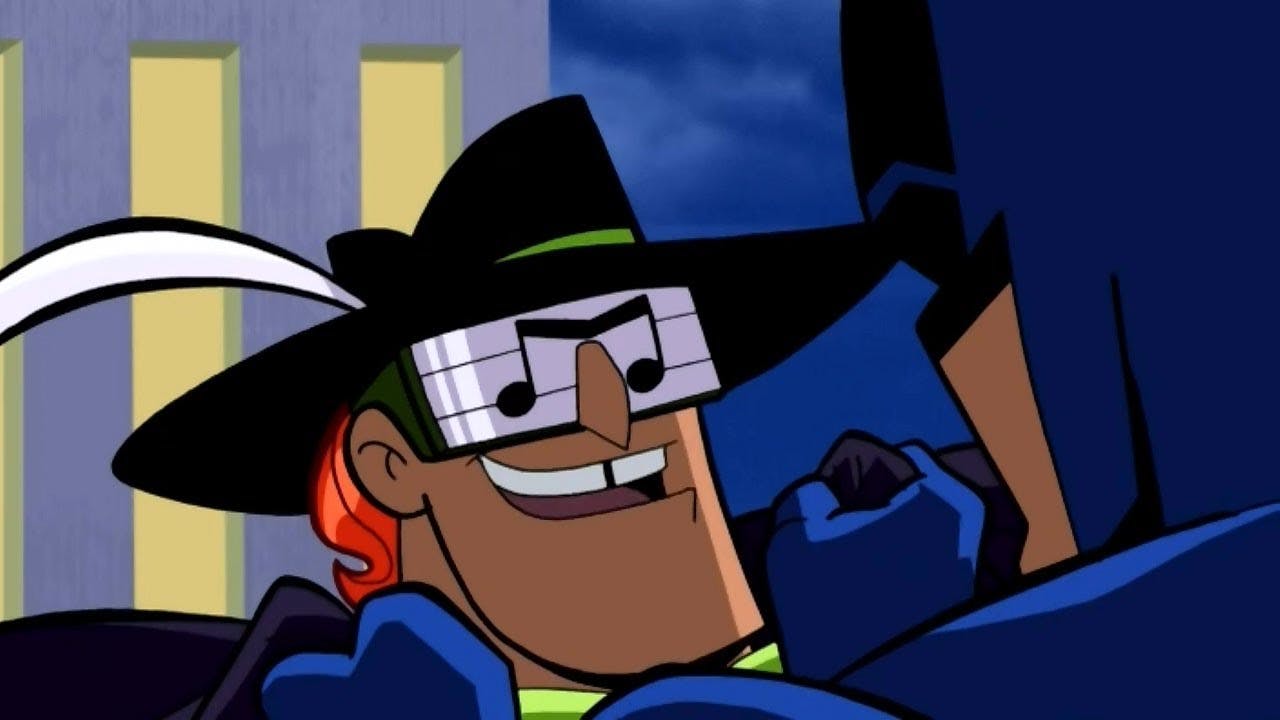 Performer: Neil Patrick Harris as The Music Meister
As the curtain rises on "Mayhem of the Music Meister" without the show's signature cold open adventure, you know you're in for something special. For its one-of-a-kind musical episode, 'The Brave and the Bold' created a brand new spin on a rather obscure 'Justice League of America' enemy for a fully scored adventure featuring too many big numbers to individualize. Tony Awards mainstay Neil Patrick Harris delivers a singular performance as the one-off villain, launching Batman's entire world into song.
Key Lyrics:
"Put down your arms, my friends, your arrows, guns, and swords; your resistance to my charm now ends, when I BELT THESE POWER CHORDS!"
"He's got no super powers, he's just a flying rat; it's a good thing we've got Arkham, 'cause he REALLY DRIVES US BATS!"
"Acid steamin', blades gleamin', lasers beamin', final nightcap: DEATH TRAP!"
"The Music Meister sings the song that the world wants to hear; let's not fight, let's get along, for your hypnotic profiteer!"
"If only he could love me, like he loves fighting villainy…"
There's truly no experience quite like it in the entire DC Universe. If you haven't heard it by now, take in a matinee and grab a view from the orchestra this weekend. Pure magic awaits you.
What's your favorite DC musical moment? Talk about it in our Community!