Zan and Jayna, better known as the Wonder Twins, first appeared in the classic cartoon Super Friends, and although they were meant to connect with the kids watching the show, the pair ended up as frequently parodied gag characters. These alien siblings, however, stood the test of time and made a handful of appearances throughout the DC Universe. Best known for their quirky catchphrase "Wonder Twin powers activate!" the twosome were able to shapeshift into different forms: Jayna, could become any animal, even a mythological one, while poor Zan could take on any form of water. Clearly someone got all of the good genes. With writer Mark Russell's acclaimed new Wonder Twins comic now available to read on DC Universe, let's take a look at the best (and worst) Wonder Twins transformations. Activate!
BEST: FORM OF AN ICE RINK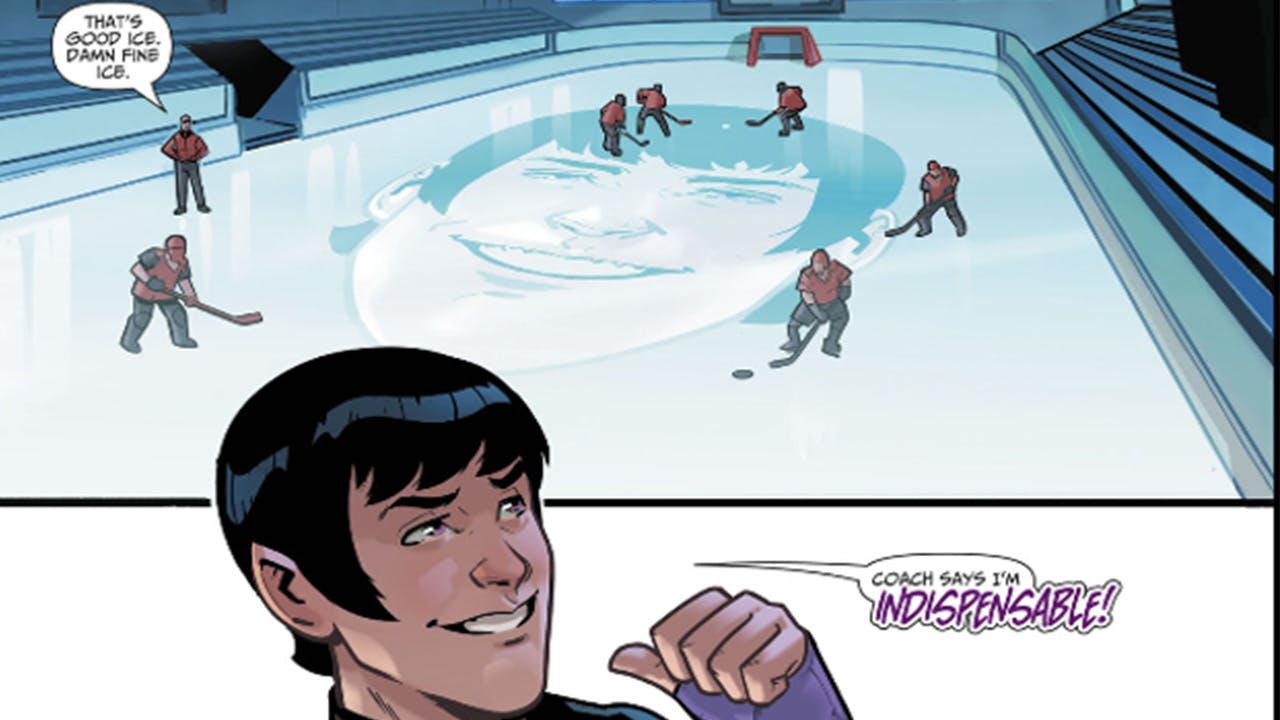 In the debut of 2019's Wonder Twins #1, Zan and Jayna are thrust into the hard life of being heroes and the even harder life of fitting in at high school. The two aliens from Exxor are not only new to their high school, they're new to the entire Earth! Navigating the nuances of high school is hard enough for an Earthling, now imagine being from another planet and suffering from Thunderlust-- which is exactly what it sounds like.
Zan tries to fit in by joining the hockey team. When practice is cut short due to a melting rink, he proves his usefulness by making himself change into the ice rink itself. He gets major props from his coach! It's especially fun to see Zan and Jayna using their powers as any high school student would. There's no harm in it!
WORST: SHAPE OF A GIANT GREEN FIRE-BREATHING GORILLA, FORM OF A WALKING SPIKY ICE WALL?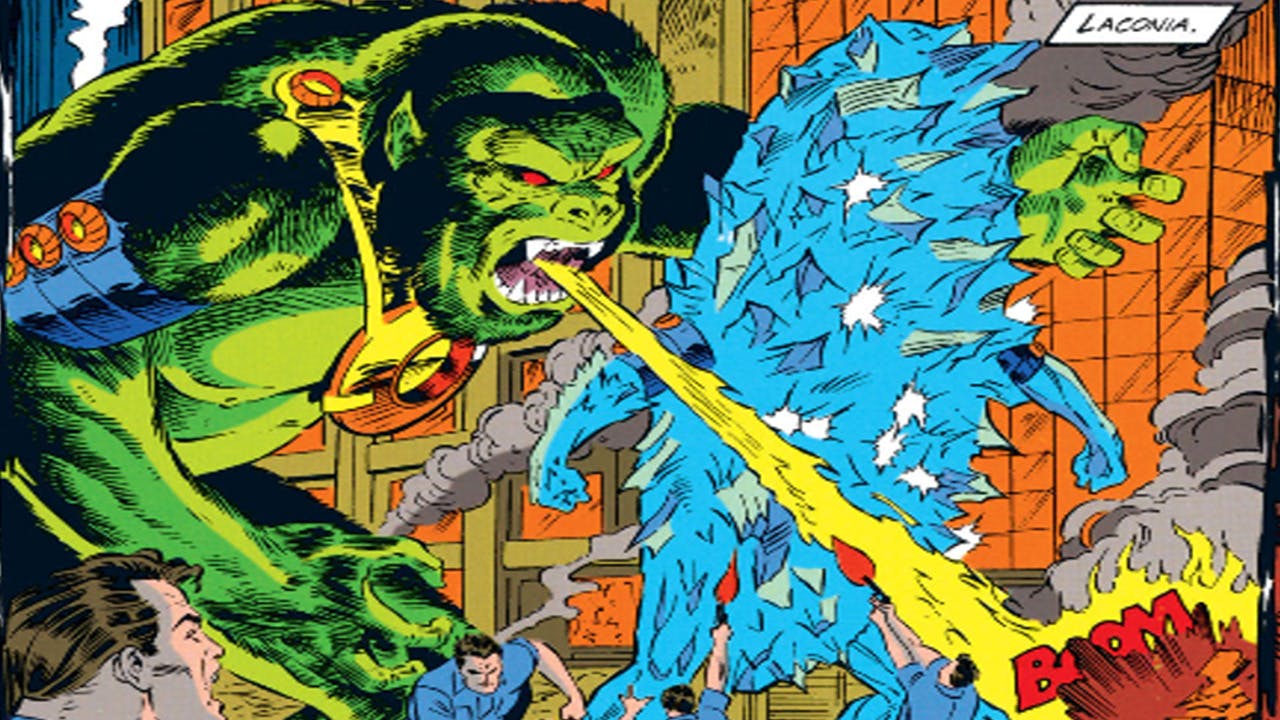 Extreme Justice isn't on many Greatest Titles in the DC Universe lists. It's more '90s than a tamagotchi on a Lisa Frank backpack, and surely earns the "extreme" in its title with everyone's superfluous armor and enough random pouches to make Rob Liefeld blush.
The Wonder Twins were no exception to this when they appeared in Extreme Justice #9. Trading their familiar Vulcan looks for a generic Buffy villain vibe, Zan and Jayna crash land on Earth. As they encounter the locals, they are (naturally) mistaken for monsters causing them to retaliate. During these battles, the pair turn into various shapes including a griffin, a werewolf, and a water tornado but he worst transformation is the combination of a giant green fire-breathing gorilla and a walking spiked ice wall. The gorilla gives me some Rampage meets Saiyan Saga Vegeta vibes, but maybe that's a creature from their world, so I can forgive it. The walking ice wall though is baffling and quite useless. Honestly, why would you choose ice when your twin sister (with whom you share a telepathic link) has the ability to breathe fire? Sure, you're stopping the bullets, but bullets can go through ice. Plus, you look like a giant spiky potato.
BEST: FORM OF A FLOOD, SHAPE OF AN UNDERWATER T-REX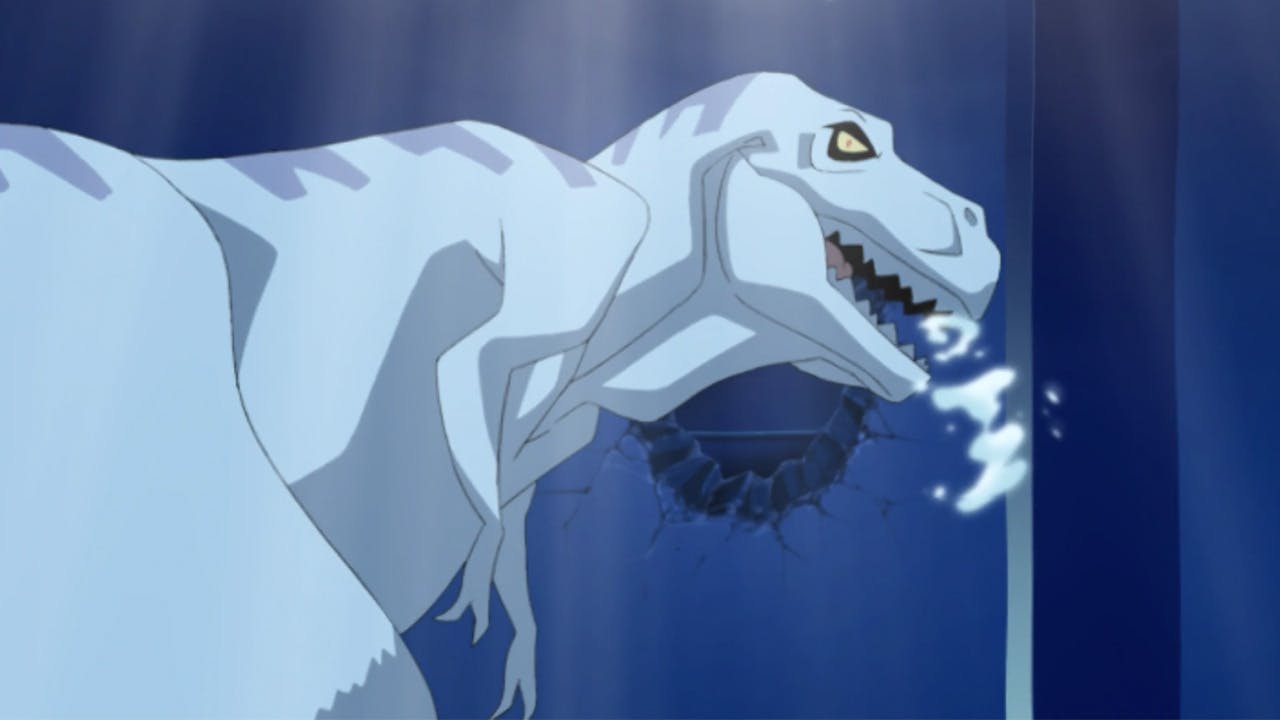 The two alien teens made their way into the Justice League Unlimited episode "Ultimatum" as part of the Ultimen team. Although in this version, Zan and Jayna appeared more alien and were known as Downpour and Shifter (which is way cooler). As part of Amanda Waller's Project Cadmus, the siblings were clones implanted with false memories. It's a very fun episode that reinvents many of the original Super Friends for the Ultimen team.
Downpour and Shifter have one of the coolest scenes where they fight Aquaman. Downpour is able to change into a flood, filling the entire room with water while Shifter takes the shape of an underwater T-Rex (which is honestly more original than anything in Jurassic World). The two hold their own against the King of Atlantis, but ultimately their unstable powers give out.
WORST: FORM OF AN ICE MISSILE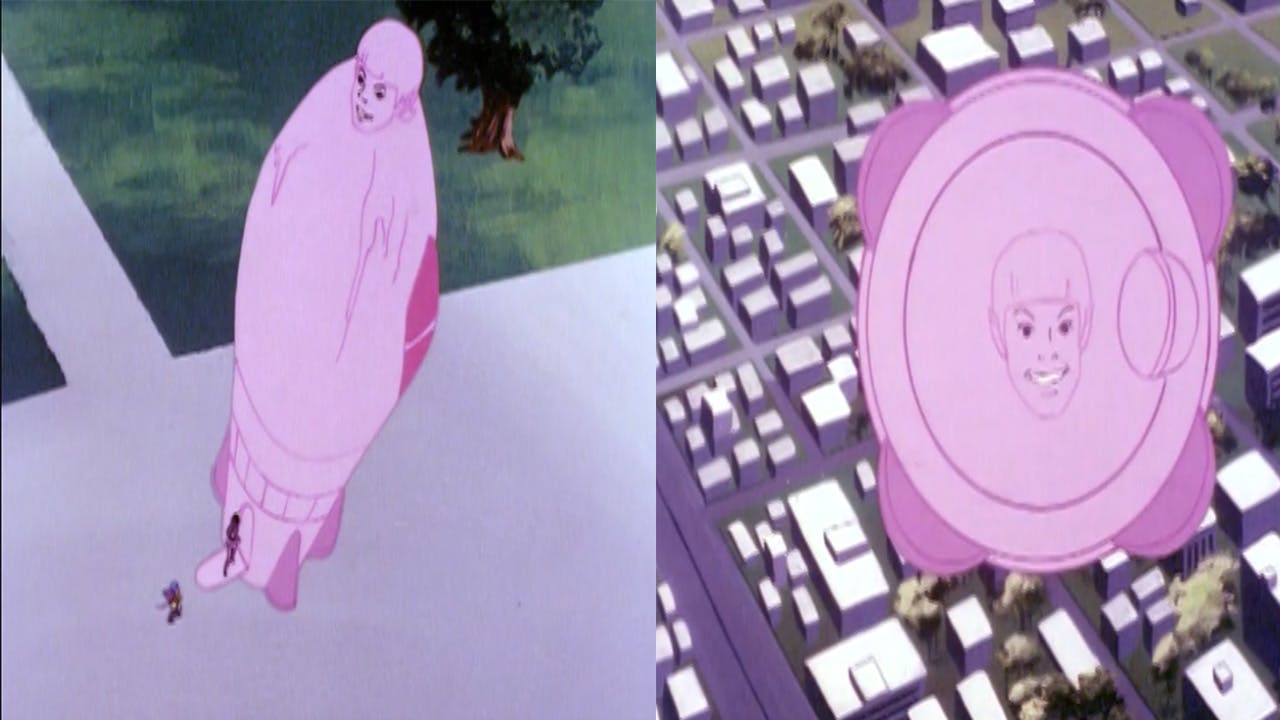 Zan's limitations of forms of water don't stop him from trying. In the Super Friends episode "A Pint of Life," he and Jayna need to get somewhere fast. Rather than Jayna turning into one of those eagles from The Lord of the Rings, Zan turns into...an ice missile.
First off, pretty sure he should be a rocket, not a missile -- since he's transporting passengers. But not only is this not something that exists anywhere, its shape and pink hue make him look rather… well… like nothing a kid watching cartoons should recognize. This is a horrible choice for very obvious reasons. Just stick to the rivers and the lakes that you're used to, Zan.
BEST: SHAPE OF A SEA SERPENT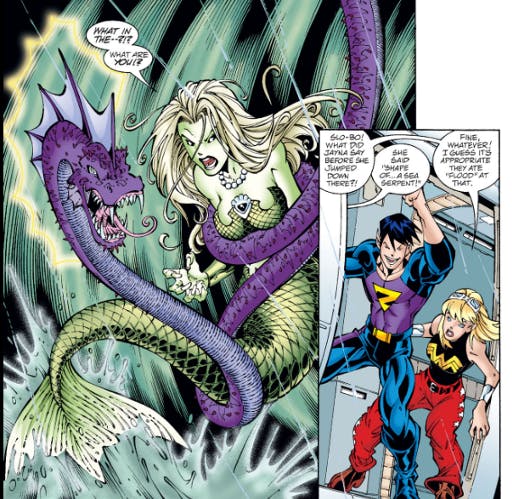 Although the twins aren't featured much in the Young Justice comic (and when they are they're usually eating CDs), Jayna does have a cool scene where she changes into a sea serpent. She retains the purple coloring when changing, which is a cool detail. Anything is better than their early 2000s outfits… yikes!
WORST: SHAPE OF AN OSTRICH, FORM OF AN ICE SAIL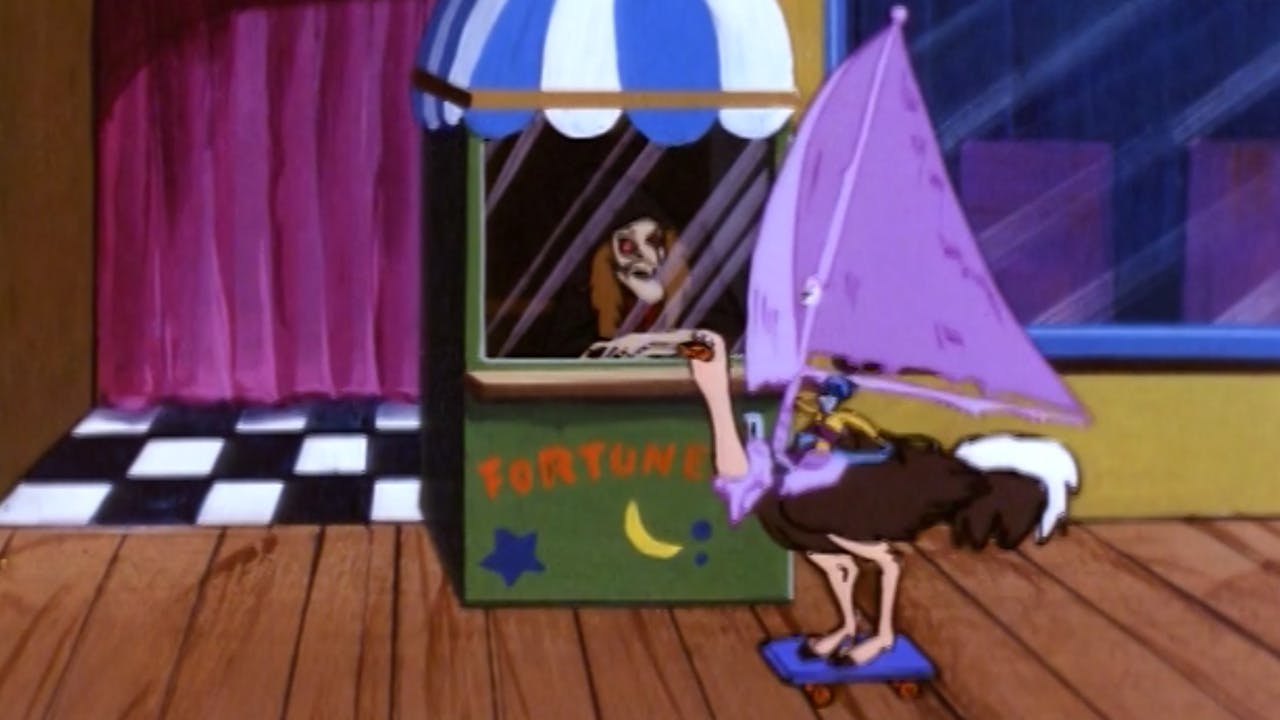 By now it's clear that Zan doesn't know how ice works. But it's most obvious in this opening scene from "The Witch's Arcade" episode of Super Friends. Zan has transformed himself into an ice sail so that he can sit on Jayna's ostrich back and use the wind to propel them down the boardwalk… on a skateboard. Is this Mad Libs? It's bizarre on multiple levels. Why does Jayna think that an Ostrich is the best animal to ride a skateboard? There are a million YouTube videos that prove a bulldog is the better choice.
BEST: SHAPE OF AN EAGLE, FORM OF WATER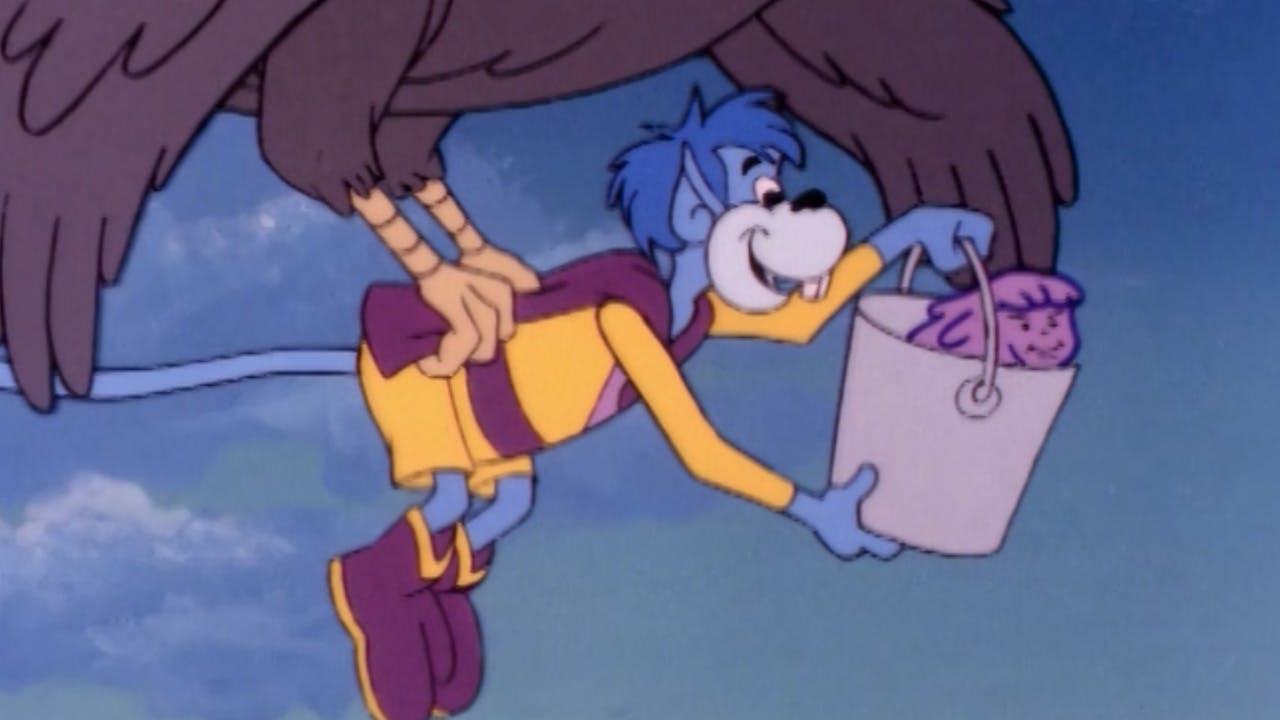 Probably the most iconic pairing of the Wonder Twins are the eagle and bucket of water. It's important to note that Zan only turns into the water and Gleek is the one who procures a bucket from somewhere. Jayna lifts Gleek and the bucketed Zan high above to look for a vehicle that is teetering off of a cliff. Not the best use of the form, but since this is a classic, we'll let it slide.
What's your favorite Wonder Twins transformation? Let us know in our Community!