In 1988 fans voted to kill off the second Robin, Jason Todd, a move that remains controversial to this day. What would possess 5,343 readers to let the Joker beat a teenage boy with a crowbar? Jason had his moments, but it's not like he was Snapper Carr. We decided, however, to take a look at Jason's history, and we found a few moments that made us sympathetic to those votes. Here are 5 times we wanted to kill Jason Todd!
WHEN HE COPIED DICK GRAYSON'S ORIGIN AND COUSIN OLIVER'S HAIRCUT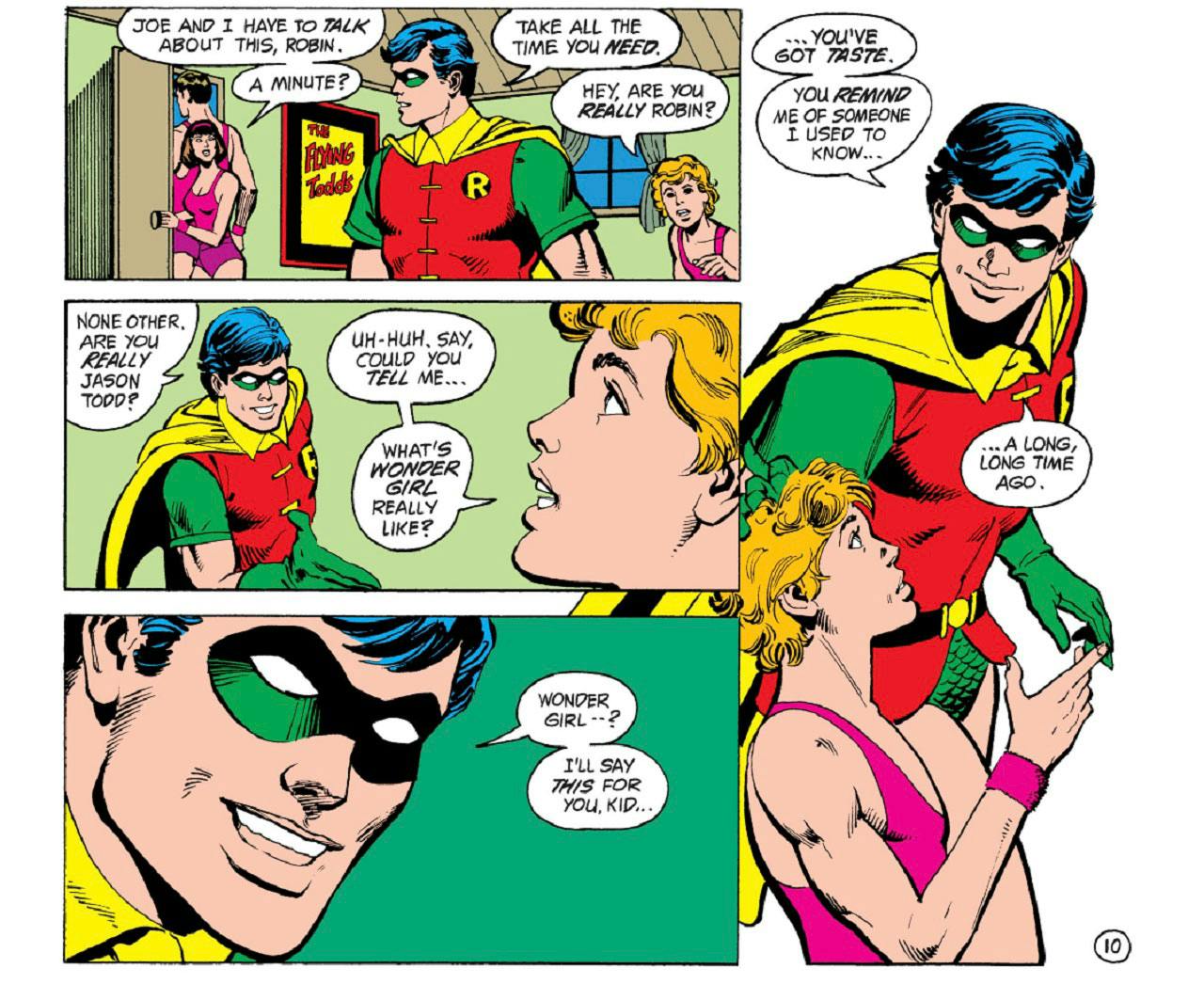 Where to Read It: Various Pre-Crisis comics including Detective Comics #526.
What Happened: By 1983 Batman had adopted two orphans. One of them was a circus acrobat whose parents were killed by a criminal, and the other one was Dick Grayson. That's right, before Crisis on Infinite Earths obliterated the timeline, Jason Todd was first seen copying Dick Grayson's origin. Who does he think he is? Dick Grayson is a national treasure -- do you think you could just waltz into continuity with the same backstory? To make matters worse, some of those early issues (like Detective Comics #524) gave Jason an obnoxious bowl-cut hairdo. We didn't like it on Cousin Oliver, and we don't like it on you. 
WHEN HE ASKED ABOUT BECOMING ROBIN BEFORE DICK WAS OUT THE DOOR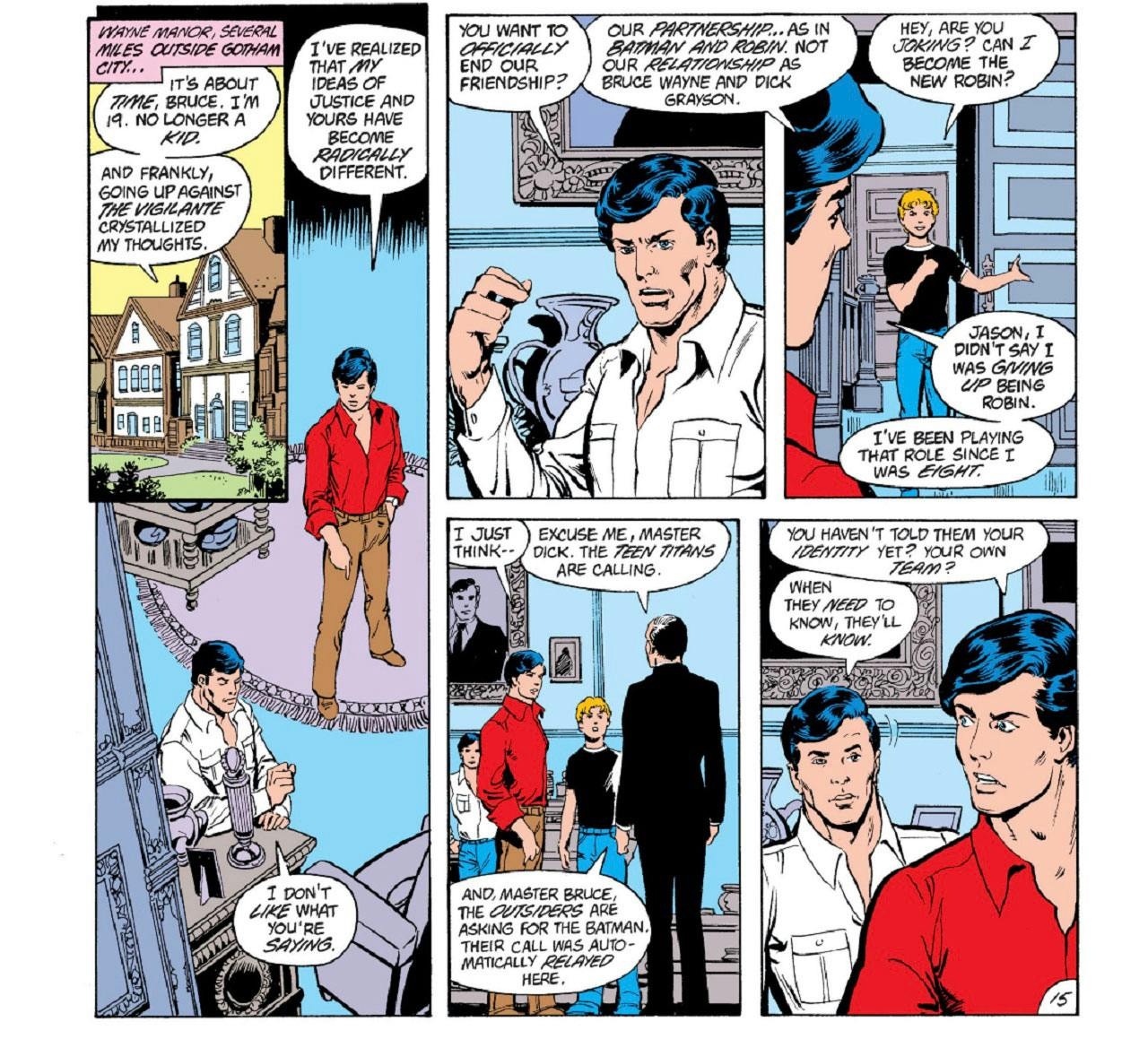 Where to Read It: 1983's New Teen Titans #37
What Happened: In 1983 Bruce Wayne and Dick Grayson ended their historic partnership after 43 years. It was a pivotal turning point in Batman history, one of significant importance...SO NATURALLY JASON TODD DID SOMETHING ANNOYING TO INTERRUPT IT. Bruce and Dick were having a serious discussion about how they had outgrown their partnership, and how it was time for Dick to strike out on his own, and Jason just had to insert himself into this special moment. Jason, still in his Cousin Oliver phase, interrupted Dick's impassioned coming-of-age speech to call dibs on Robin. My dude, Bruce and Dick are trying to have a moment here, kindly sit yourself down. The end of the original Dynamic Duo's partnership is a solemn occasion, and you're measuring Dick's pixie boots before he's even left the Batcave. 
WHEN HE CHANNELED BURT WARD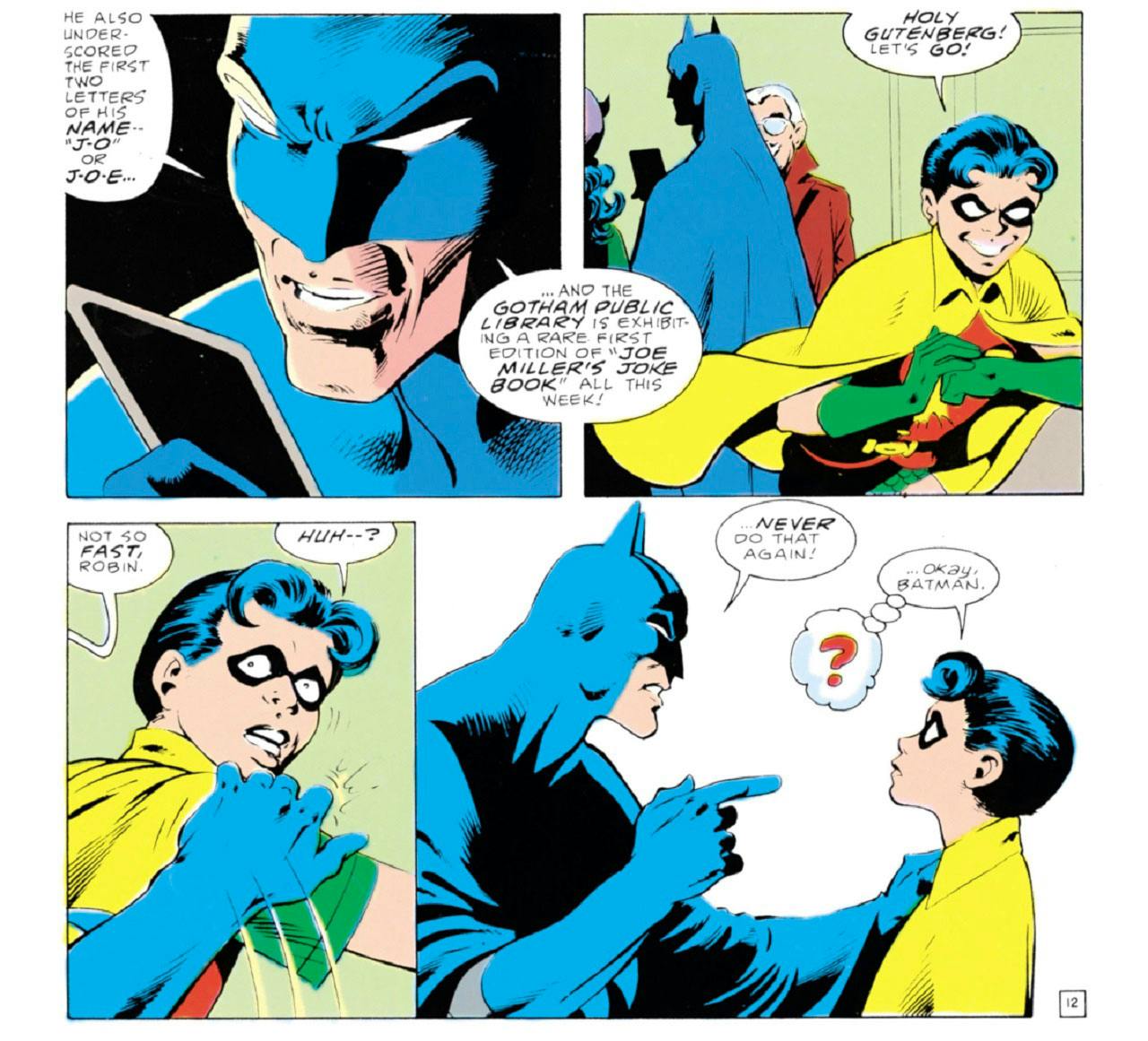 Where to Read It: Detective Comics #569
What Happened: Batman is a patient man, but even he has his limits. When Jason threw out a Burt Ward-inspired "Holy Gutenberg" on one of their missions, it was enough to make the Dark Knight lose his cool. He quickly grabbed the Boy Wonder and demanded Jason NEVER do that again. If a crowbar had been nearby, that might have been the end of Jason right there. Look, we all love the 1966 Batman television series, but there's a time and a place for quoting it. 
WHEN HE TURNED INTO A ZOMBIE AND CREEPED US OUT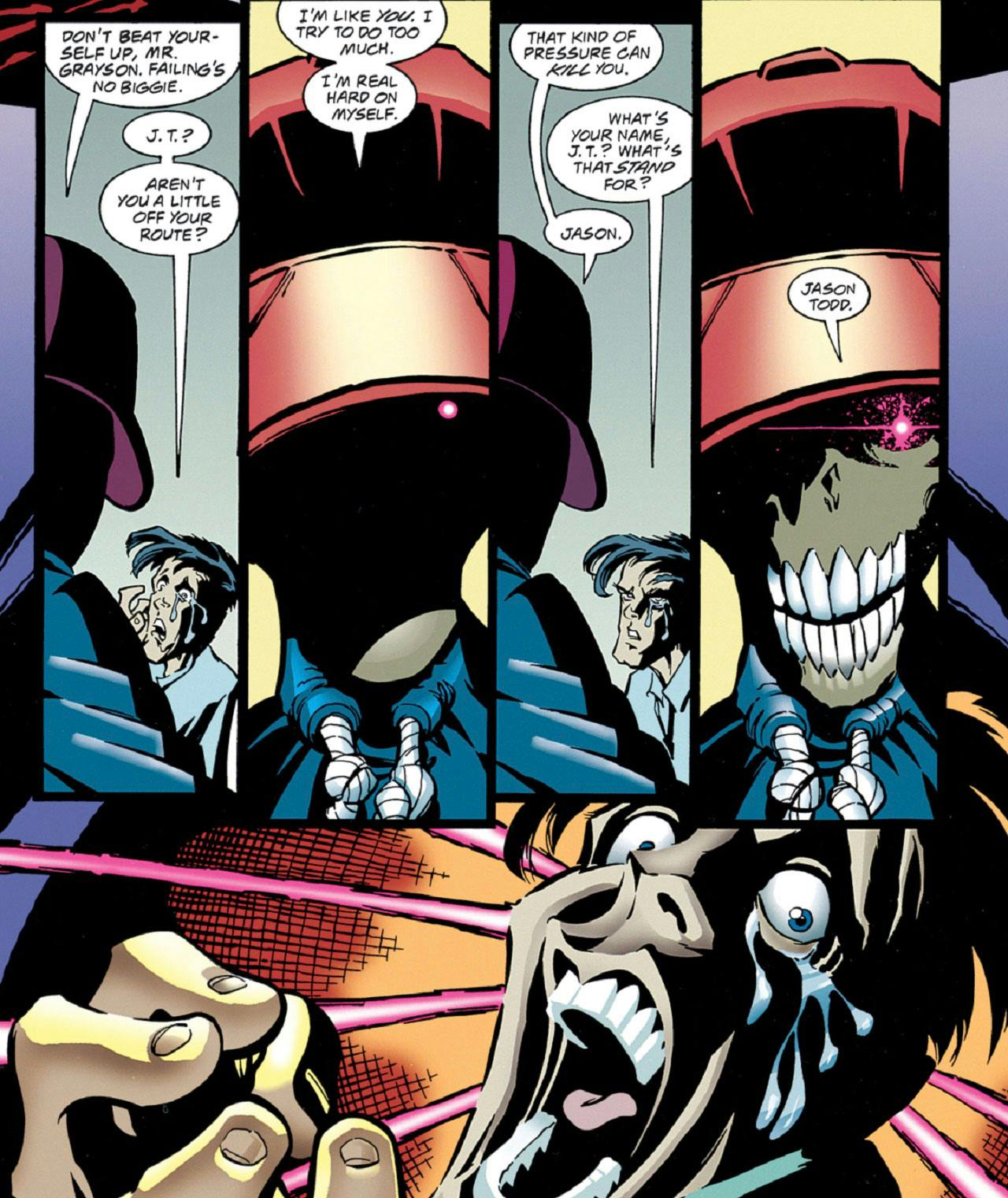 Where to Read It: 1997's Nightwing #10
What Happened: Shortly after moving to Bludhaven, Nightwing took a heavy dose of Scarecrow's fear gas and had an extended nightmare about an alternate life. In this world, Dick was married to an adulterous Donna Troy, Bruce Wayne was his uncaring neighbor and boss, and Jason Todd was their creepy paperboy. Jason spent the entire story making snide comments and being a creeper. After Dick's imaginary son fell to his death, Jason was there to rub it in, and reveal -- decades before DCeased -- that he was a zombie. Someone get Mr. Grayson a crowbar.
WHEN HE DEMANDED ANOTHER MEMORIAL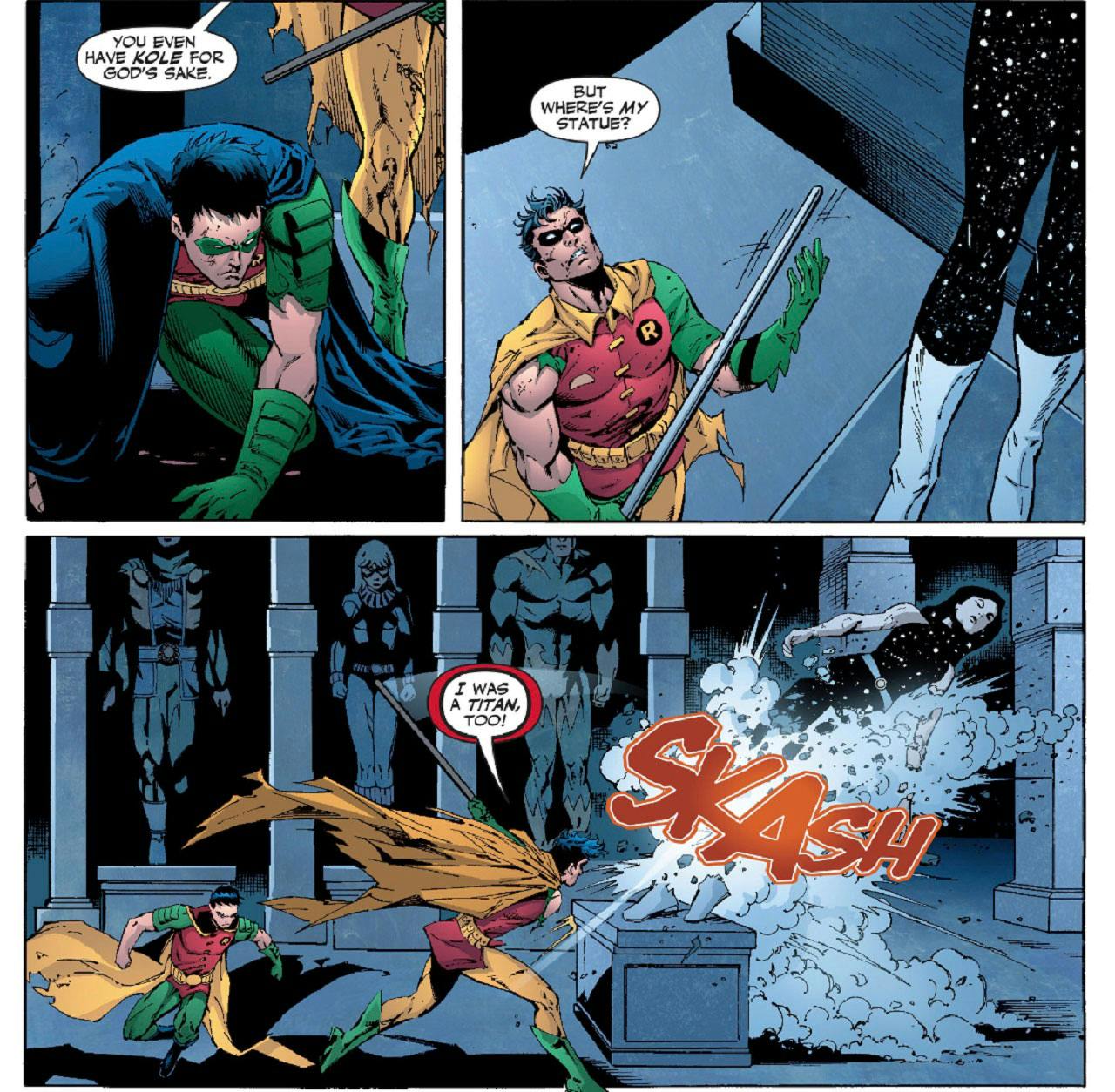 Where to Read It: 2005's Teen Titans #29
What Happened: People call Damian Wayne petulant, but this is some next-level Karen behavior. Jason Todd already has a shrine in the Batcave, which continues to stand despite his resurrection, yet the former Boy Wonder threw a Giganta-sized tantrum when he found out he didn't have a memorial in Titans Tower. He smashed the building's other memorials, demanding that he deserved one as well. He also gave Tim Drake a beatdown for daring to wear the Robin costume, which was more than a bit petty considering the circumstances. Sure Jason, you can have your statue. Do you want a parade too?
Don't forget, if this article gives you the urge to beat Jason Todd, the Batman: Death in the Family interactive movie will be available on October 13th. You can decide if Jason lives or dies, and how his story continues. If this article motivates you to kill the Boy Wonder again, have a blast! But if you feel we've been too hard on Jason, here's your chance to give him some justice.
When has Jason Todd annoyed you? Let us know in our Community!