Jessica Cruz wasn't most conventional candidate for a career as a DC Super Hero, yet she's proven herself to be one of the planet's greatest protectors. Jessica was suffering from severe anxiety before she became Earth's Green Lantern. Since then, the first Mexican-American female Lantern has joined the Justice League, saved the universe, and had plenty of adventures along the way. She's defied expectations at every turn, and with her appearance in DC Universe's latest animated film Justice League vs. The Fatal Five (in which she's voiced by Doom Patrol star Diane Guerrero), a whole new audience is about to fall in love with her. And what's not to love? Here are some of our favorite things about Jessica Cruz…
She Overcame Severe PTSD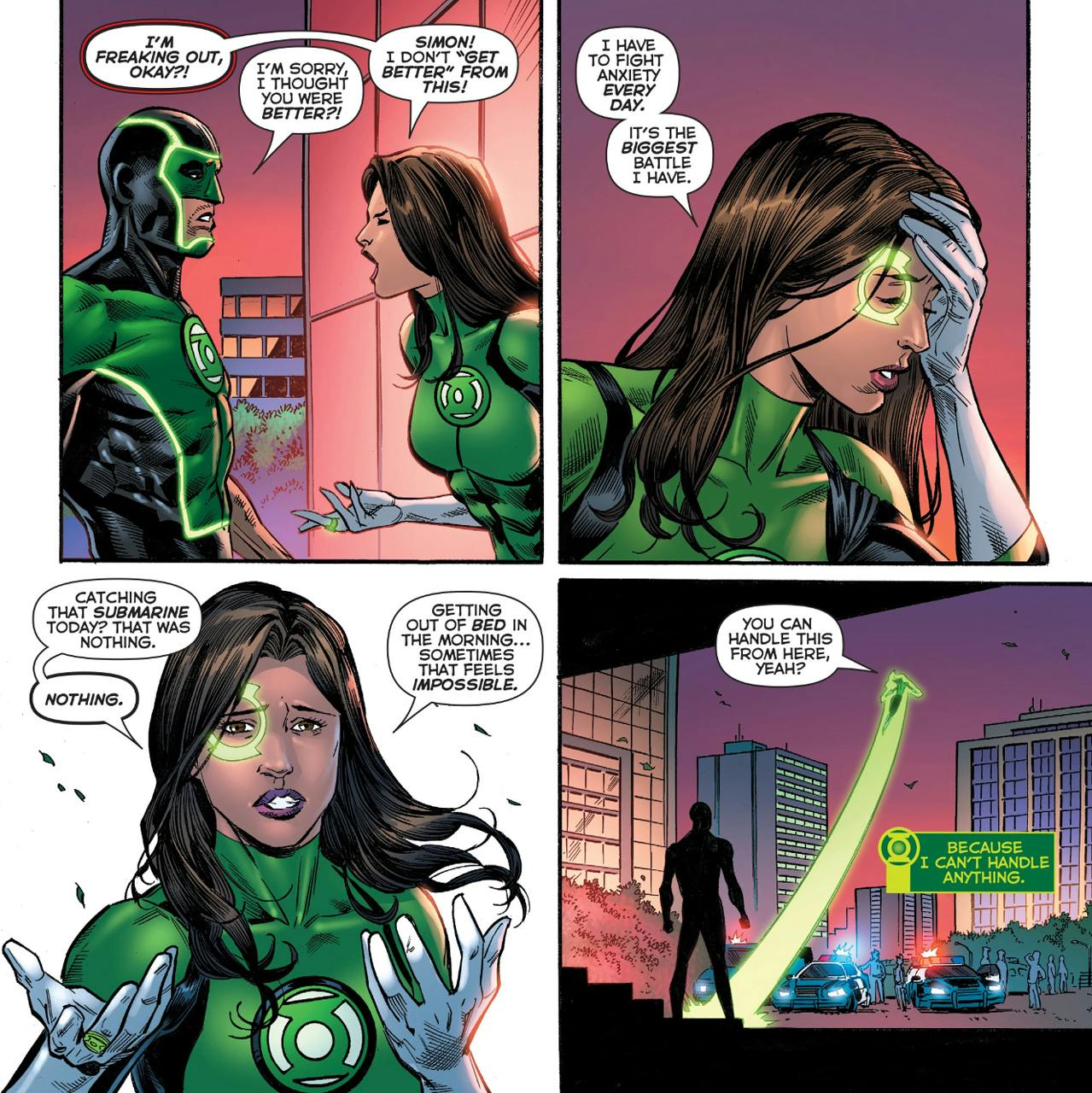 While on a hunting trip, Jessica and her friends accidentally stumbled upon a mob hit. Jessica's friends were killed, and she barely escaped with her life. The experience traumatized Jessica, who locked herself in her room and refused to leave. Despite encouragement from family and friends, Jessica's PTSD and anxiety made her reluctant to leave her home. Eventually, Jessica was thrust into the world of super heroes after the Ring of Volthoom chose her as its next host. After fighting alongside the Justice League and being freed from Volthoom's influence, Jessica joined the Green Lantern Corps. So that ended her anxiety, right? Nope, just like in the real world, anxiety isn't always that simple. Every day, Jessica fights a battle against her own fears and insecurities, one in which getting out of bed is scarier than facing the world's toughest super-villains. Fortunately, Jessica knows that even if her PTSD doesn't go away, she can learn to overcome it and live her life to the fullest. For an in-depth look at Jessica's struggles, check out Green Lanterns #15 (written by Sam Humphries and penciled by Miguel Mendonca).
She's a Good Partner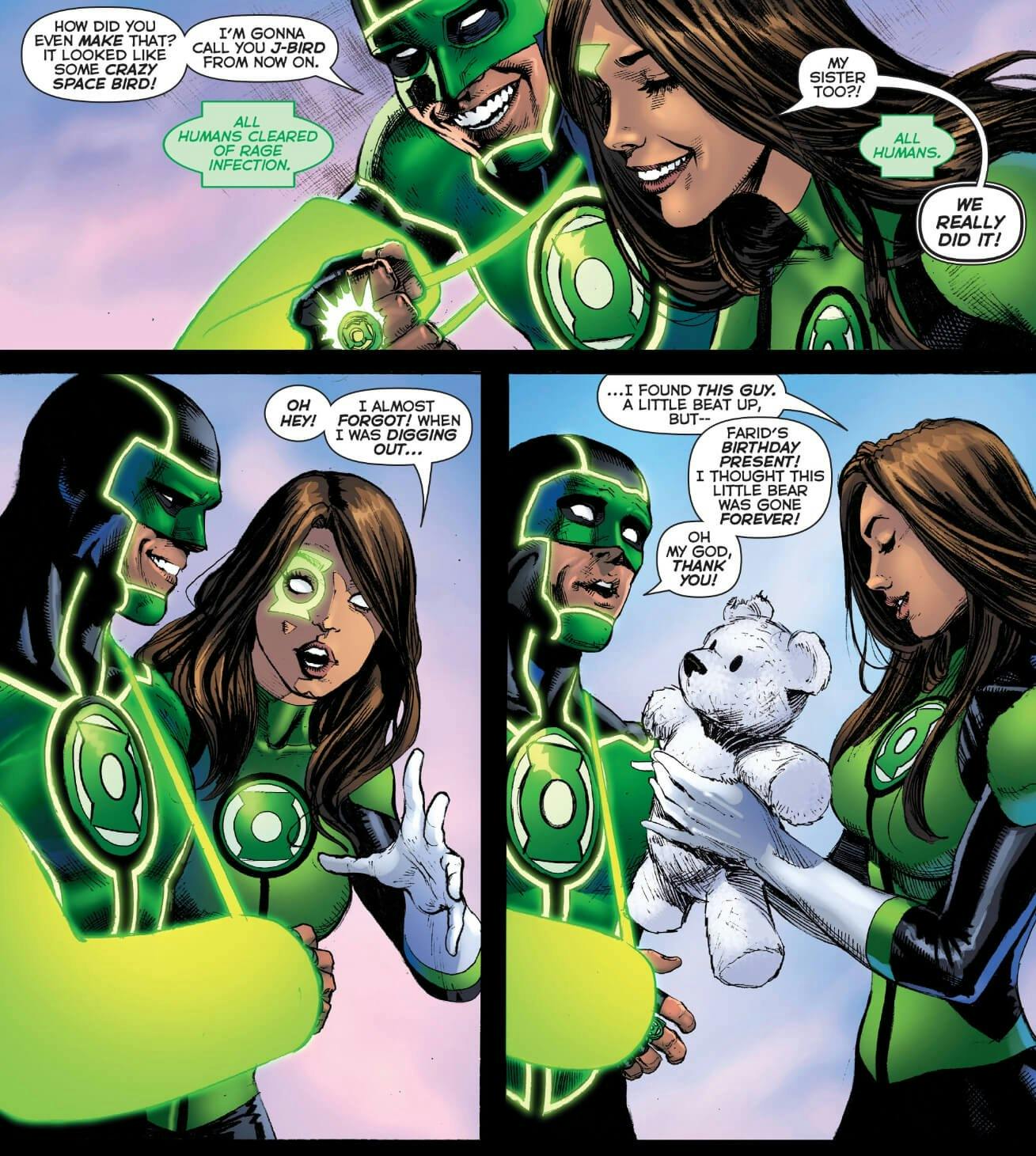 Despite Jessica's personal struggles, she's an invaluable partner and a loyal friend. In Green Lanterns: Rebirth #1 (written by Geoff Johns and Sam Humphries, penciled by Ethan Van Sciver and Ed Benes), Earth's former Green Lantern Hal Jordan partnered Jessica with Simon Baz. Simon was a Lebanese-American who, like Jessica, was a rookie in the Green Lantern Corps. At first the two didn't work so well together, but Hal combined their power batteries, forcing them to learn how to cooperate. The 2016 Green Lanterns series became a "buddy cop" comic where the duo fought villains throughout time and space. Jessica also overcame her own anxieties so she could lend emotional support to Simon as he dealt with his family problems. Simon has in turn helped Jessica with her anxiety and tried to learn more about PTSD so he can be a better friend. They've made each other better heroes on the battlefield and stronger people emotionally.
She Protected the Planet with No Training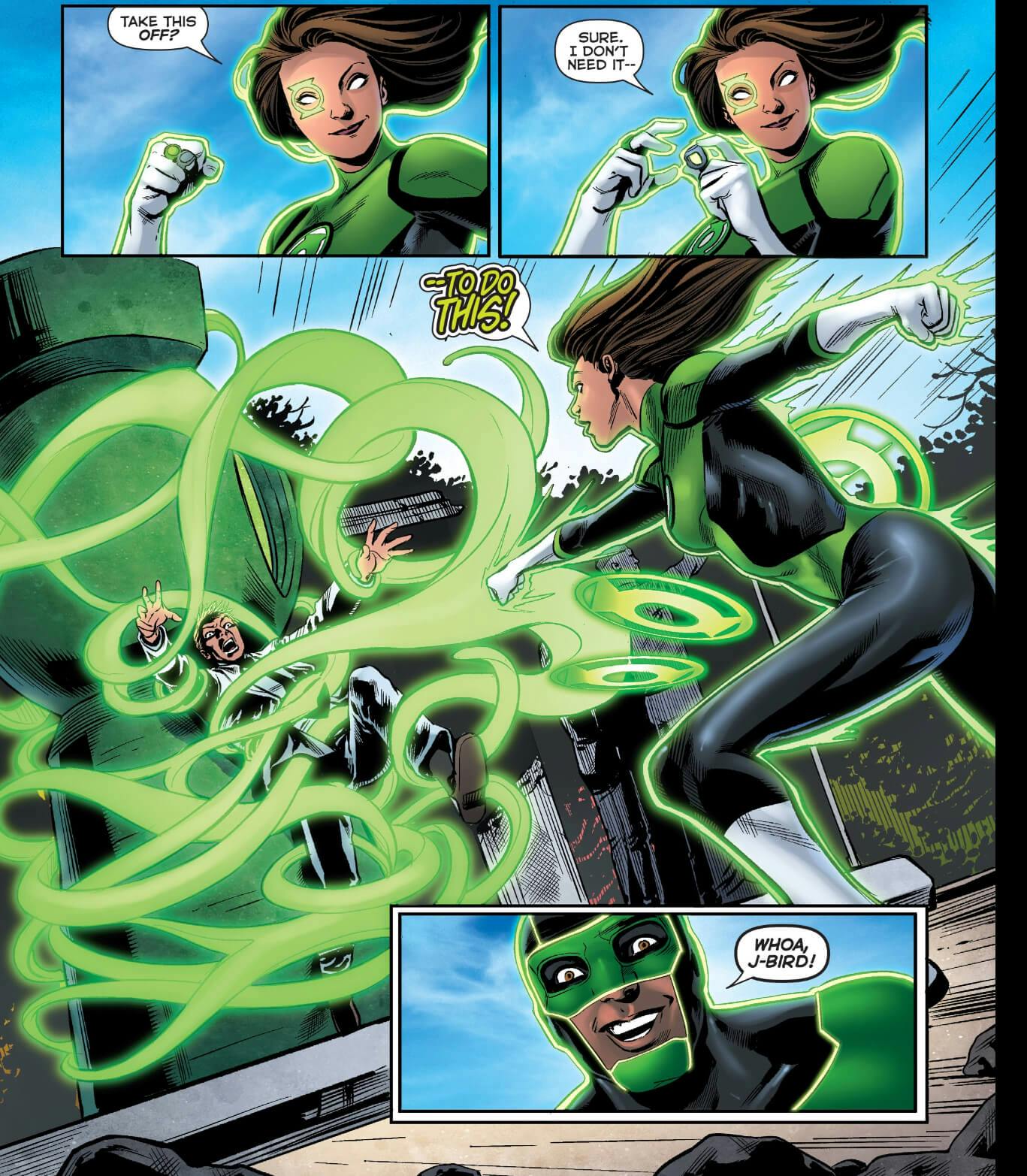 When a new Green Lantern is recruited, they're usually sent to the planet Oa for training, but not Jessica. Despite her lack of experience, Hal Jordan assigned Jessica and Simon to protect Earth in his absence. During their time as Earth's protectors, Jessica and Simon defended the planet from the Red Lanterns, the Phantom Lantern, Dr. Polaris, and many other threats. Jessica wasn't even able to make her first construct until Green Lanterns #9 (written by Sam Humphries and penciled by Robson Rocha). Imagine sending a soldier to war before they've gone to boot camp, yet they still succeed. That's Jessica. Protecting an entire planet is a hefty first assignment, but she passed with flying colors. Jessica eventually received formal training from the Corps, with Guy Gardner as her teacher. Speaking of which….
She Punched Guy Gardner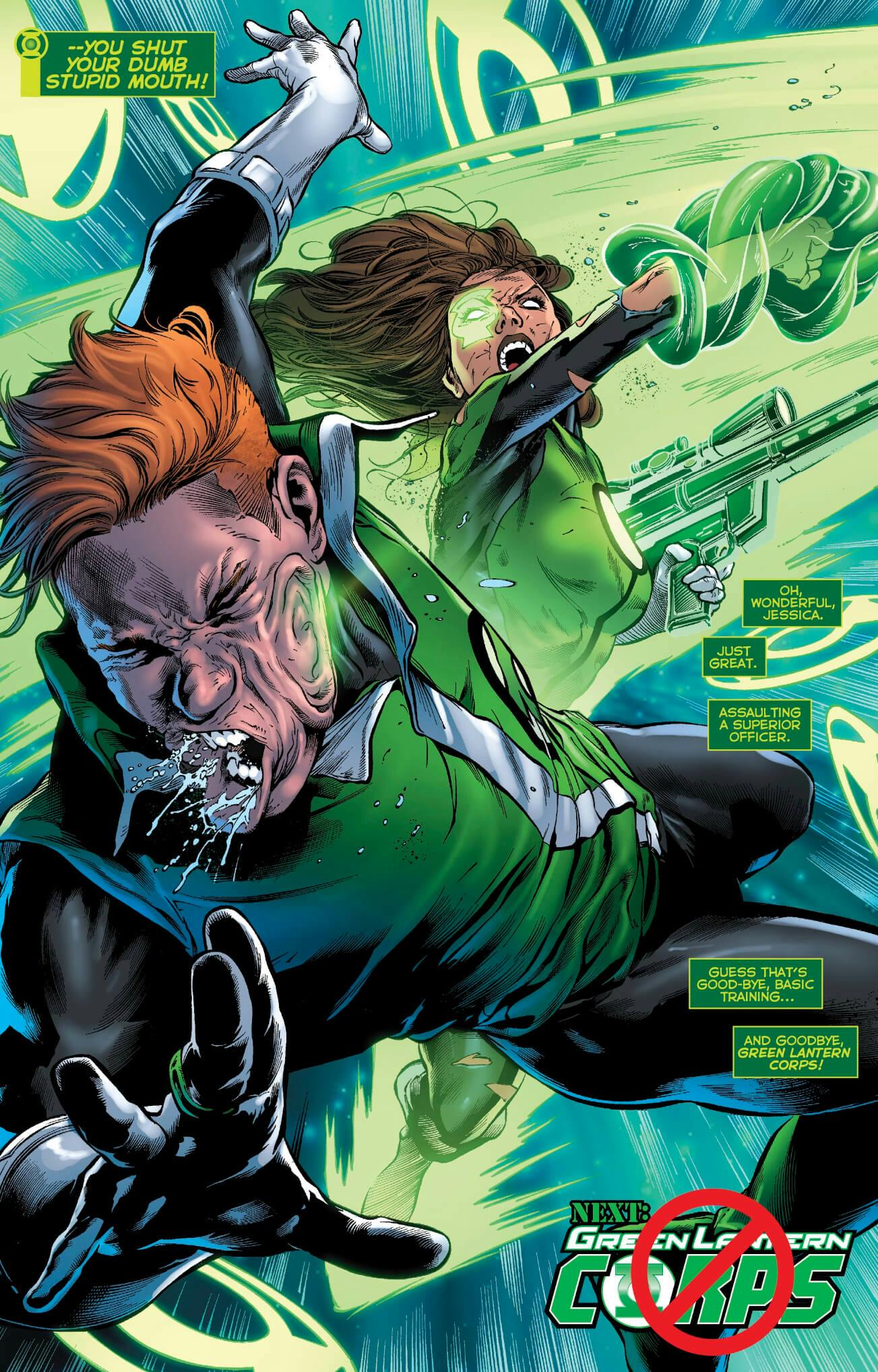 Love him or hate him, Guy Gardner can be a real jerk sometimes. Many DC heroes have wanted to deck him, as Batman once did. In Green Lanterns #23 (written by Sam Humphries penciled by Eduardo Pansica), Jessica experienced a similar moment after an intense training session. The Green Lantern Corps had assigned Guy to give Jessica some additional training, and his curriculum was very strenuous. During one session, Guy pushed Jessica too hard and the timid trainee wound up losing her patience and punching her teacher. Jessica was afraid she'd be thrown out of the Corps for assaulting a superior officer, but Guy acknowledged his own arrogance and challenged Jessica to beat him in a fair fight. To Jessica's surprise, she bested Gardner in their sparring match, earning his respect and graduating. Not many people could punch their teacher and come out on top. Well done, Jessica!
Jessica Helped Form the First Green Lantern Corps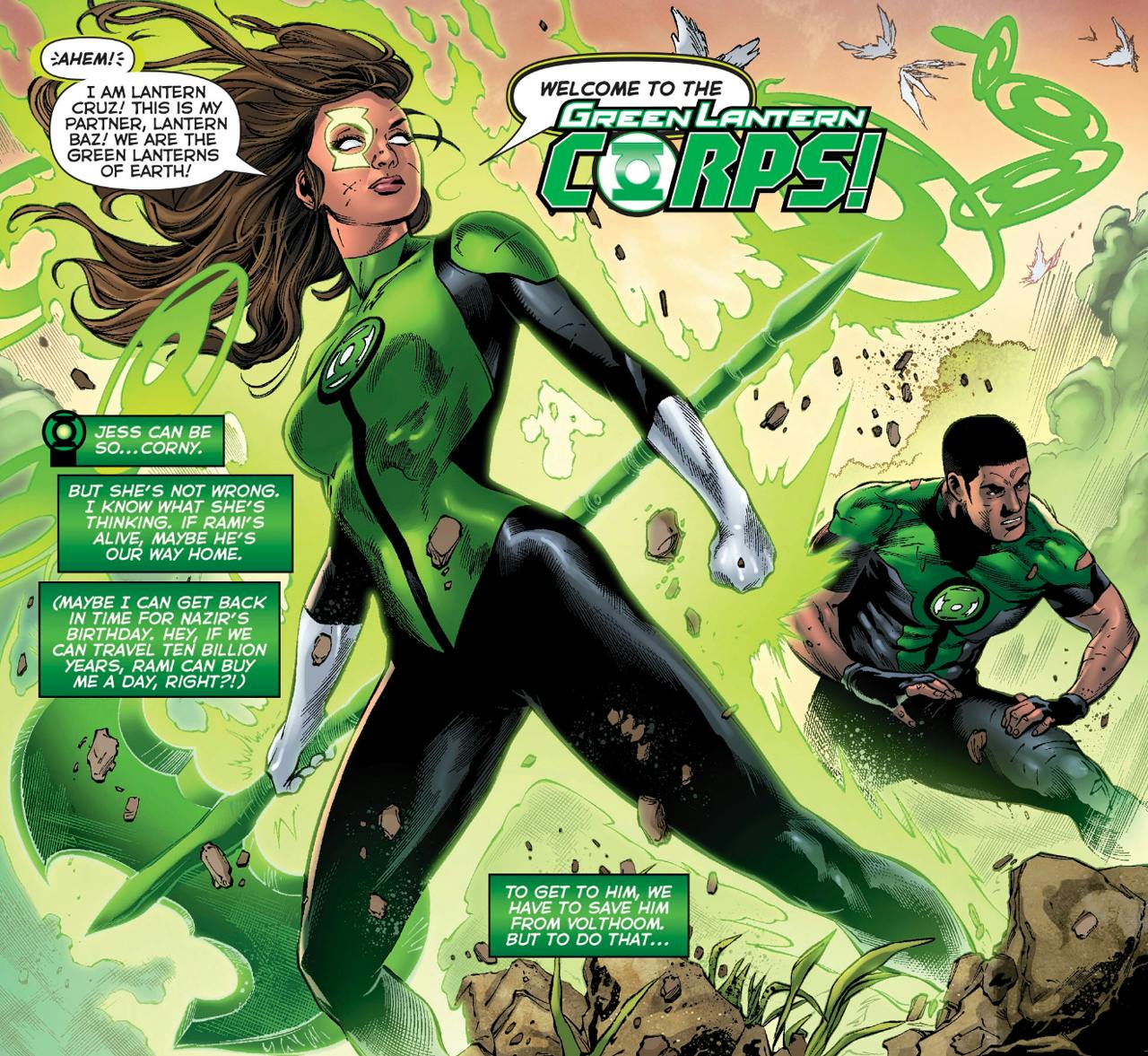 Although the Green Lantern Corps have been around long before Jessica was born, she was responsible for their formation! After traveling 10 billion years into the past, Jessica and Simon came face to face with the first seven Green Lanterns. The universe was threatened by Volthoom, but the early Lanterns wanted to use their powers to help their own planets. A Kryptonian Lantern named Jan-Al was killed after being unable to control the ring's power, shocking the other recruits into listening to Jessica. Jessica and Simon were then able to bring the recruits together to form history's first version of the Corps. Jessica, with Simon, took the initiative and led the group into battle against Volthoom before returning to the present day.
Are you a Jessica Cruz fan? Let us know in our Community!