If you've watched the epic new 'Batman: Hush' animated film on DC Universe, you're probably hungry for more. The movie is based on "Hush," the classic storyline by writer Jeph Loeb and artist Jim Lee in which a new villain manipulates Batman and all his enemies. Although the story ends with Batman surviving the madman's gauntlet and unmasking his foe, it wasn't the end of Batman and Hush's death waltz. Over the years, the two have had plenty of rematches, with the stakes being raised in creative ways. If you enjoyed the 'Hush' film and comic, here are some stories that serve as worthy follow-ups.
WARNING: "HUSH" SPOILERS AHEAD!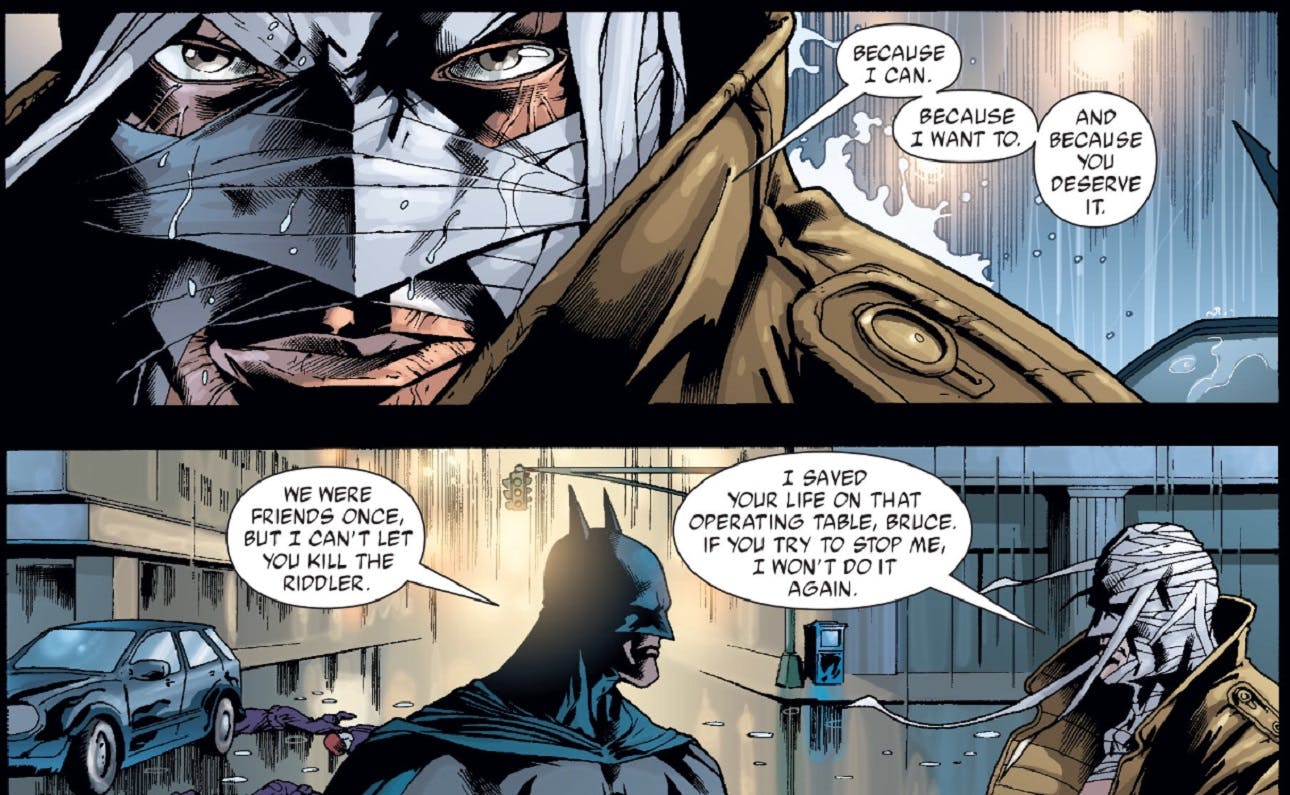 The story: Bruce Wayne's former friend Tommy Elliot, AKA Hush, is angry. Things didn't go so well for him in the original "Hush" storyline and now he's striking back at the villains who failed, and targeting the Dark Knight with intense fury. Hush beats Riddler to a pulp, drives the Joker out of Gotham, and manipulates Clayface. He even frames Alfred for murder! Hush also causes Bruce to question his own sanity by making him think his murdered ex-girlfriend has returned. This story is Batman's first rematch with Hush, and it proves just how dangerous the villain is – not only to the Dark Knight, but to his enemies as well!
Where to read it: 'Batman: Gotham Knights' #50-55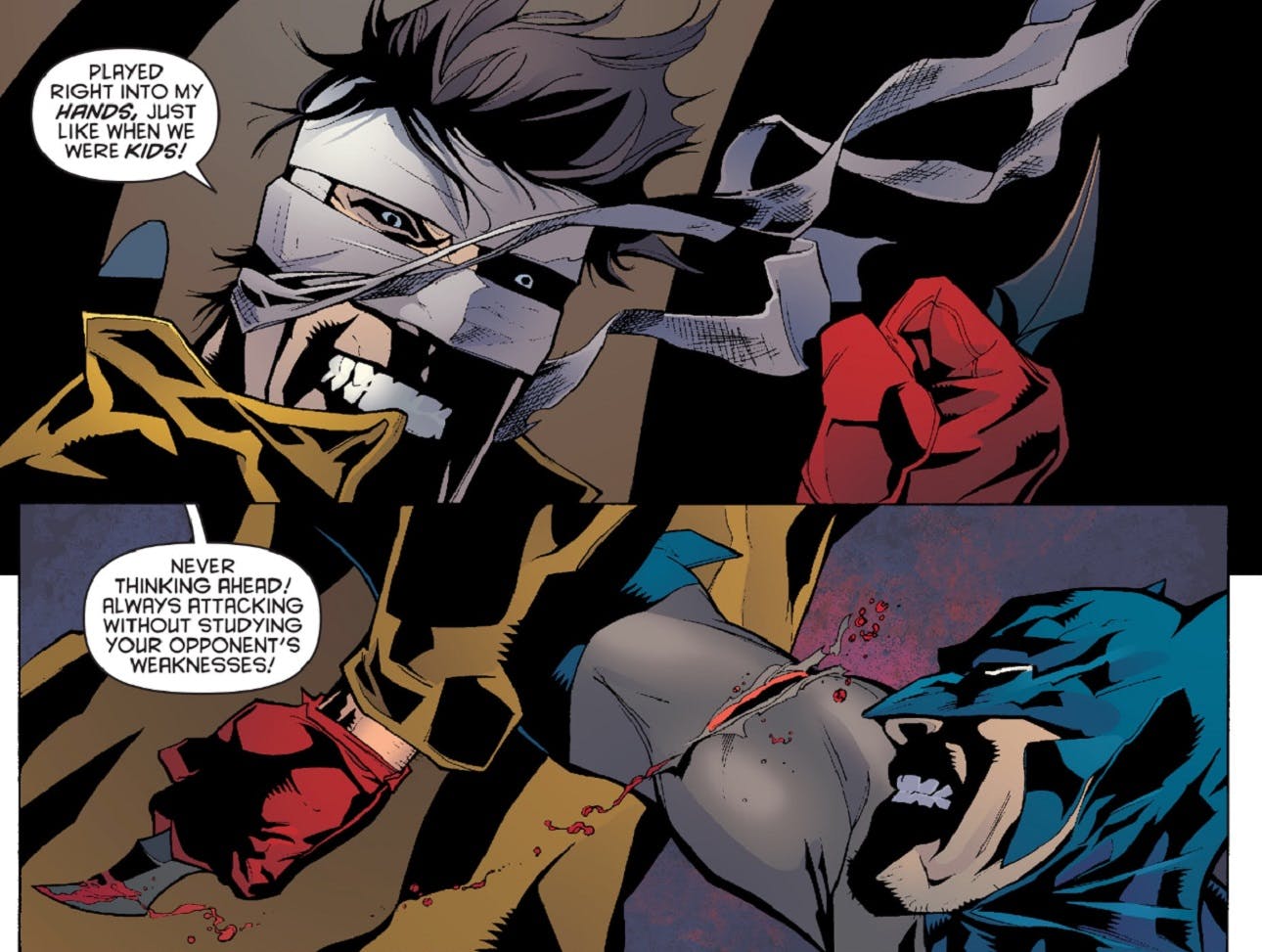 The story: Hush strikes at Batman by stealing what he values the most – Selina Kyle's heart! Using his surgical skills, Tommy Elliot removes Catwoman's heart from her body, and keeps her alive with advanced cryogenic equipment. Now the Dark Knight must fight with all his might to retrieve Selina's heart and save the love of his life. But things take a twisted turn when Batman discovers that Tommy Elliot has also used his surgical skills on himself, altering his face in a shocking way. This critically acclaimed storyline was written by Paul Dini, the co-creator of Harley Quinn and the man behind some of the best episodes of 'Batman: The Animated Series,' and illustrated masterfully by Dustin Nguyen. This is one of the most beloved stories of its era, and when fans talk about their favorite follow-ups to "Hush," this story inevitably is the first one mentioned almost every time.
Where to read it: 'Detective Comics' #846-850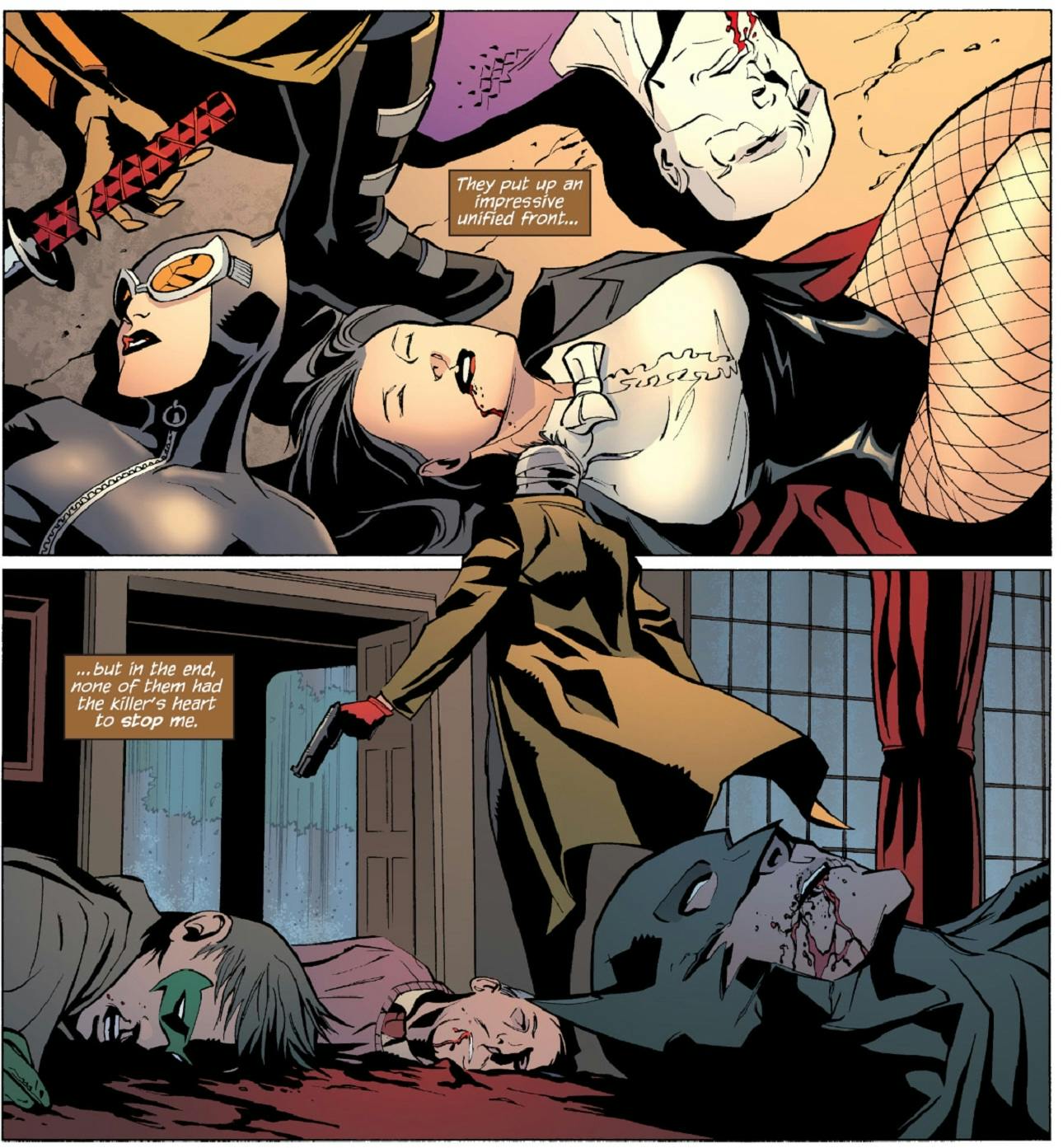 The story: Paul Dini and Dustin Nguyen return for a sequel to their critically acclaimed "Heart of Hush" storyline. Hush now has the face of Bruce Wayne, and he's using it unravel Bruce Wayne's life and reputation, piece by piece. Tommy as "Bruce" begins pushing for dangerous criminals, like Jane Doe, to be released from Arkham. Hush's plan backfires when Jane becomes obsessed with him, and the face-stealer winds up having his own face stolen. Throughout the story, Tommy Elliot reads from his mother's journal, and we learn more about his sense of identity and how his family's twisted rivalry with Wayne shaped his childhood. Plus, Batman has now returned to Gotham after an extended absence and he's not happy about his life being stolen. Hush is probably going to need even more bandages once the Dark Knight catches up with him!
Where to read it: 'Batman: Streets of Gotham' #14-21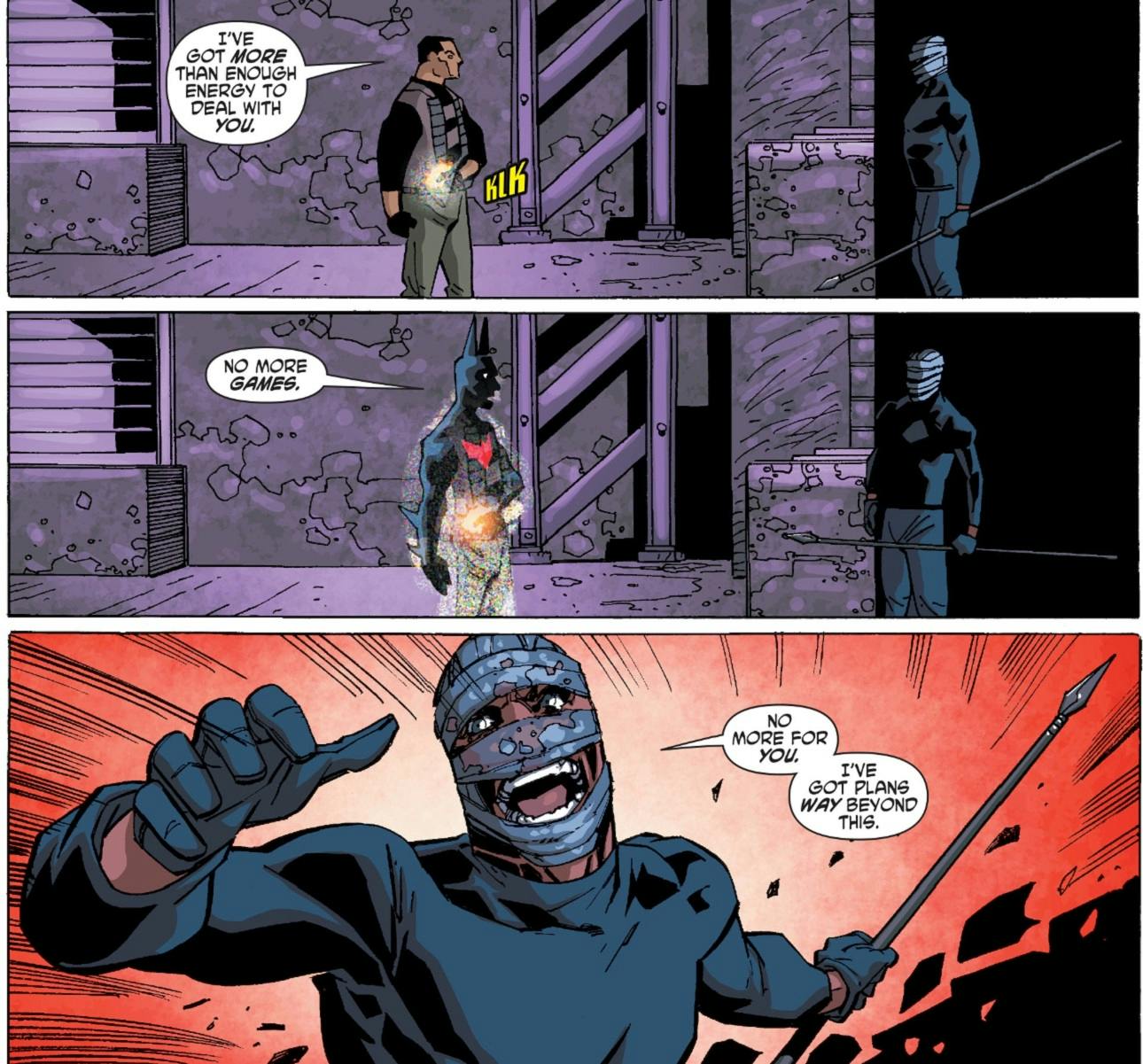 The story: Decades after Bruce Wayne has retired, Terry McGinnis is now Batman and someone is targeting the Dark Knight's old enemies. All the clues point to Tommy Elliot, but Bruce saw Tommy die years ago. Though who else can this new Hush be? They know all of Bruce Wayne's secrets, and are striking where they know it will hurt him the most. Terry, Bruce, and other classic Batman family members come together for a final showdown with Hush, and the face behind the bandages will make them question everything they thought they knew.
Where to read it: 2010's 'Batman Beyond' #1-6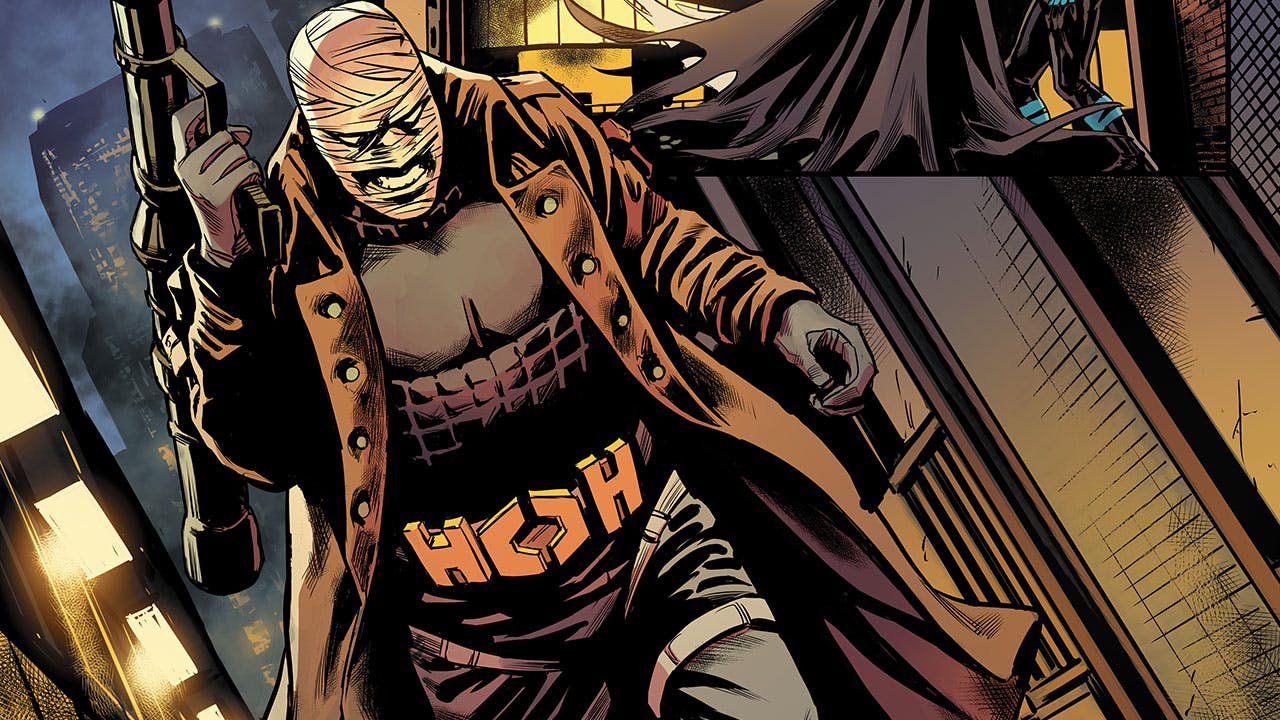 The story: As Batman and Catwoman's wedding approaches, Hush is furious to learn he's not on the guest list. Tommy Elliot responds to this slight by attacking Batman's bachelor party with a rocket launcher. During the battle, Nightwing and Hush wind up in a pocket dimension, where their sense of identity is examined and reality is warped. The story is an interesting study of how Hush views his relationship with Bruce Wayne, and the lengths he will go to maintain it. We won't spoil the biggest surprise, but let's just say Nightwing is in for a shock when Hush removes his bandages...
Where to read it: 'Batman: Prelude to the Wedding: Nightwing vs. Hush'
HONORABLE MENTIONS: In the original "Hush" storyline, Harvey Dent is cured of his disfigurement and joins the side of the angels. If you know comic-book villains, then you probably know it was only a matter of time before Two-Face returned. To see how Harvey becomes Two-Face once more, check out 'Batman' #651-654 and 'Detective Comics' #817-820.
What's your favorite Batman vs. Hush battle? Let us know in our Community!