Looking to beat the heat but still want to feel those summer vibes? From the creative team that brought you DC Rebirth's Harley Quinn and the critically acclaimed Power Girl comics, we're looking at a long-overdue solo series for one of the Teen Titans most prominent members, Starfire. The DC YOU 2015 title embraces the summer season with sun and waves as Starfire finds her new roots in Key West, Florida – written by fellow Floridians, Amanda Conner and Jimmy Palmiotti, and drawn by Italian artist, Emanuela Lupacchino. Here are five reasons why Starfire is the perfect comic book to read by the pool or on the beach during your summer vacation.      
AMANDA CONNER AND JIMMY PALMIOTTI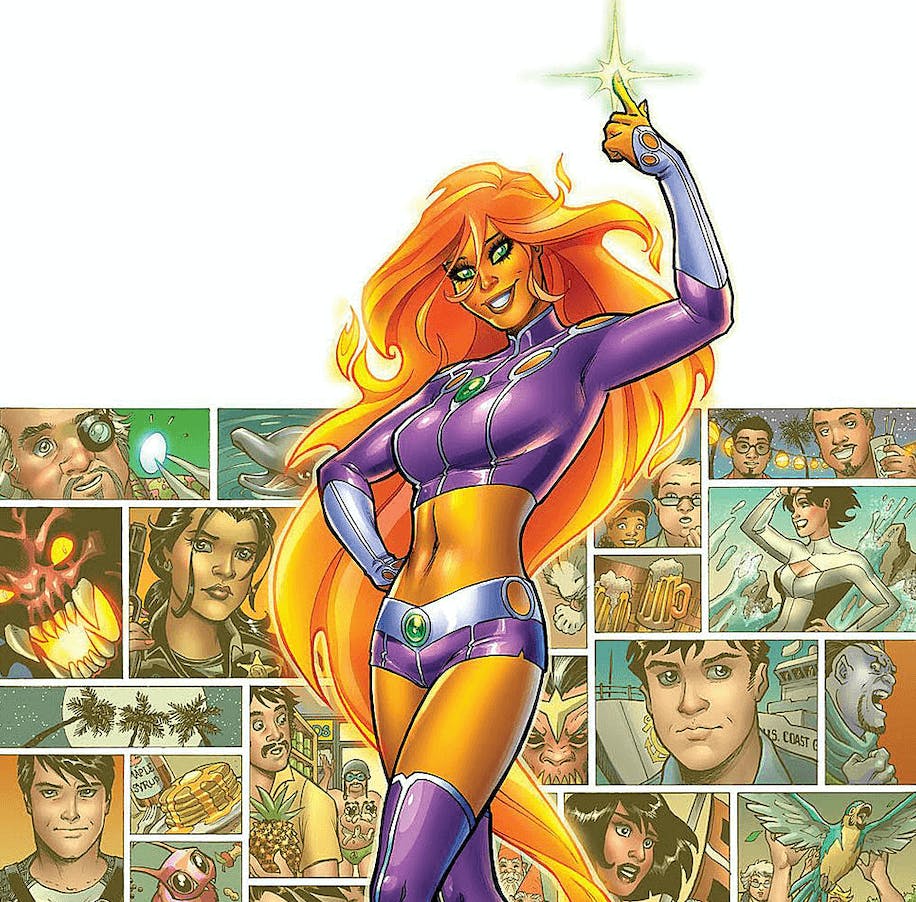 The sly minds behind Power Girl and Harley Quinn land another slam dunk with their version of Starfire. The DC power couple creates a distinct flare to their books with a great mix of comedy, action, and even a bit of heart, and the team doesn't fail to deliver this with their 12 issue series starring Koriand'r. Lupacchino on pencils matches this tone perfectly and even has a similar style to Amanda Conner's iconic artwork.     
KEY WEST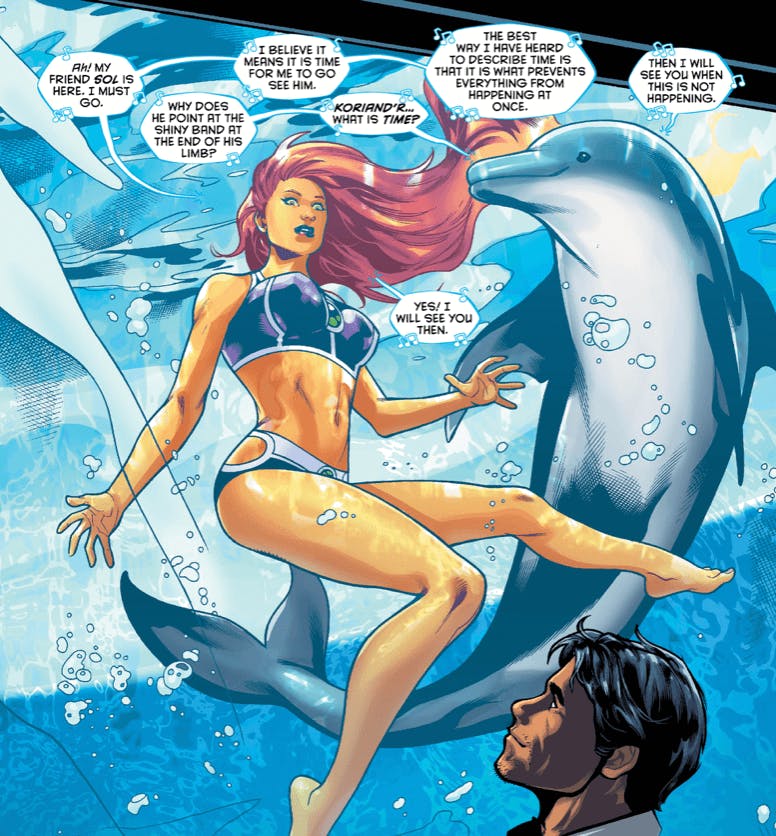 Many superhero comic books are set in a city of some sort – Gotham, Metropolis, Star City, or even San Francisco in the case of the Titans. It's a nice change of pace for the creative team to set their story in the more laid back setting of Key West. It has a large enough population for fun superhero action, but a small community vibe to allow the city and its supporting cast to feel close and intimate. It embraces the beach town aesthetic that bleeds into Starfire's own adventures.   
HER OWN SUPPORTING CAST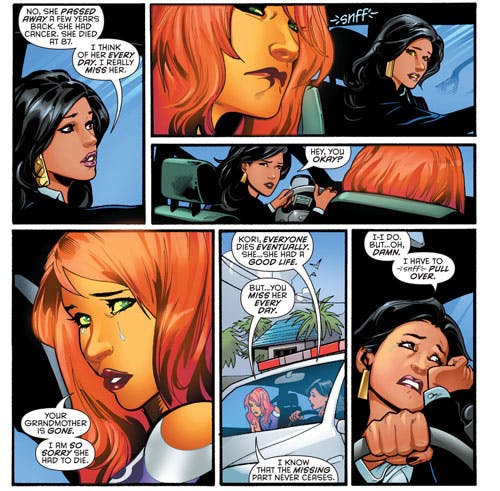 Key West is so influential in this story that it acts as a character all on its own, but there are also some great supporting characters that inhabit the town. Especially Conner and Palmiotti's original characters, Starfire #1 opens up with Koriand'r telling her life story to the Sheriff of Key West. Sheriff Gomez takes it upon herself to help the alien superhero adjust to her town. She introduces Starfire to her Coast Guard brother, Sol, that grows an attraction to Starfire right away. The trio's dynamic brings a lot of personality to the comic and grounds this superhero tale.
But don't worry there are some super powered folks that join the cast as well including Atlee (Terra), guest appearances from Starfire's old flame, Dick Grayson, and of course her favorite alien pet, Silkie, making their first appearance in DC's main universe.
A STARFIRE STORY NOT CONNECTED TO THE TEEN TITANS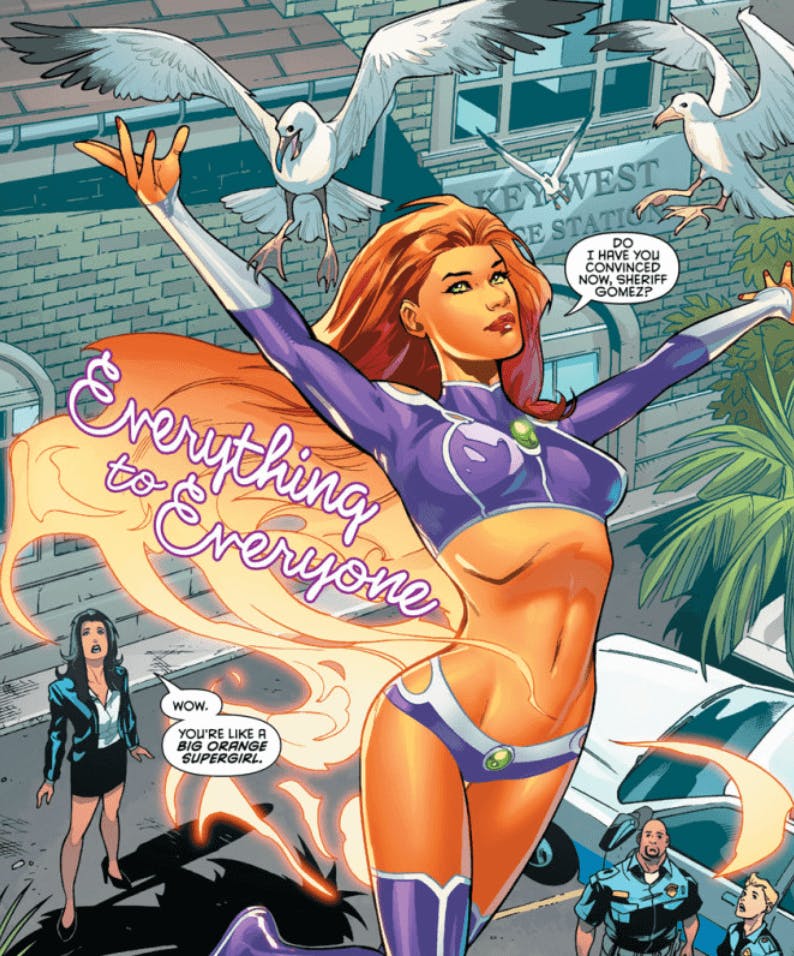 Starfire is best known for being a member of the Teen Titans, making appearances in several of the franchise's volumes and as a main character on the 2003 animated television show as well as the live action Titans. Team books are wonderful because they have the opportunity to showcase a variety of different voices in one title, but the downside of having an ensemble cast is that not every character has their own time to shine because they are sharing panels with other heroes. Conner and Palmiotti's solo series allows Starfire to be her own character and not defined by her role on the Teen Titans. There's room to explore more personal stories.   
ADAPTING HER TV PERSONALITY

Many fans have been introduced to Starfire's character either from the Cartoon Network animated show or Marv Wolfman and George Perez's long running Teen Titans book. Conner, Palmiotti, and Lupacchino seamlessly combine the tones of both the comic book and TV version of the character. There are elements from the TV show that finally find their way into the comics, including Starfire's pet alien – Silkie, and her lovable airhead personality. But what's so beautiful about this comic is how the creative team adapts these ideas into the story without sacrificing the decades of continuity that has come before.
Are you making this a Starfire summer? Talk about it in our Community!