It's Summer Solstice, the longest day of the year, and you know what that means – more time for reading comics! With DC Universe's vast library of over 22,000 comics, there PLENTY to choose from. But if you need a suggestion for today, why not try the 1996 'Teen Titans'? After all, it's their birthday! Yes, this group of super-powered teenagers' origins are directly tied to Summer Solstice, thanks to a mysterious alien intervention and impregnation. And with 24 issues and an annual, this comic series is the perfect length for a cozy binge-reading experience. Why not challenge yourself to read the whole series before Summer Solstice is over? Here are our top 5 reasons to do so...
It's a Story of Solstice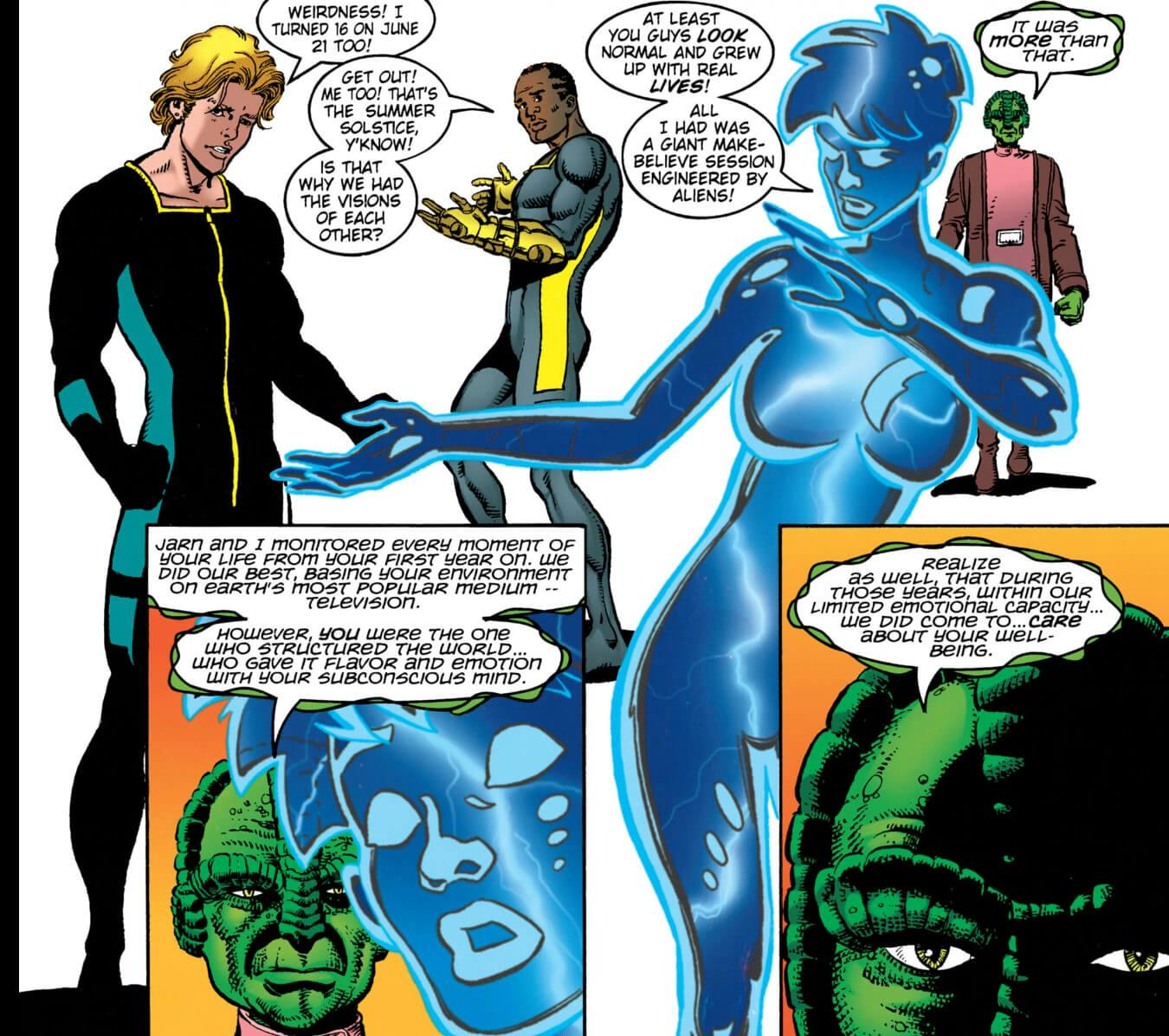 The series begins with four teenagers coming together under strange circumstances. Toni Monetti, Cody Driscoll, Isaiah Crockett, and Audrey Spears have never met before, but one day they start receiving unexplained psychic visions of one another. The teens soon find themselves victims of an alien abduction, and wind up on a ship orbiting the moon Titan. After escaping their alien captors, they learn they all turned 16 on June 21st, the day of Summer Solstice. It turns out their shared birthday is no coincidence, because the kids are human-alien hybrid experiments. Years ago, their mothers had been abducted and impregnated. The women then had their minds wiped, and were sent back to Earth. Nine months later each baby was born on the Solstice, and now that they're 16 they're manifesting mysterious abilities. The teens are soon joined by the Atom, who has been de-aged, thanks to the "Zero Hour" event, and they decide to form a super hero team. Audrey becomes Prysm, Toni becomes Argent, Cody becomes Risk, and Isaiah becomes Joto. Together they become the next generation of Teen Titans!
'90s Nostalgia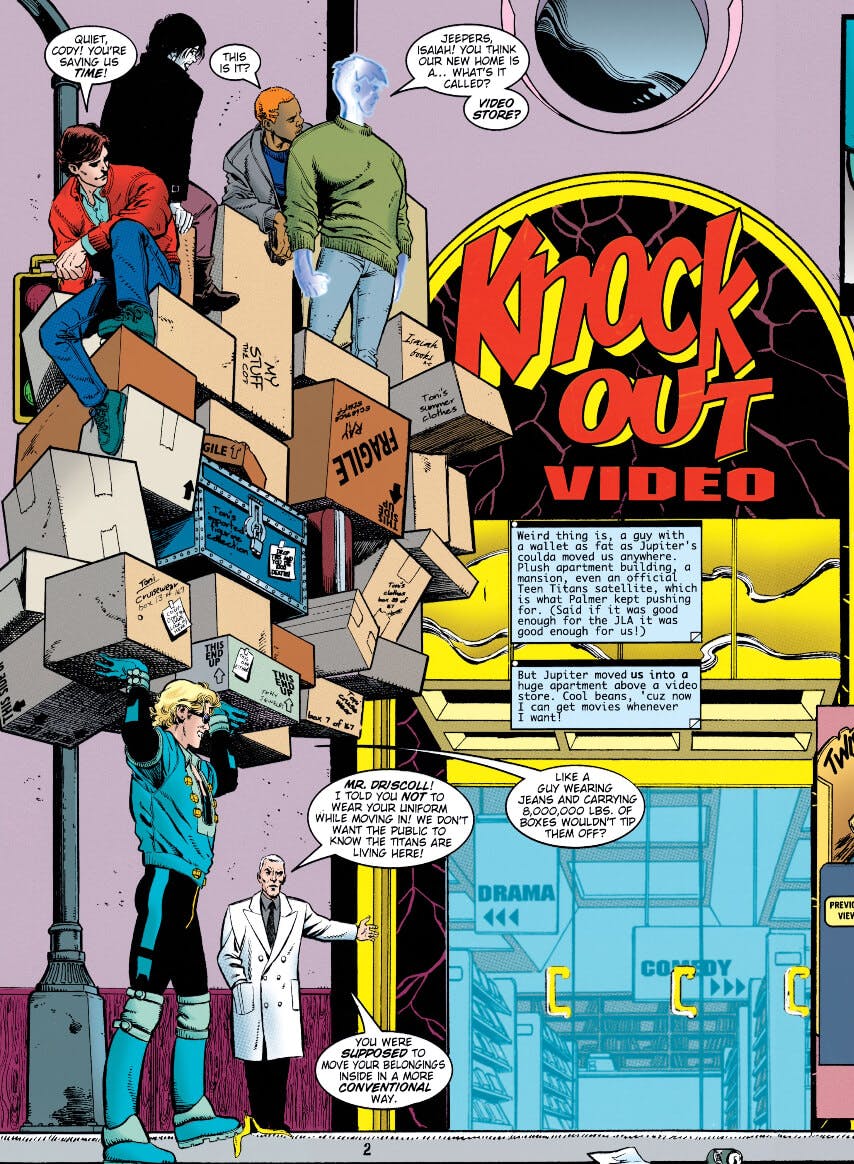 If you're a '90s kid or a fan of '90s pop culture, this comic series is a fun blast from the past -- with plenty of the decade's fun, fashions, and settings. For example, the group's headquarters is above a video store. Remember video stores? The teenager's personas also scream '90s. Argent's characterization is the perfect combination of Alicia Silverstone from the movie 'Clueless' with a dash of Shannen Doherty from 'Beverly Hills 90210.' And hey, remember all the pouches superheroes had in the '90s? Well Ray Palmer's costume is FULL of glorious nineties pouches. When it came time to recruit new members, the team utilized an early version of the AOL-era world wide web. Virtual reality also plays a heavy role in Prysm's origin, and you just can't have the '90s without virtual reality. This comic was very much of its time, but that's part of what makes it so much fun.
Top Creators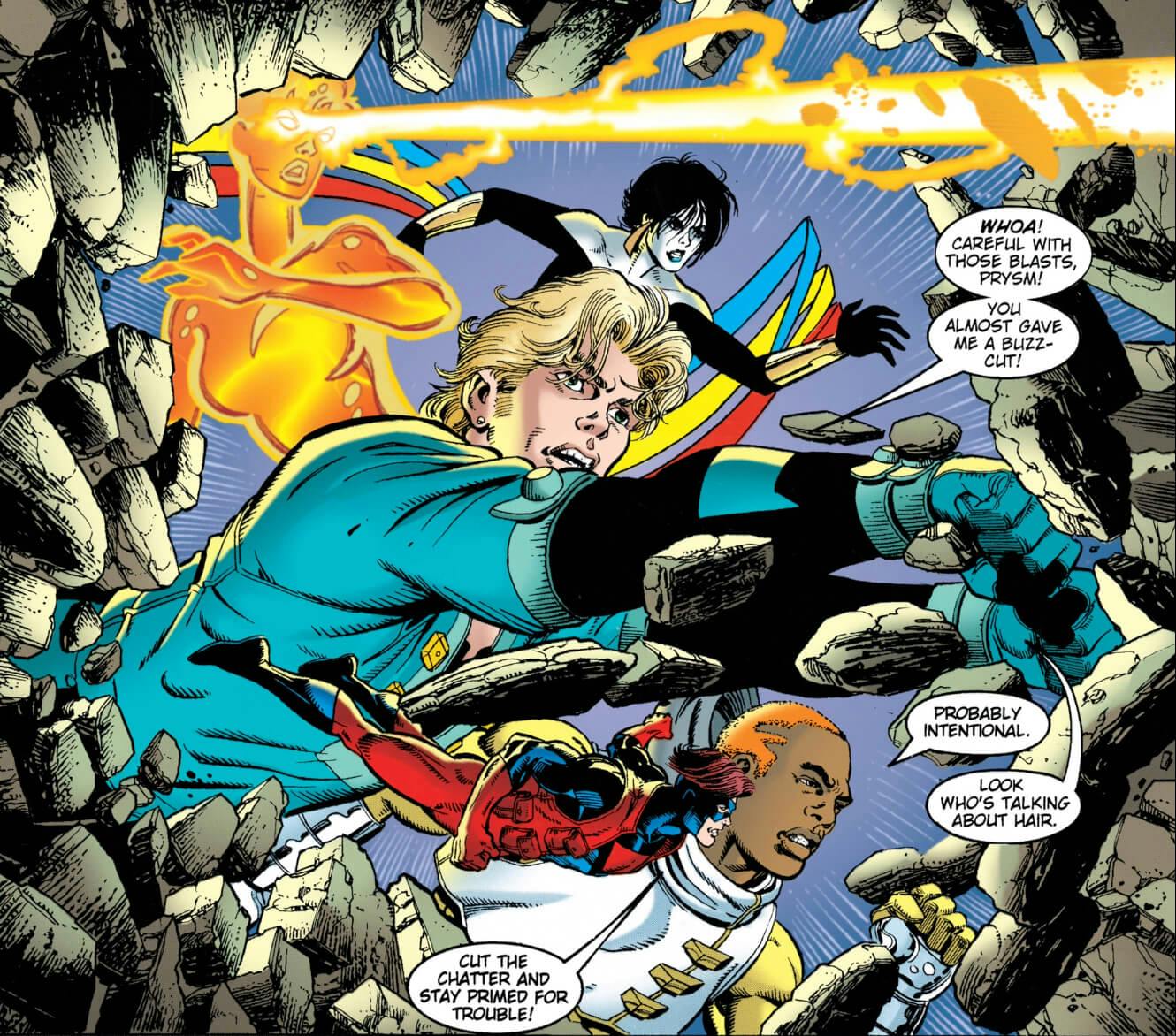 One of the reasons this series is such an enjoyable read is because it's produced by some of DC's most popular talents. Dan Jurgens is the creator who wrote and illustrated 'Superman' #75, featuring the death of the Man of Steel. That issue was one of the most successful comics DC published in the 1990s, so it should come as no surprise that his reimagining of the Teen Titans is so pleasing. Jurgens wrote the entire series run and did double duty by illustrating part of the book as well. A team of DC's greatest artists joined Jurgens to help pencil and ink the series, including George Perez, who's no stranger to the world of Teen Titans. Perez co-illustrated the first 15 issues of this series and included iconic splash pages of Titans past and present. Perez disciple Phil Jimenez, as well as Norm Rapmund, also pitched in to complete some breathtaking art, making this one of the most creatively underrated DC titles of its era.
Old Friends and Future Titans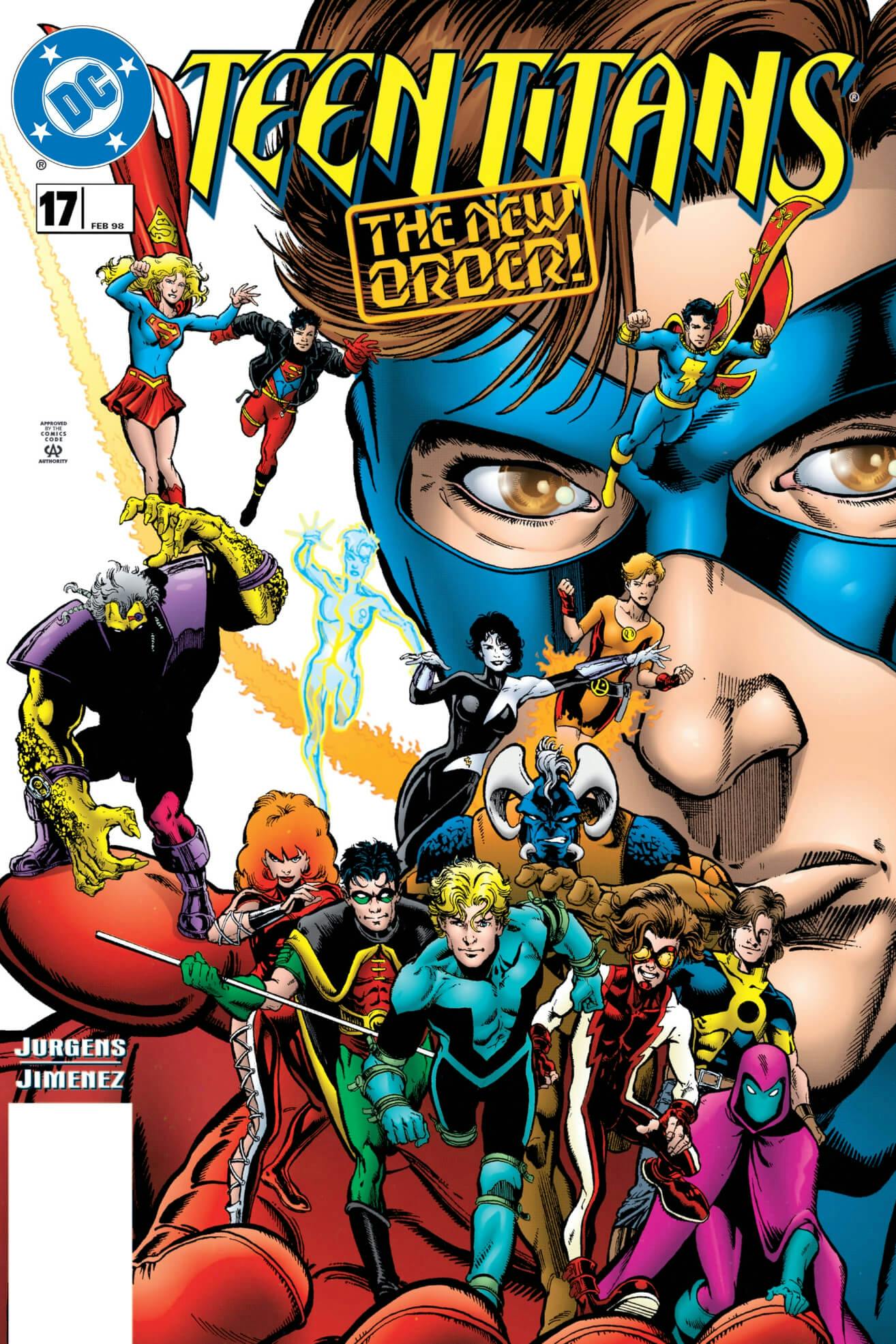 Although this series featured a cast of new heroes, Jurgens honored Teen Titans history by having the team's most famous members stop by for guest appearances. The title has strong ties to the past, as the team is led and bankrolled by Loren Jupiter, the mysterious millionaire who took the original Teen Titans under his wing in DC's Silver Age. Jupiter is assisted by an ominous being known as Omen, who's later revealed to be a former Titan. (You'll want to read the issue to find out who, because we don't want to spoil the surprise here.) 'Teen Titans' #12-15 is a great multi-part story where four of the original Titans team-up with the new group to take on Jupiter's deranged son. The team plays off of the original Titans really well, and its fun seeing them work together.  'Teen Titans' #17 features a membership recruitment drive that attracts some of the DC Universe's youthful heroes. At this point in DC history, Tim Drake's Robin and Conner Kent's Superboy had not yet been Teen Titans, and it's interesting to see these iconic future members decline their invitations to join. Though this series launches a new version of the Titans, it's still a great celebration of the group's legendary history.
Genre Mashups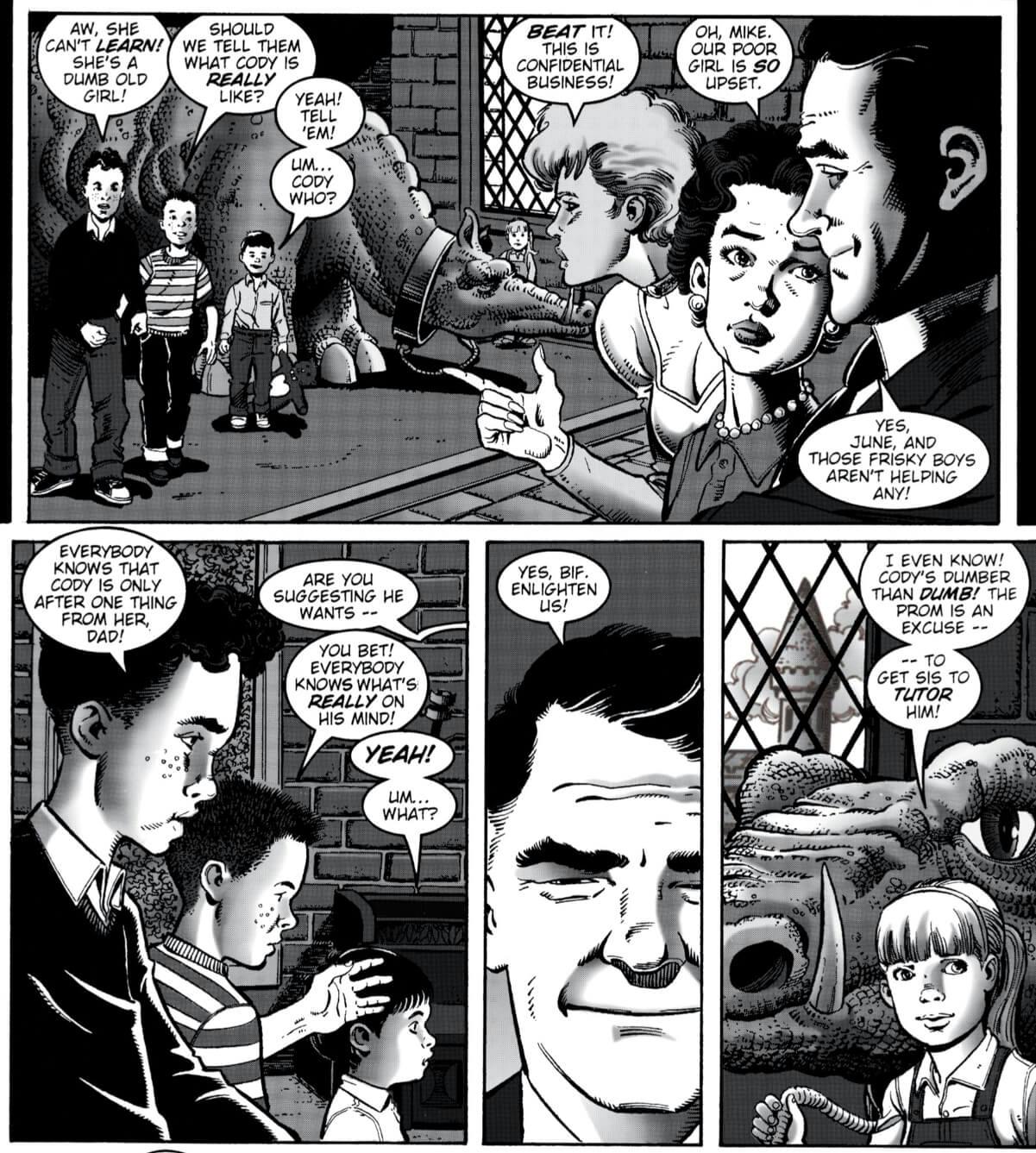 One of the reasons this series is so fun is because of its ability to blend different genres in unexpected ways. The first arc sees Prysm growing up in a virtual reality world controlled by aliens. Since the extraterrestrials haven't fully brushed up on their human culture, Prysm's upbringing is a mashup of '50s sitcoms and childhood fairytales, resulting in a world that's part Mother Goose and part 'Leave it to Beaver.' If you ever thought the movie 'Pleasantville' could've used more dragons, then you'll love seeing Audrey's strange childhood. The series continued to play with different genres throughout its run. 1997's 'Teen Titans' Annual 1 mixed horror movies and spaghetti westerns in a tale where the team find themselves in a frontier town run by cannibals. 'Teen Titans' #9-11 finds the team journeying to the lost world of Skartaris, where medieval adventure meets prehistoric dinosaur action. Reading this comic is an adventure in itself, as you never know what type of story Jurgens will take the team on next.
Are you a fan of the '90s Teen Titans? Let us know in our Community!