Not only is DC Universe All Star Games a fun viewing experience, it's also a series over 30 years in the making. While the Freddie Prinze Jr.-fronted show is brand-new, the role-playing game that inspired it -- DC Heroes -- has been a cornerstone of the gaming community since 1985. Thanks to Mayfair Games, fans in the '80s and '90s were able to create and immerse themselves in their own DC Universe. Here are 5 facts about Mayfair's beloved RPG...
HERO POINTS HELPED LEVEL THE PLAYING FIELD
Unlike fantasy RPGs, the DC superheroes couldn't level up past a certain point. A player couldn't make a mortal character like Batman become stronger than Superman. Mayfair used a system called hero points to level the playing field, and keep gameplay interesting. A player's character could improve their hero points during gameplay, which could be used to buy new abilities, create new characters, improve odds of success during a critical game action, and more. Hero points acted as in-game currency, encouraging gamers to play more and work harder for a more satisfying RPG experience.
THE GAME GAVE FANS A SNEAK PREVIEW OF THE POST-CRISIS LANDSCAPE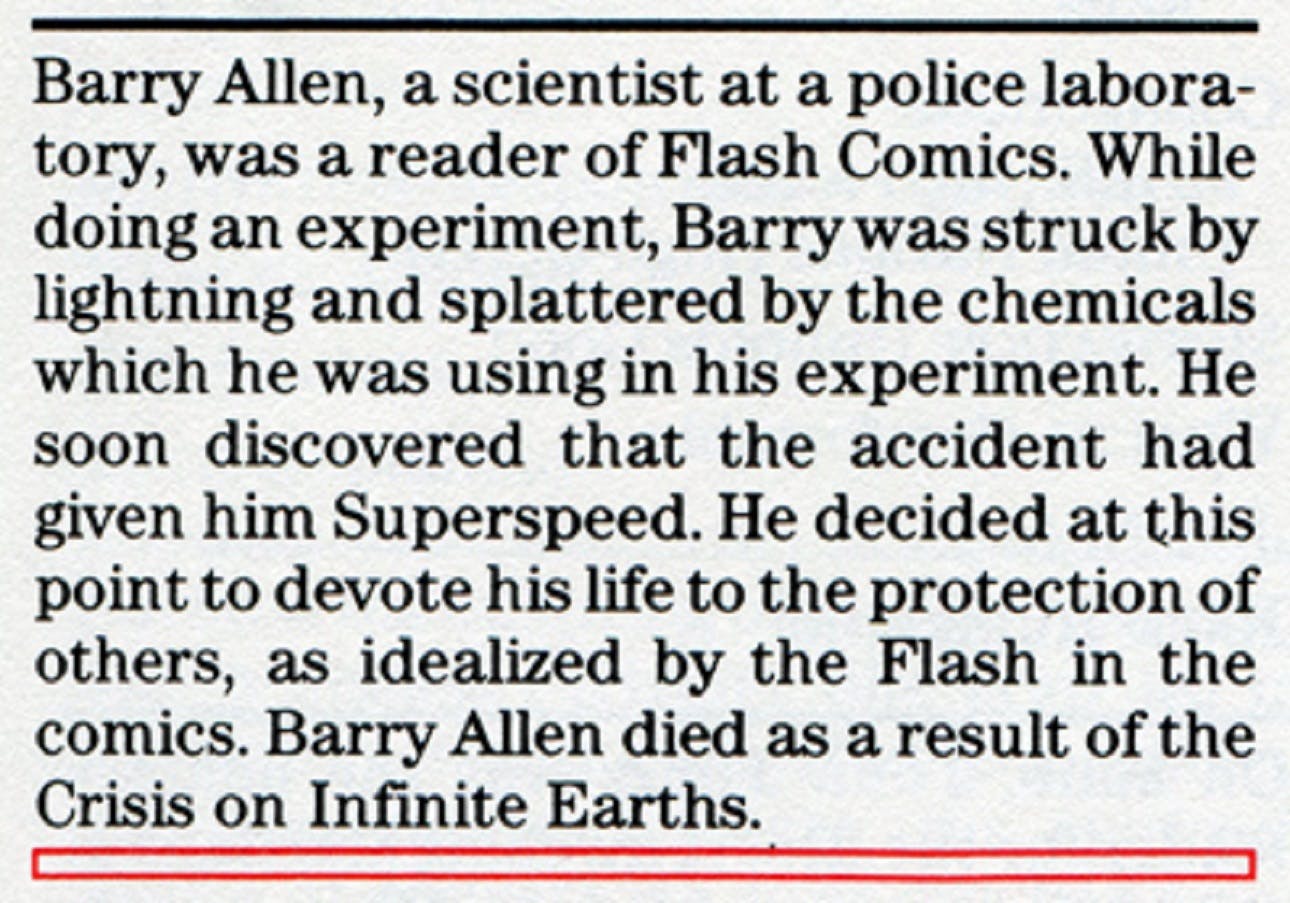 The first edition of DC Heroes was released in 1985, while DC Comics was in the middle of the multiverse-shattering Crisis on Infinite Earths storyline. While comic book readers were speculating about what the DC Universe would look like once the storyline ended, players of DC Heroes were given a special preview. The character biography for Flash mentioned his heroic sacrifice from Crisis on Infinite Earths #8 months before the issue hit the stands. Greg Gorden and the other game developers kept in close contact with DC during production, and tried to incorporate as many Post-Crisis details as they could in their character stats. While some of the major changes with Wonder Woman and Superman hadn't been worked out yet, the gaming booklet was still a valuable resource for any diehard DC reader curious about the new status quo of their favorite universe.
THE GAME ENCOURAGED PLAYERS TO DEVELOP SUBPLOTS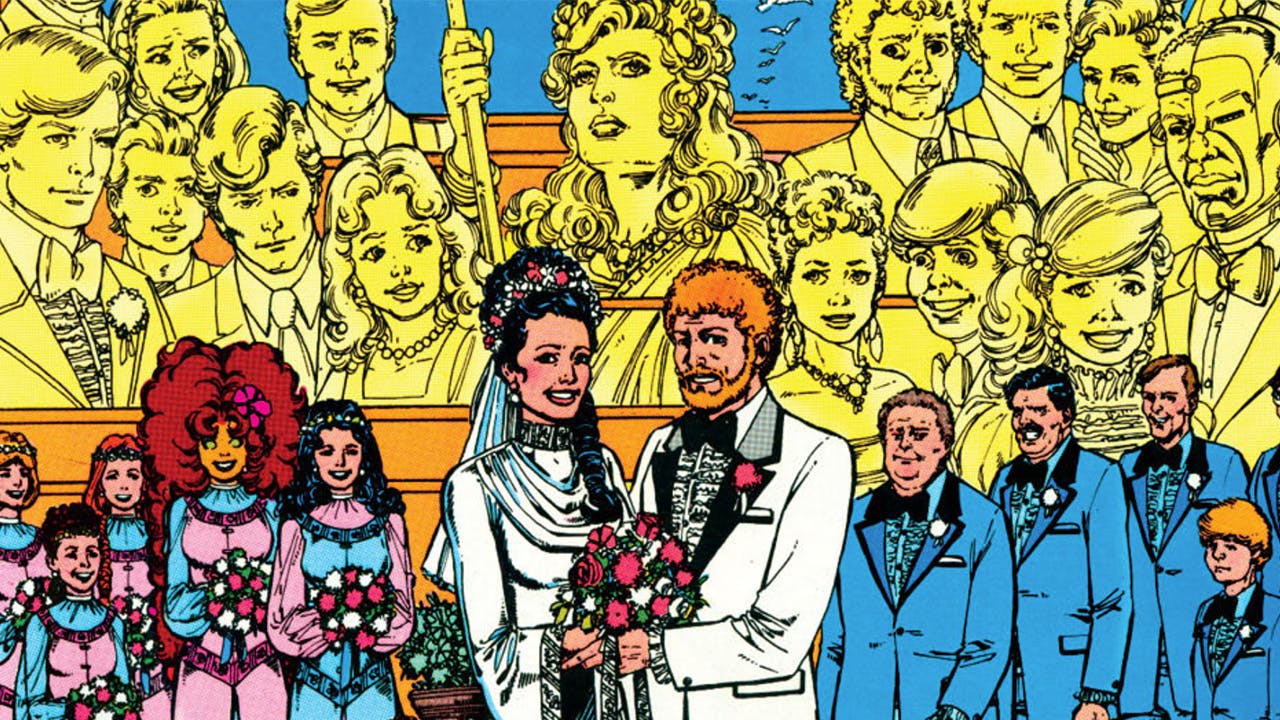 DC Heroes is notable because unlike other RPGs, players are encouraged to build their world through subplots. According to design notes found in the game's manual, the designers read contemporary comics and found themselves inspired by Tales of the Teen Titans #50. The comic features the wedding of Donna Troy and Terry Long (yuck!), and the designers were impressed that the entire issue was devoted to the wedding, without any super-villains or battles. The subplot feature was added to capture that same sense of world-building. Various scenarios were given, for example, in which your character's love interest could be blackmailed by a villain, or one of your friends could face a problem that couldn't be solved through superheroics. In order to help your friend, you would have to spend time away from your adventure, forcing you to make a difficult decision, much like the DC heroes often did in their respective comic book series.
THE GAME WAS A VALUABLE RESOURCE FOR DC CREATORS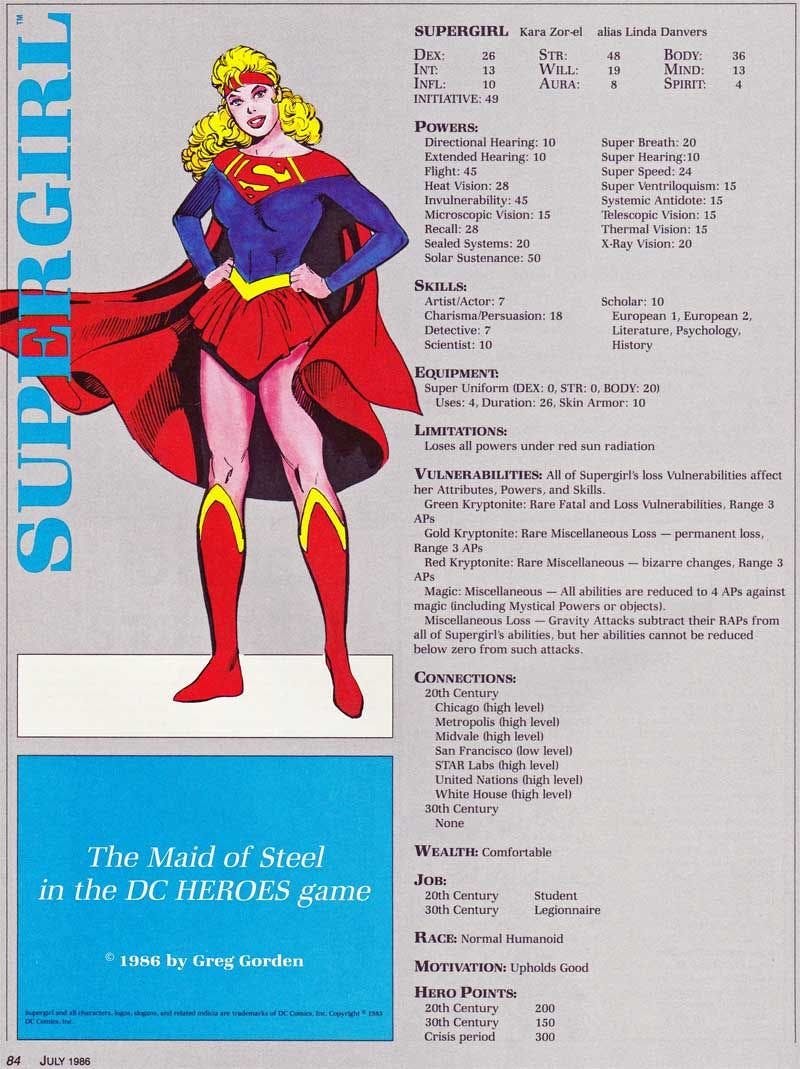 The relationship between Mayfair Games and DC Comics was mutually beneficial. According to an online discussion with game designer Ray Winninger, many DC creators were more than happy to help develop accurate character stats. "I had a series of lengthy conversations with all sorts of DC writers and editors when compiling the game stats and rules for DC Heroes," said Winninger. "I personally worked with Mike Barr, Andy Helfer, Denny O'Neill, George Pérez, Alan Moore, John Byrne, Neil Gaiman, Marv Wolfman, JM DeMatteis, Steve Englehart, Paul Levitz, Mike Grell, Dan Jurgens, Paul Kupperberg, Jack Kirby, Roger Stern, Jerry Novick, and several others I'm forgetting." 

The detailed stats the team created in turn became a valuable resource for DC creators. "A lot of the material we created and compiled was used by DC for a long time. I know that my Green Lantern sourcebook  was used by several of the writers who have written GL in the intervening years."
FANS KEPT THE GAME ALIVE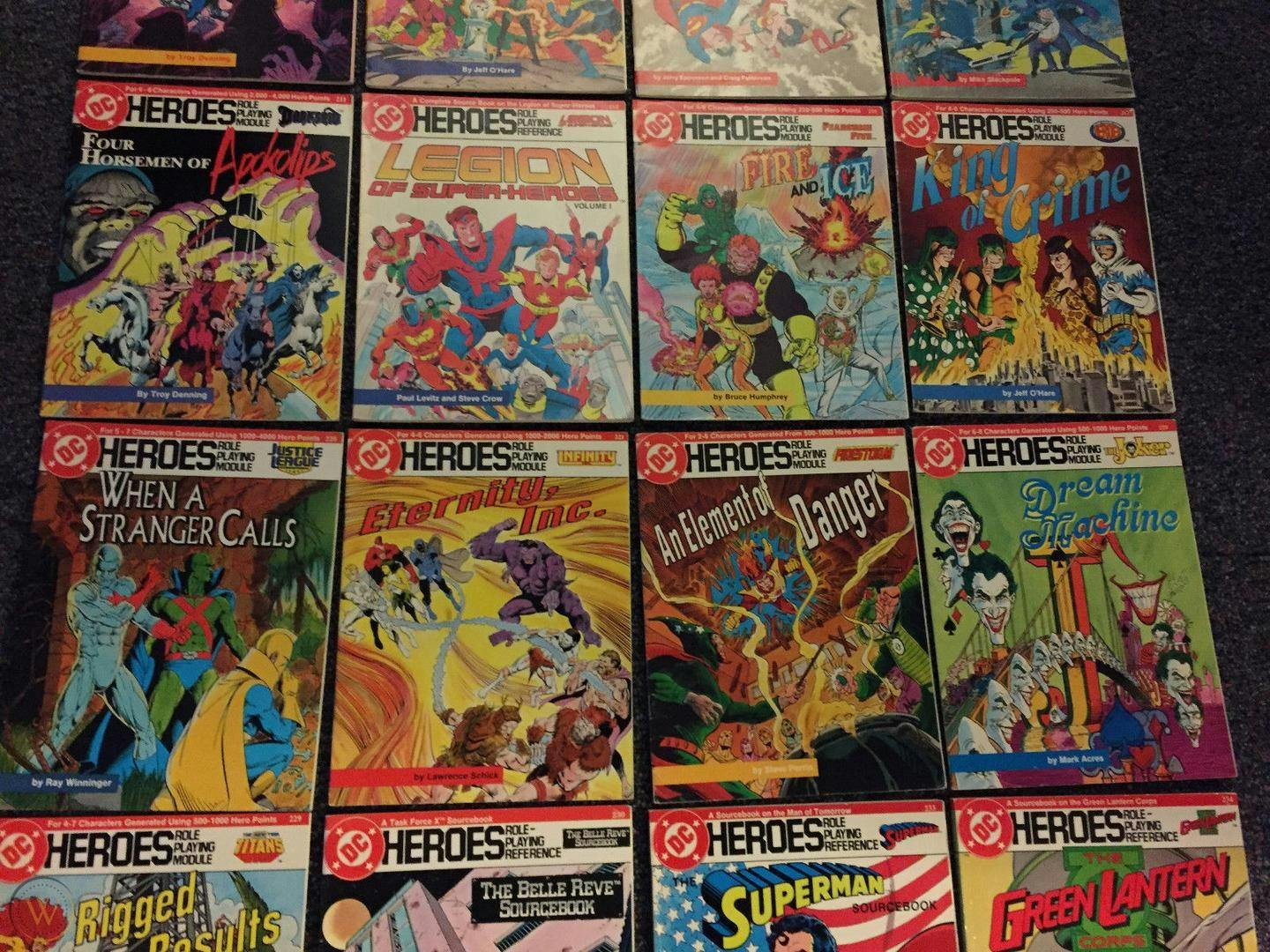 Mayfair Games no longer exists, and DC Heroes has been out of print for decades, but the gaming community has kept the tabletop classic alive. Fans who grew up playing the game have built communities online, bringing the basement fun of RPGs to online chatrooms. Players have launched podcasts devoted to DC Heroes, created online databases for character stats, and have shared resources through online groups. In 2010, a group of comic book bloggers collaborated on a digital event called "Mayfairstivus" where they celebrated the legacy of the beloved game. We're no longer living in the 1980s, but that doesn't mean you can't join in on the fun. If you've been enjoying DC Universe All Star Games, then check out some of these resources, and start your own Breakfast League!
Do you have any stories about your experiences playing tabletop games? Let us know in our Community!