Trick or treat DC fans! Our 13 Days of Halloween series continues, and today we're going to travel back to 1939 for one of Batman's earliest and eeriest adventures. "Batman Versus the Vampire," written by Gardner Fox, and illustrated by Bob Kane and Sheldon Moldoff, is a Golden Age classic that ran in 1939's Detective Comics #31-32.
The iconic cover almost looks like a poster for an old Universal monster movie, and if a reader was unaware of Batman, they might assume he was the villain of the story. Even before the story begins, the reader is given all the right notes of menace and horror.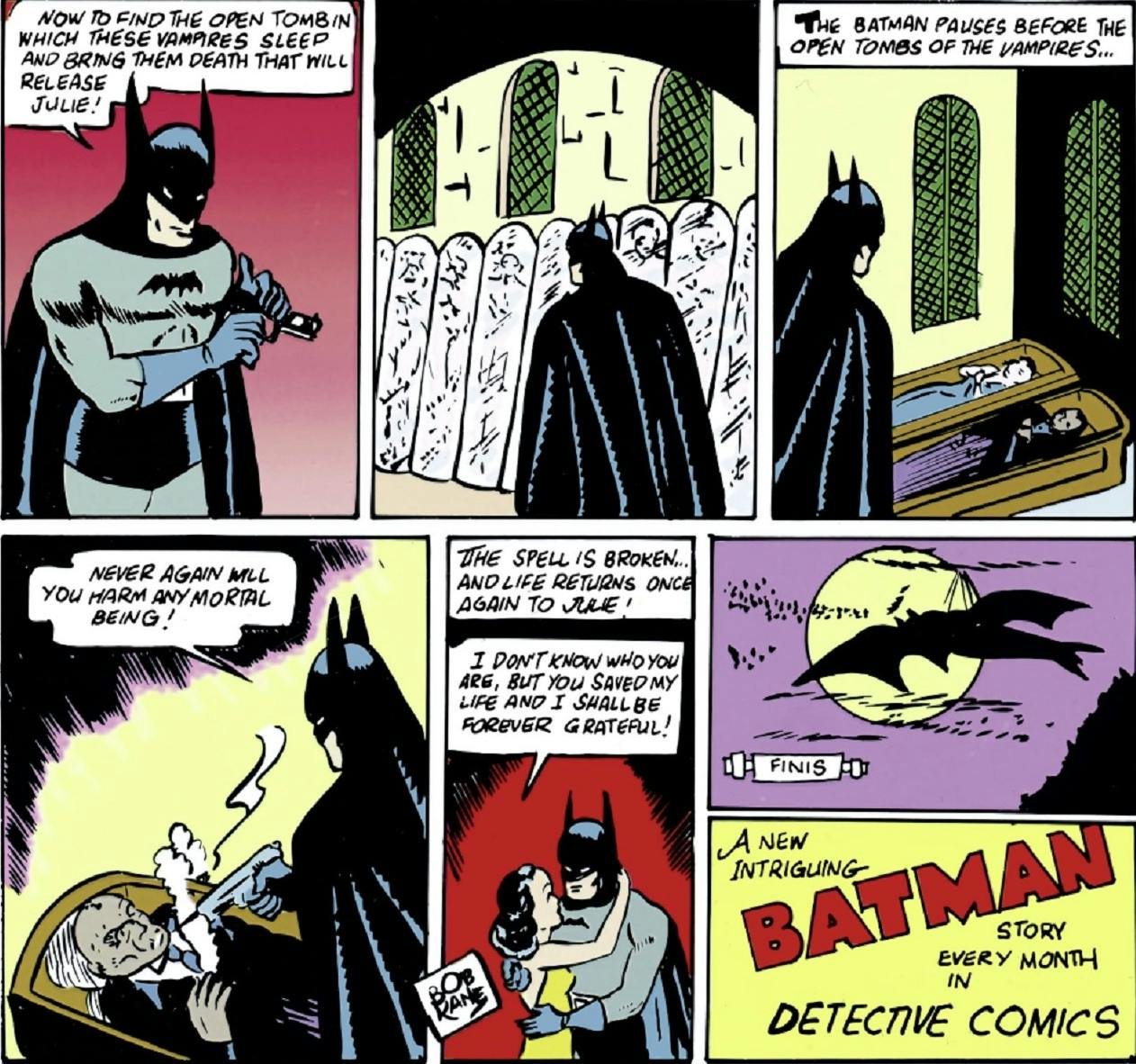 The story follows Batman as he searches Europe for Bruce Wayne's fiancée Julie Madison, who has been targeted by a mysterious hooded figure known as the Mad Monk. The Monk seeks to either turn Julie into a werewolf, feed her to the werewolves or turn her into a vampire – he keeps changing his mind, but then again, he IS mad. But his indecision means that Batman fights werewolves and vampires in the European countryside which makes for spooky Halloween reading. Plus, the Dark Knight even uses his own silver bullet gun.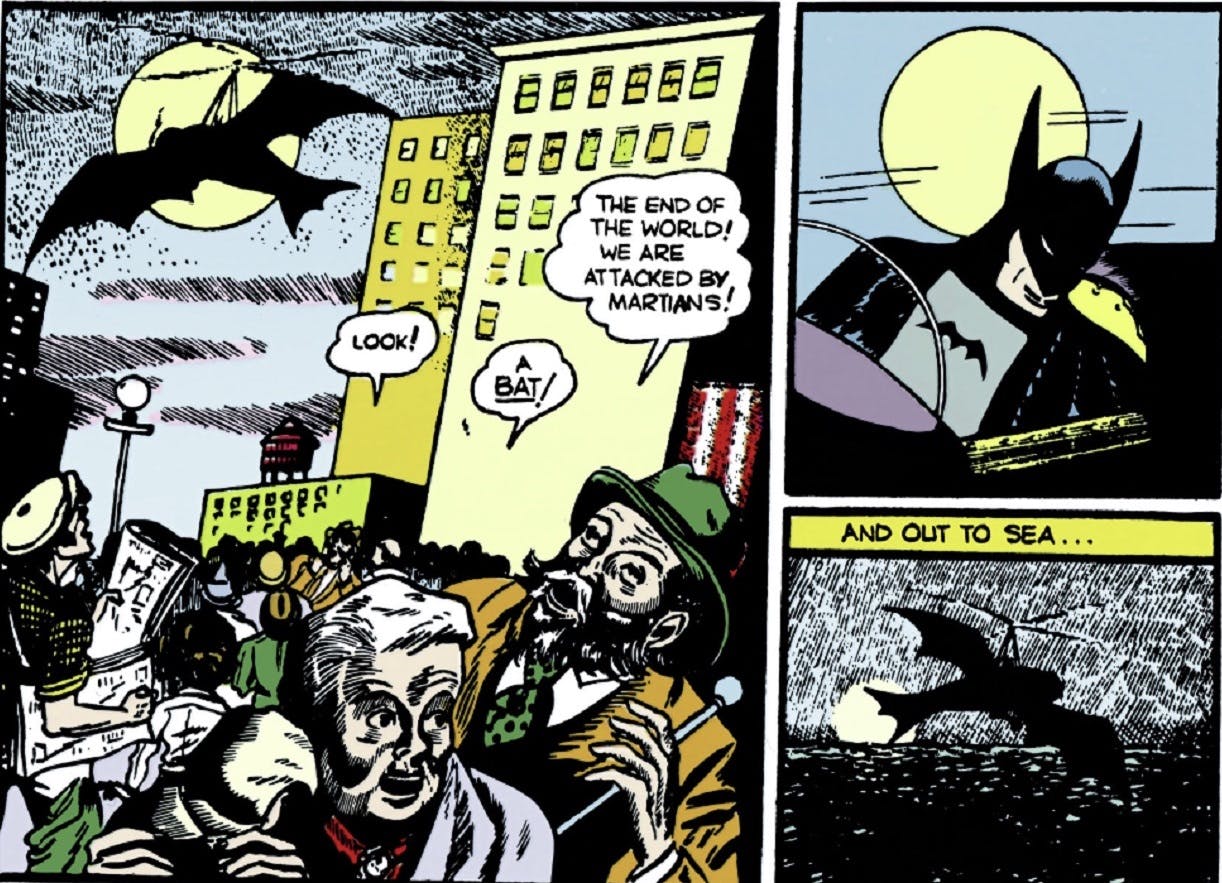 Since this is one of the earliest Batman stories, there are also some fun cases of early installment weirdness. Have you ever watched the first season of a long running television series and been surprised at how different the characters and tone of the show are? You'll definitely get that fun feeling here. It's the first year of Batman's career, and the creative team is still experimenting with what works. In fact, Batman's origin still hadn't been written, and popular characters like Alfred, Robin, Joker and many others hadn't met the Dark Knight yet. And Bruce Wayne is randomly given a fiancée, as if she was always there. Plus, Batman fights a gorilla, werewolves and vampires and even fires a gun. Like we said, early Batman had its own unique identity.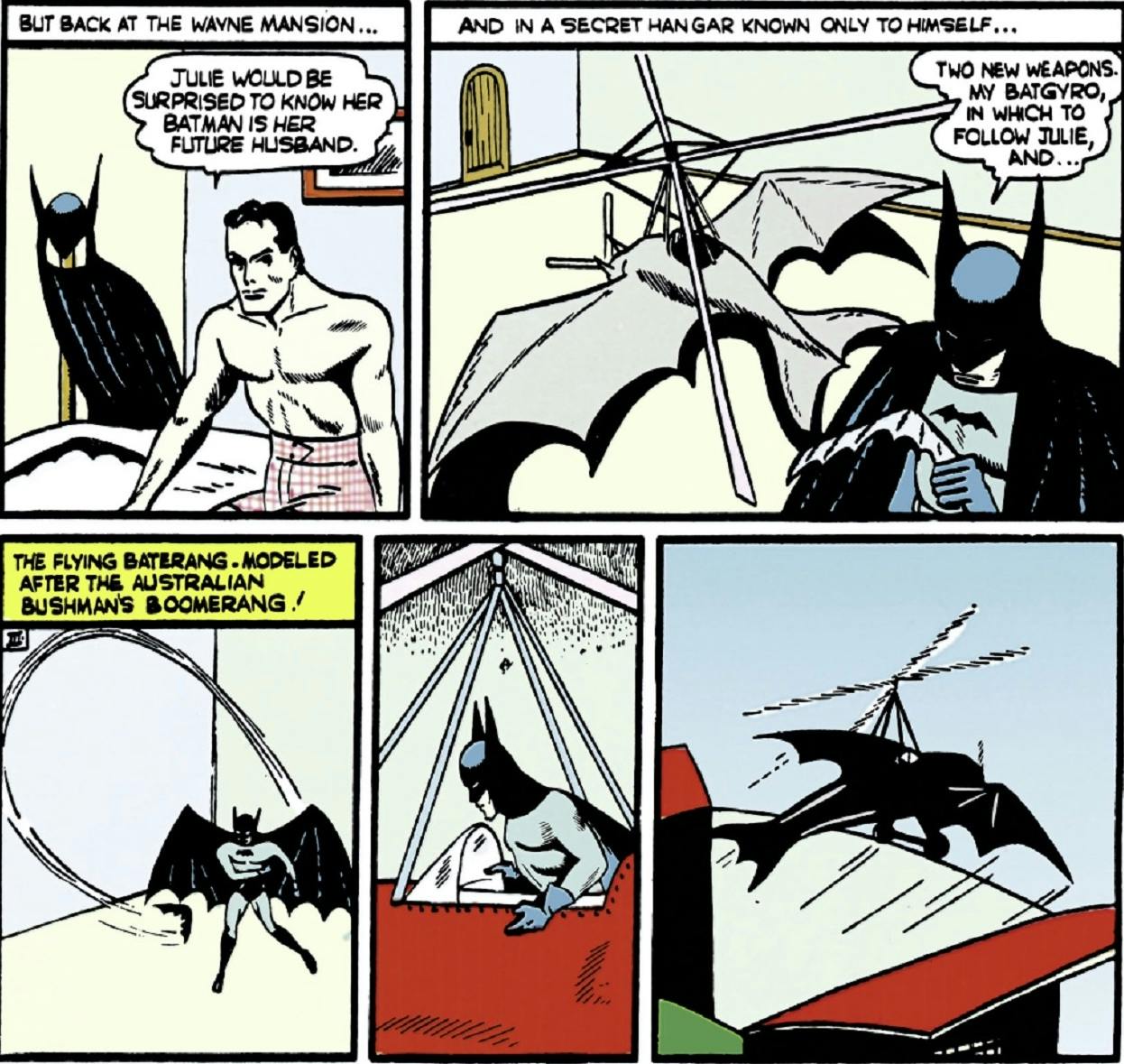 In addition to being a great horror tale, this story is an important piece of Batman's legacy. The two-parter introduces the Batarang (spelled "Baterang" here) and Batgyro, Batman's first flying vehicle. Readers are also shown Bruce Wayne's "secret hangar" which was an early predecessor to the Batcave. Although Julie Madison would never reach the heights that Lois Lane did, her character has reappeared throughout Batman history and occasionally in other media. "Batman Versus the Vampire" also holds the distinction of being the first Batman two-parter. Although Batman had previously fought the villain Doctor Death in two consecutive stories, they weren't narratively linked the way this one was.
Dala and the Mad Monk were later used in the Bronze Age, where they targeted Dick Grayson. In 2006 Matt Wagner wrote and illustrated a 6 issue limited series called "Batman and the Mad Monk" which retold "Batman Versus the Vampire" with modern storytelling sensibilities.
If you're a vintage horror fan, then this comic is the type of old school spooky fun that will make this a memorable Halloween reading experience. Enjoy!