Lois Lane and Clark Kent are the original power couple...or, more precisely, a Supercouple. In an era where celebrity couples implode every six months, it's amazing to see Superman and Lois together after over 80 years! The CW will air a new series about Lois and Clark this Fall, and the two will also feature in the upcoming animated film Superman: Red Son. If you want to read more about their epic love story, here's our list of essential Superman and Lois shipper stories!
"Superman, Champion of the Oppressed"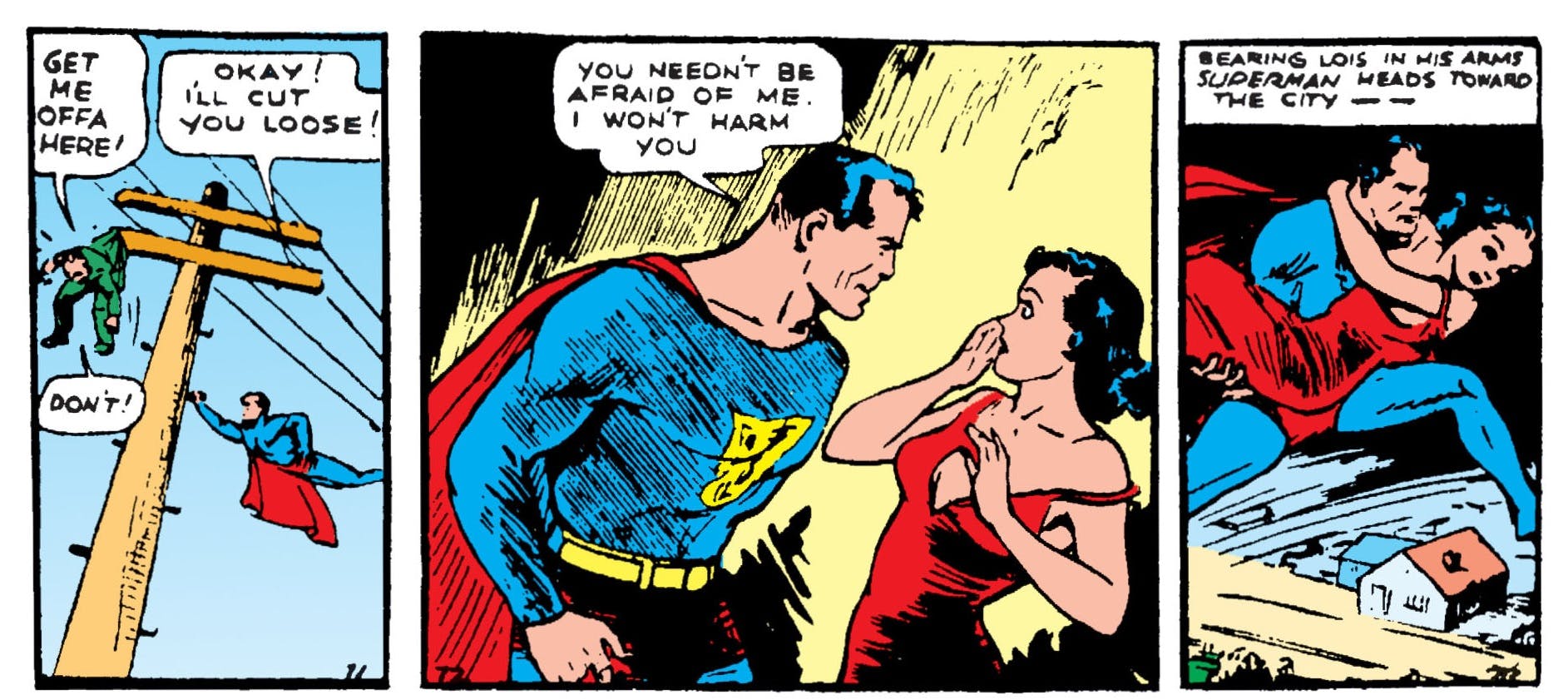 RELATIONSHIP STATUS: Superman meets Lois Lane. Clark and Lois have a (bad) first date.
WHERE TO READ IT: 1938's Action Comics #1
THE STORY: This historic issue was the first appearance of both Superman and Lois, launching the superhero genre as we know it. Lois Lane reluctantly accepts a date from her coworker Clark Kent, who she despises for his cowardly ways. After some thugs manhandle Lois, Superman appears and makes quick work of them. Lois is speechless, and the first seeds in their long romance are planted.
"The Big Scoop"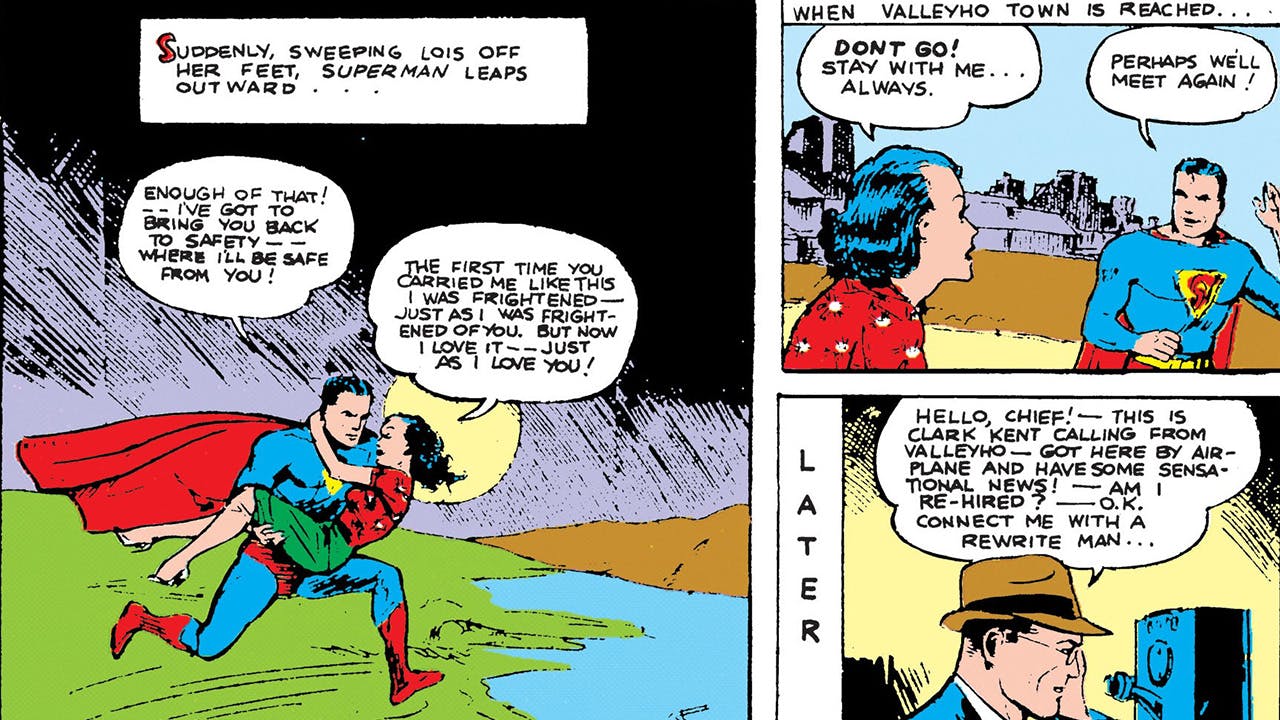 RELATIONSHIP STATUS: Superman and Lois have their first kiss, and Lois proclaims her love for the Man of Steel for the first time.
WHERE TO READ IT: 1938's Action Comics #5
THE STORY: Lois Lane heads to Valleyho to cover a story about a collapsing dam. After Superman saves Lois from a flood, the grateful reporter offers her thanks by giving him "a super-kiss for a super-man." Although Superman protested Lois's affections at first, the kiss was enough to make him say "wow." Lucky for Superman, there would be plenty more kisses ahead for the next 80 years.
"Man or Superman?"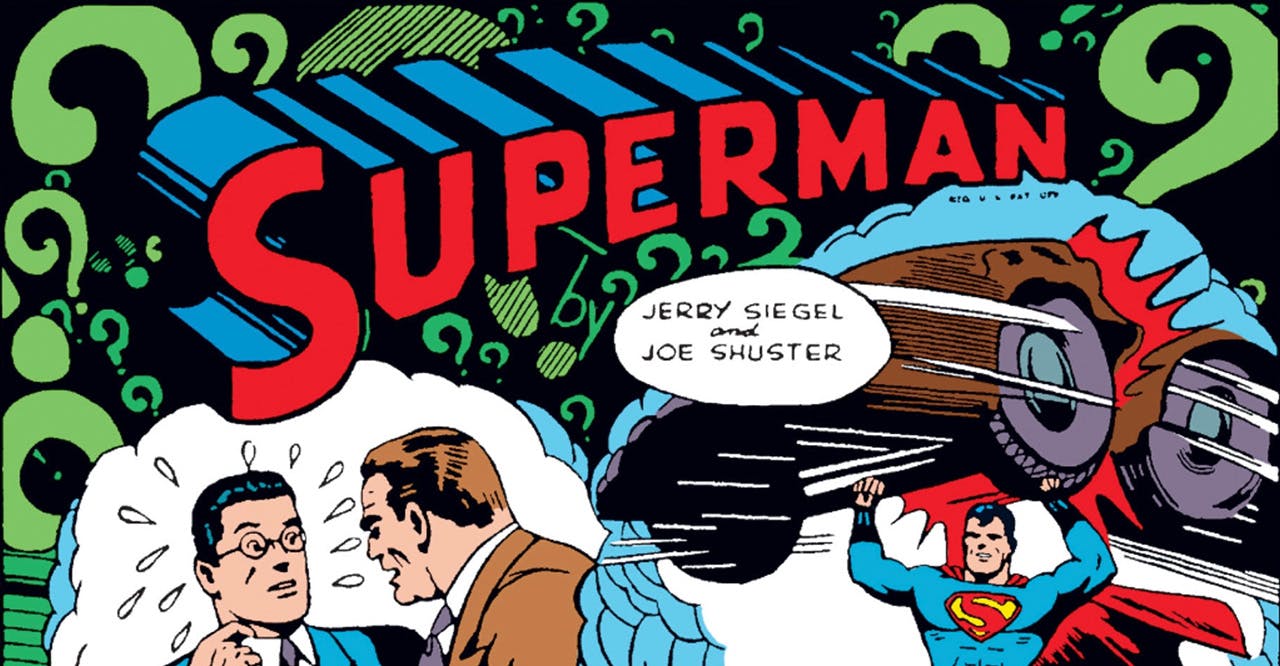 RELATIONSHIP STATUS: Lois Lane first suspects that Clark Kent is Superman.
WHERE TO READ IT: 1942's Superman #17
THE STORY: When Clark Kent shows up somewhere he couldn't possibly have gotten to fast enough, Lois Lane begins to suspect his double identity for the first time. It takes some quick thinking and superspeed to throw Lois off his scent, but this story wouldn't be the last time Superman would have to worry about this. Lois would spend years trying to prove Superman and Clark Kent were one and the same, and this is where the cat and mouse game began.
"Lois Lane – Superwoman"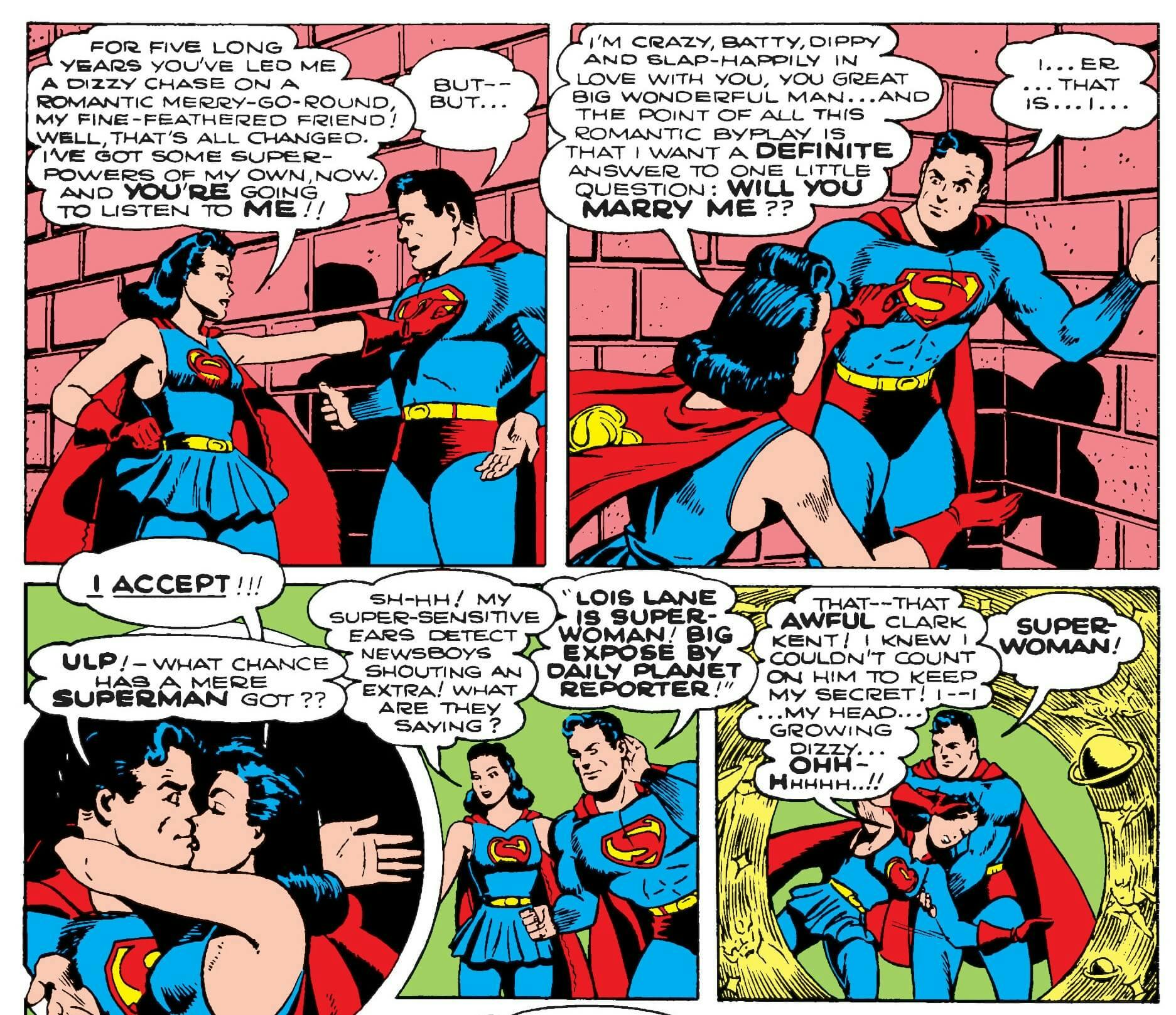 RELATIONSHIP STATUS: Lois Lane pops the question for the first time!
WHERE TO READ IT: Action Comics #60 
THE STORY: Lois Lane receives a blood transfusion from Superman, which grants her incredible powers. The reporter adopts the identity of Superwoman, and helps Superman in his fight against the underworld. The tale ends with her saying she's tired of their relationship teases and proposes marriage. The Man of Steel accepts – but alas, it was all just a dream. This issue was the first time Lois gained superpowers, and the first time she proposed to Superman, two things which would become regular traditions during the Silver Age. Speaking of…
"Superman's Girlfriend Lois Lane"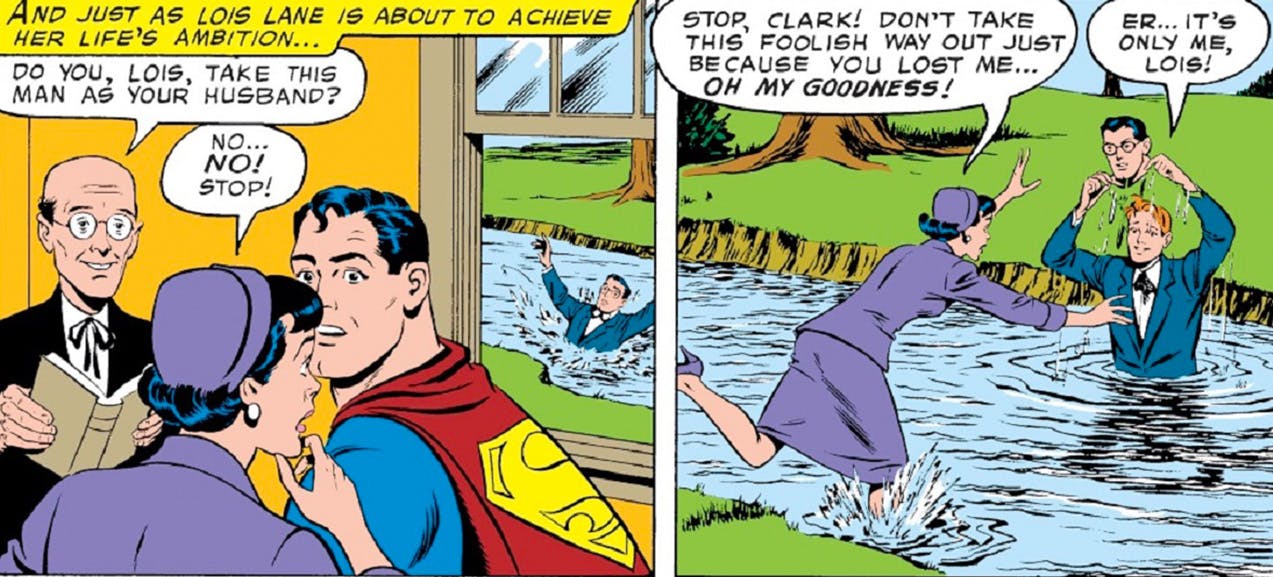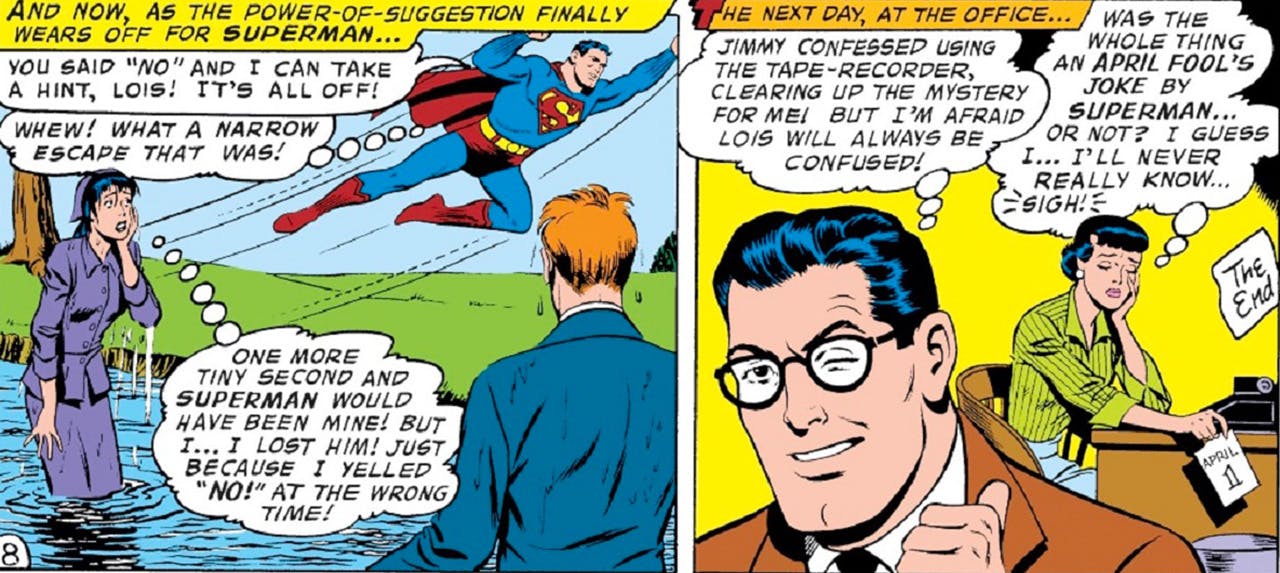 RELATIONSHIP STATUS: Lois and Superman have dozens of weddings, break-up, get back together, get engaged, and leave each other at the altar.
WHERE TO READ IT: Superman's Girlfriend Lois Lane #1-137
THE STORY: Superman and Lois's relationship gets a bit strange here. Throughout the entire series Lois proposes to Superman 13 times, Clark/Superman proposes to Lois 16 times, they get engaged 16 times, and they have 13 interrupted weddings. And that's leaving out the dreams, robots, and all the other suitors Lois almost married. It was the sixties, give them a break. Lois and Superman's behavior in the title may not hold up to modern day sensibilities, but the comic is still a fun look at a more lighthearted era of their relationship.
"Superman takes a Wife"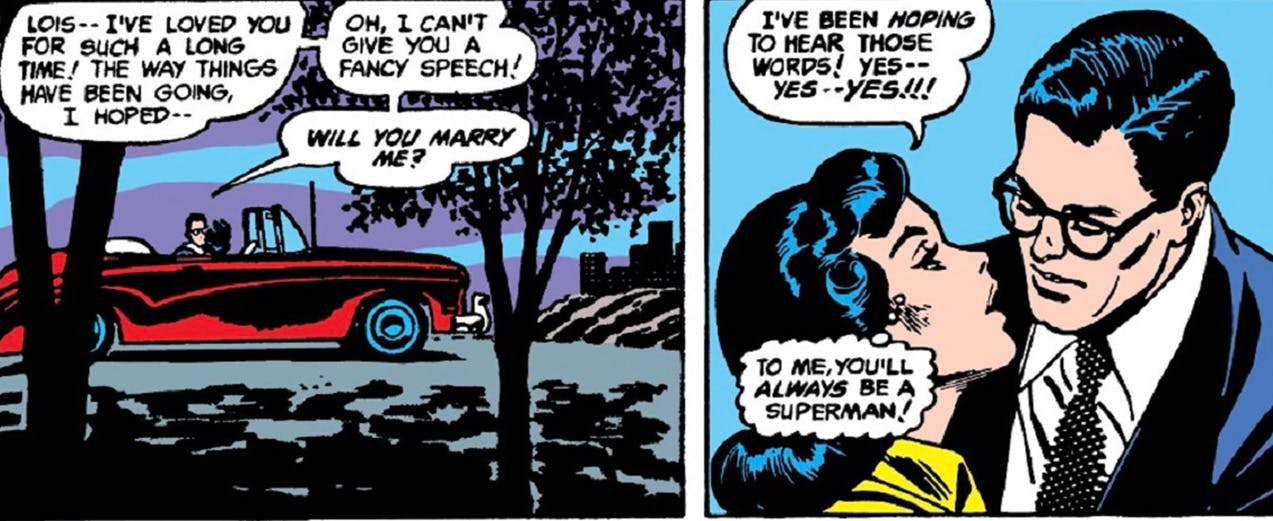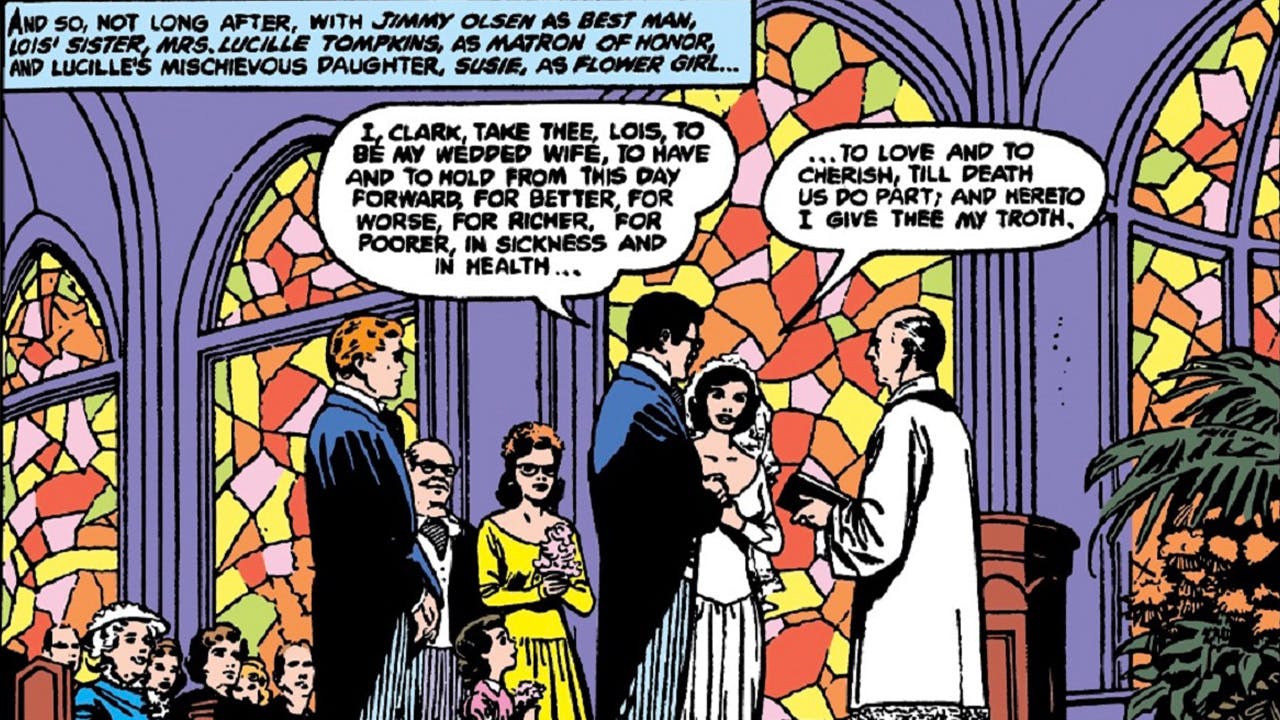 RELATIONSHIP STATUS: Superman and Lois get married…….on Earth-Two!
WHERE TO READ IT: Action Comics #484 (reprinted in DC Retroactive: Superman – The 70's #1)
THE STORY: Set on Earth-Two of DC's Multiverse (which is inhabited by characters from the Golden Age), Clark Kent loses his memories and powers, causing Lois Lane to see her co-worker in a new light. Clark becomes more assertive, and uses his platform as a journalist to go after criminals. A romance develops between him and Lois, and the two are soon married. But what happens when Lois finds out her husband was once the Man of Steel, and can she help him regain his memories?
"The Story of the Century"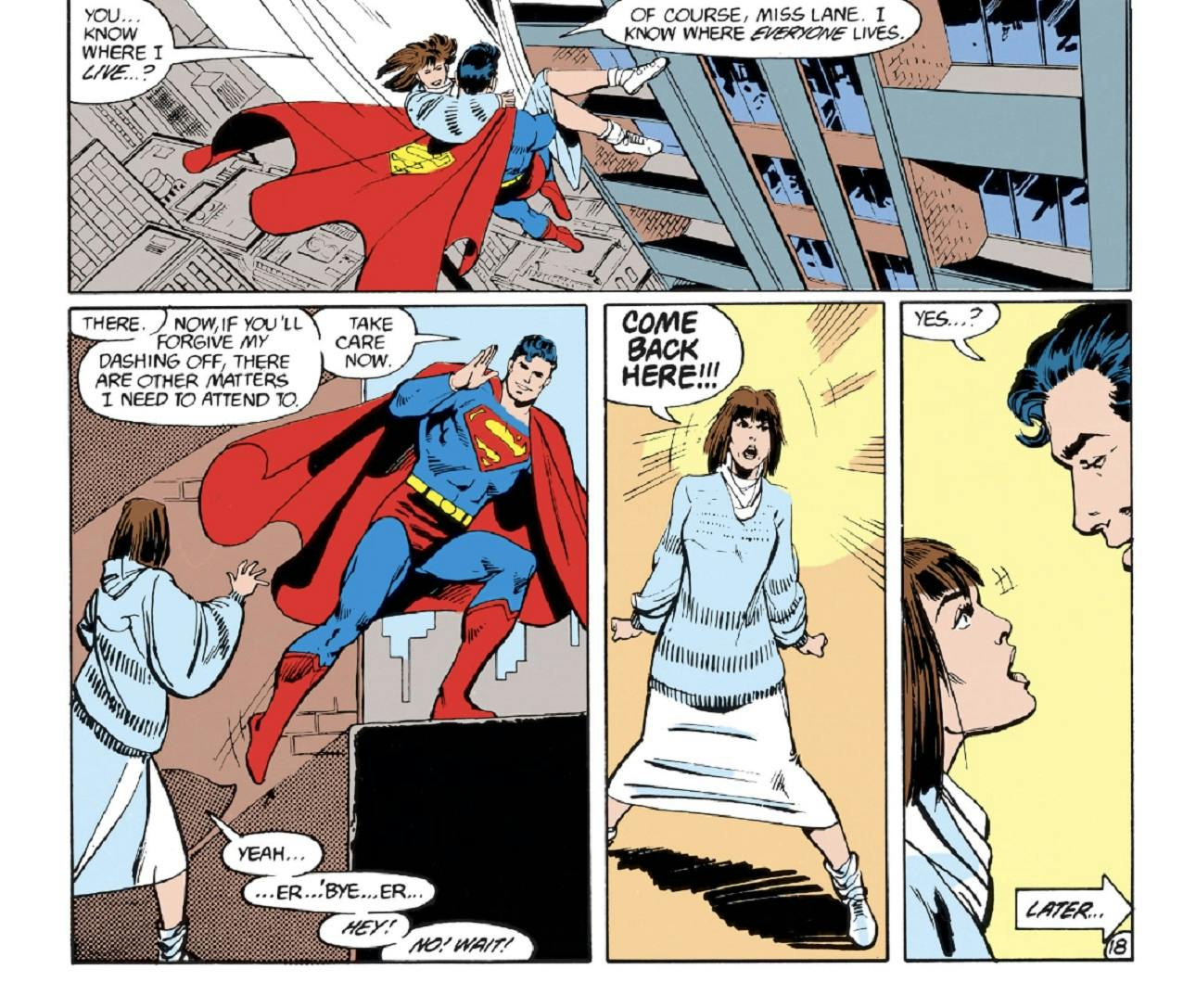 RELATIONSHIP STATUS: The Post-Crisis first meeting between Superman and Lois Lane.
WHERE TO READ IT: 1986's The Man of Steel #2
THE STORY: After Crisis on Infinite Earths reset Superman's history, John Byrne put a new spin on the mythos with the Man of Steel limited series. The second chapter focuses on Lois Lane, and her quest to get an interview with Superman. This story borrows from the 1978 Superman film, and it's hard not to hear Margot Kidder and Christopher Reeve's voices while you read it.
"The Human Factor"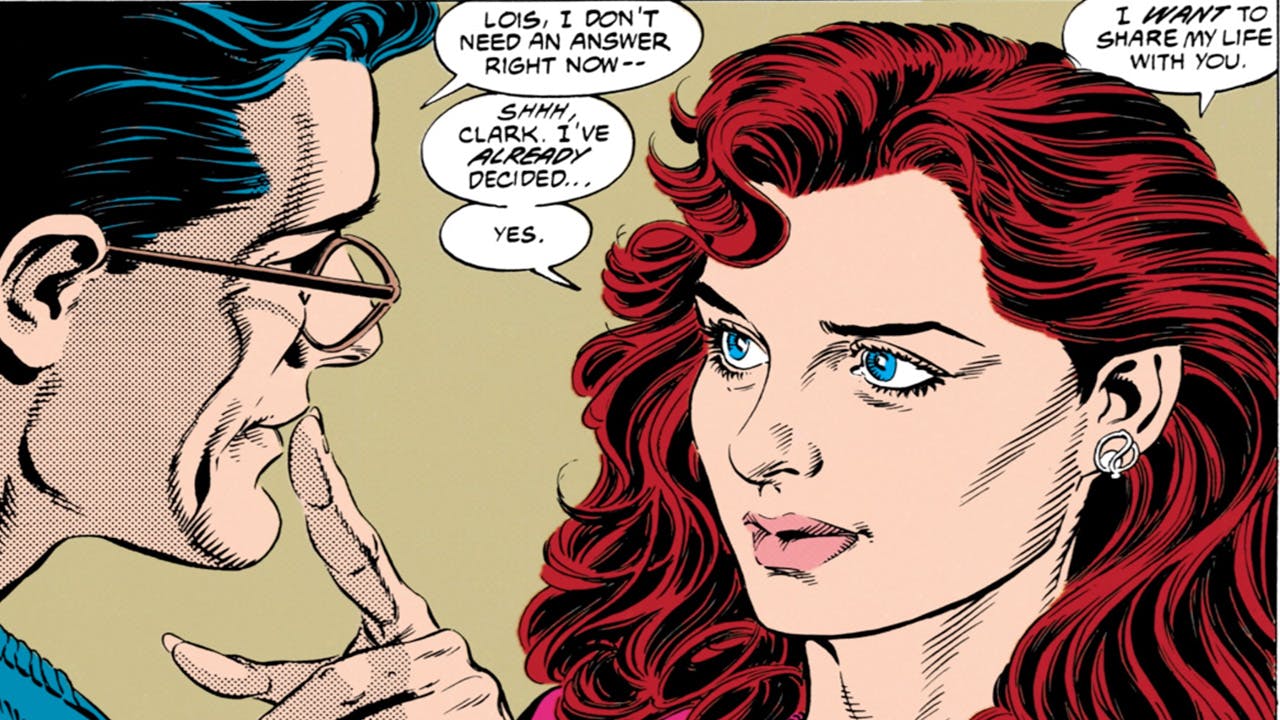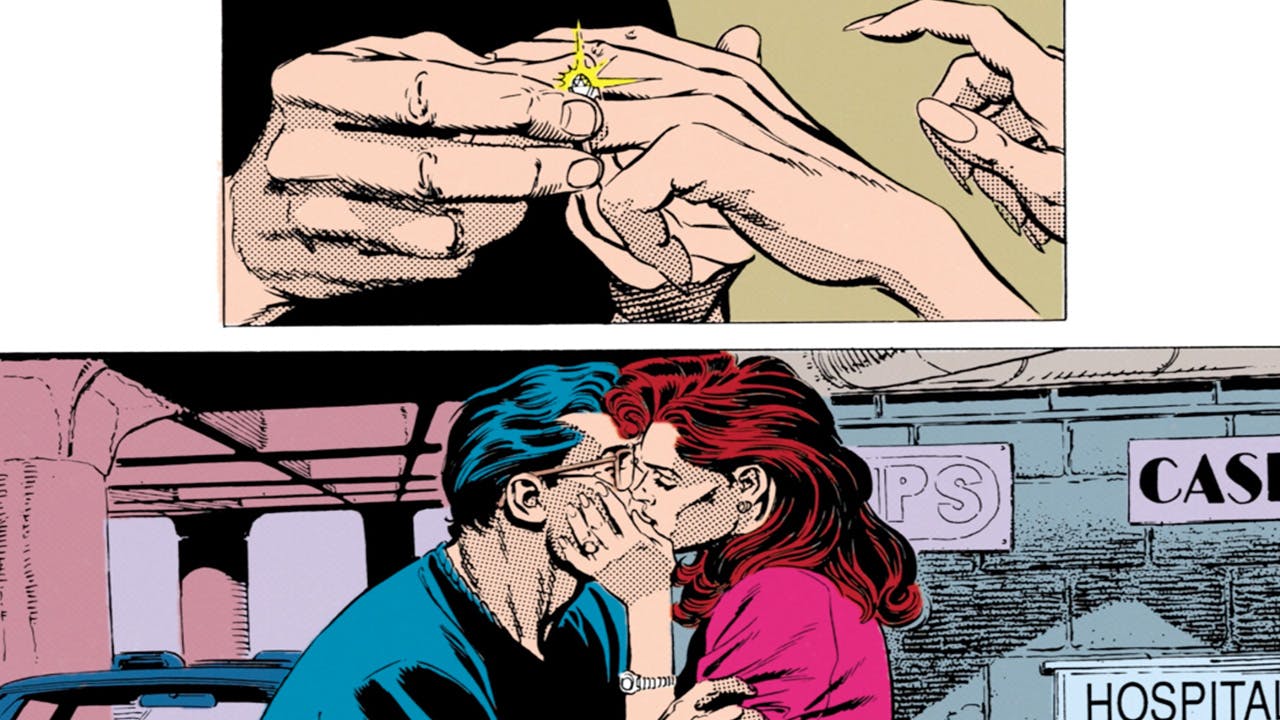 RELATIONSHIP STATUS: Clark Kent and Lois Lane get engaged.
WHERE TO READ IT: 1990's Superman #50
THE STORY: The Post-Crisis versions of Clark and Lois took a few years to get together, but once they did, Superman knew it was love. After a visit to his parents in Smallville, Clark returned to Metropolis with Martha Kent's old ring and decided it was time to propose to Lois. No robots, no Silver Age trickery, and no twists….Lois and Clark get engaged, and it's a sweet romantic moment.
"Secrets in the Night"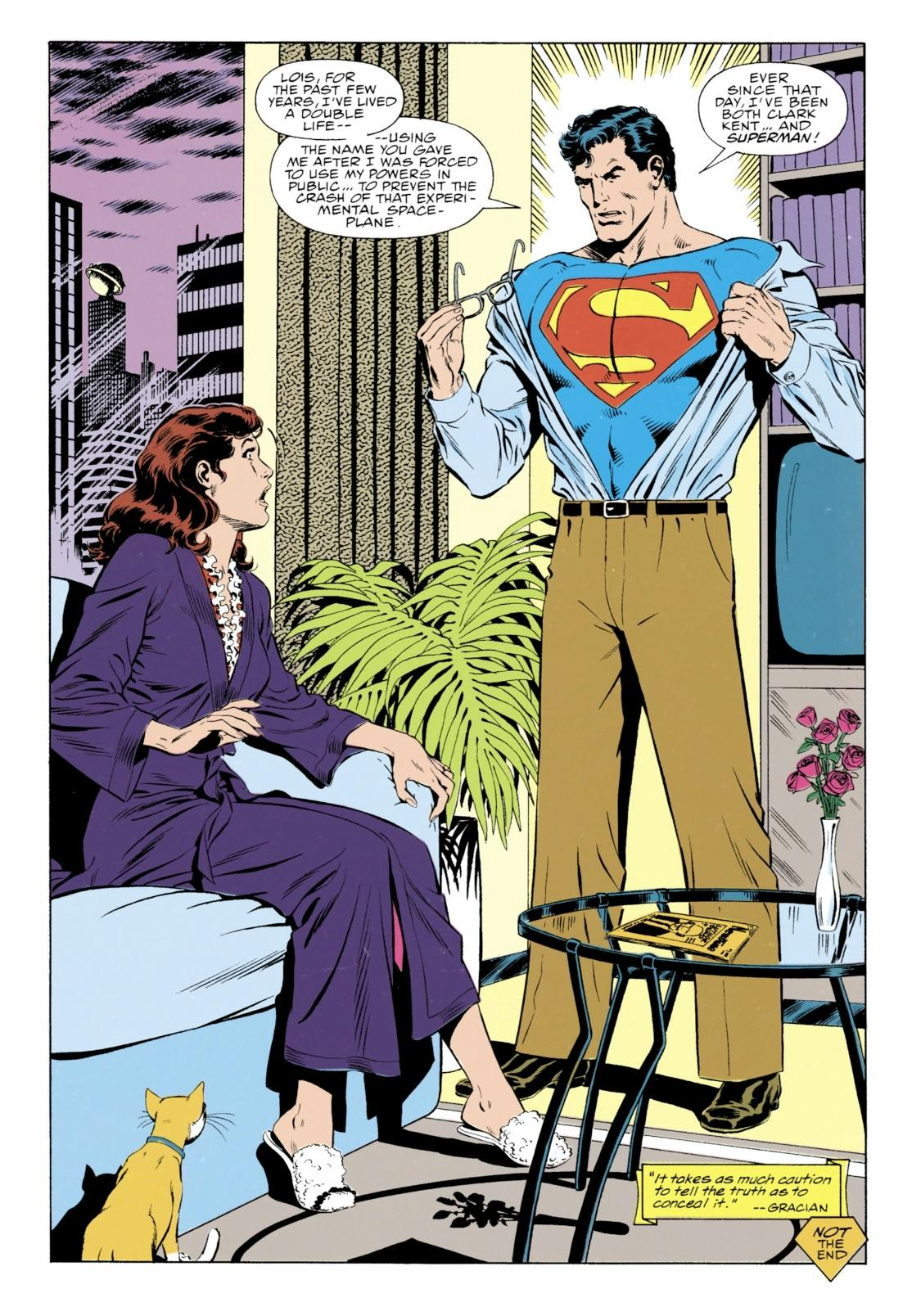 RELATIONSHIP STATUS: Clark Kent finally tells Lois about his double identity.
WHERE TO READ IT: Action Comics #662
THE STORY: Superman battles Silver Banshee, but the main event of the story occurs in the final pages. Now that Clark and Lois are engaged, it's time for him to come clean with her. While visiting Lois at her apartment, Clark Kent reveals that he's Superman, changing their relationship (and the Superman mythos) forever.
"The Wedding Album"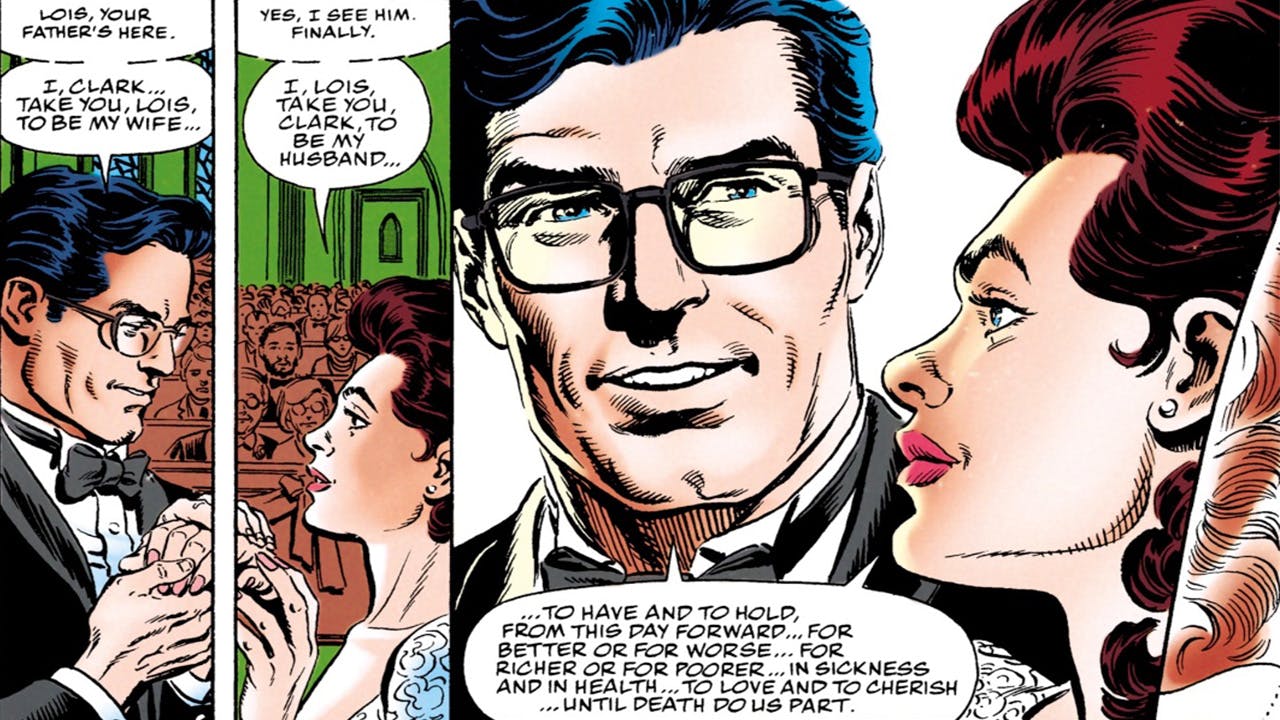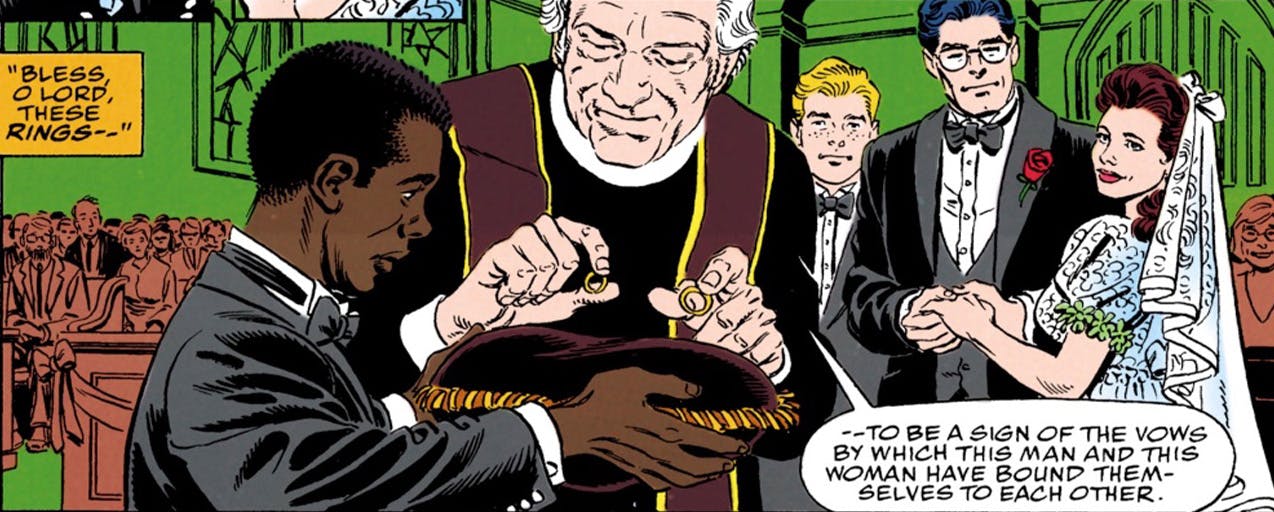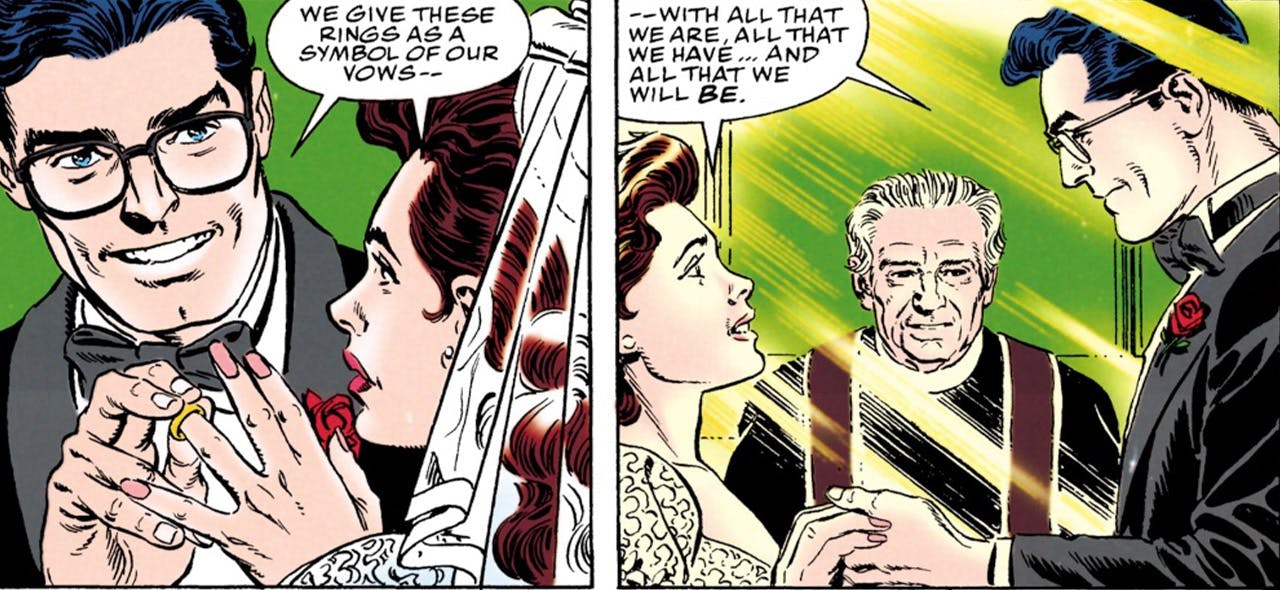 RELATIONSHIP STATUS: Clark Kent marries Lois Lane.
WHERE TO READ IT: Superman: The Wedding Album #1
THE STORY: After decades of "will they or won't they," a death and resurrection, and a brief break-up, Lois and Clark finally tie the knot. DC knew this was a special occasion, and brought in a team of their greatest writers and artists to make this book extraordinary. The minister was even drawn to look like Jerry Siegal.
"Superman Again"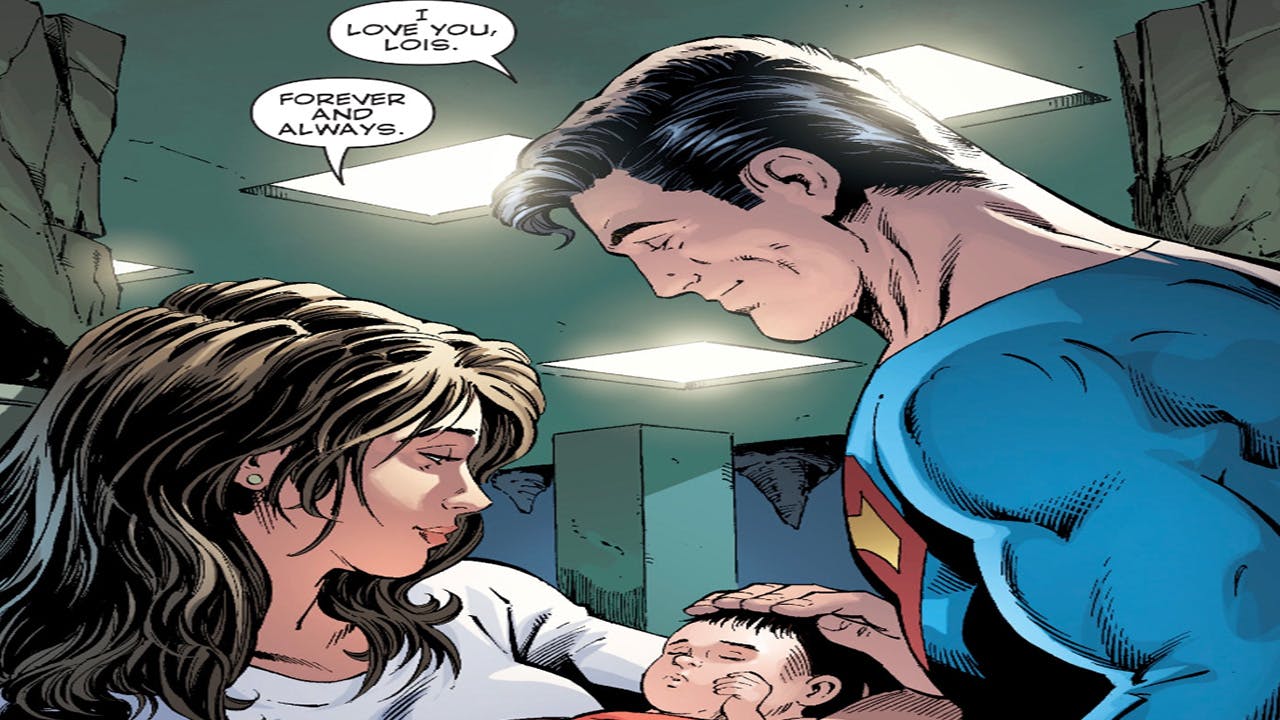 RELATIONSHIP STATUS: Lois and Clark become parents.
WHERE TO READ IT: Convergence: Superman #1-2
THE STORY: The events of Convergence have led to Lois and Superman being trapped in a dome around Gotham City. Superman has lost his powers, and tries to continue crimefighting without them, while an even bigger change is around the corner. During this story, Lois gives birth to Jon Kent, a character who has gone on to become a huge part of the modern DC landscape.
"Invisible Mafia"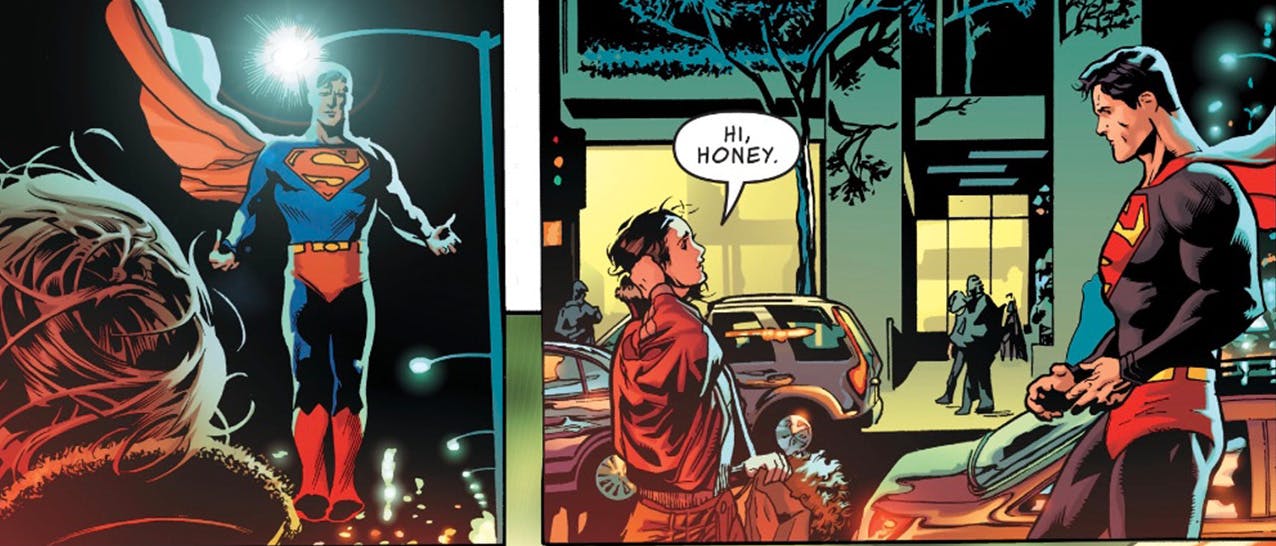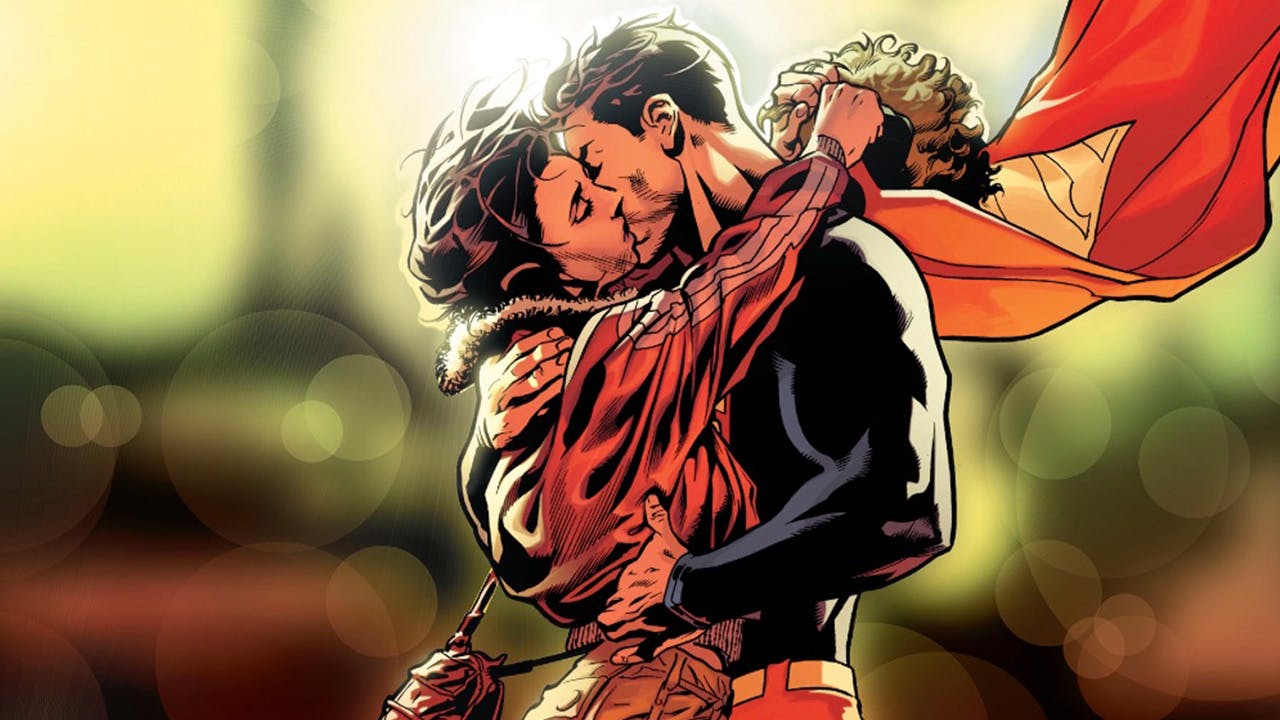 RELATIONSHIP STATUS: Lois and Clark work on their marriage.
WHERE TO READ IT: Action Comics #1004
THE STORY: Getting married doesn't always mean happily ever after, and it takes hard work to maintain a family. After a lengthy trip across space, Lois reunites with Superman and the two have a long and intimate talk about the state of their marriage, and the next steps they'll take. Brian Michael Bendis pens a heartwarming tale that captures the heart of Lois and Superman's relationship, and sets the stage for the next phase of their lives.
Are you looking forward to the upcoming Superman and Lois series? Let us know in our Community!