We're in for a special greasy, jelly-filled treat today on 12 Days of DC, our most festive feature counting down some of DC Universe's greatest holiday stories: because today isn't just two days until Christmas, it's also the first day of Hanukkah! Hanukkah is a special time of year to acknowledge the traditions that the Jewish people have given everything to preserve, and one of particular significance to many of DC's most beloved characters- not to mention generations of DC writers and artists, from Jerry Siegel and Joe Shuster to some of the columnists and talent on DC Universe itself.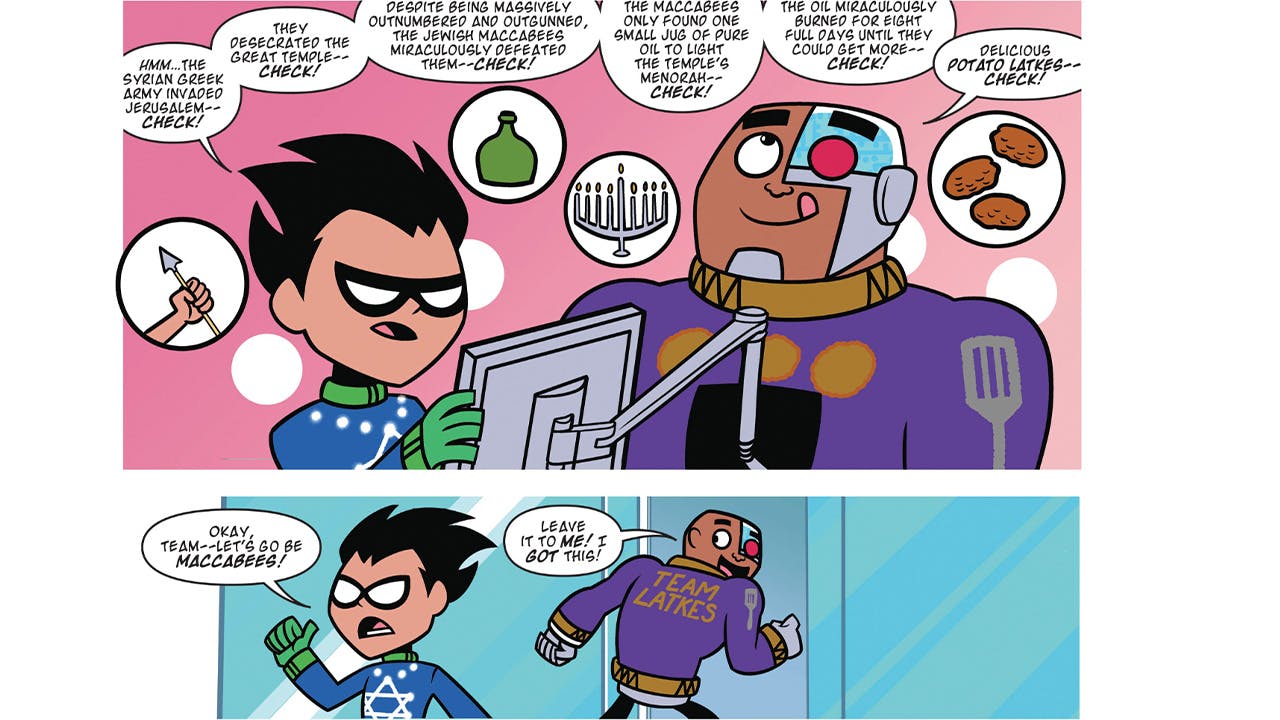 One such writer is someone you may not have heard of if you're not a follower of DC's All Ages titles, but he's secretly been one of the most powerful weapons in our creative arsenal for years: the irreplaceable, unmistakable, and always capable Sholly Fisch. Best known for his work on DC's Scooby-Doo and Looney Tunes titles (both, incidentally, the longest running active DC books at this time), Sholly Fisch is renowned for capturing the spirit of mirth and mischief found in the classic era of Warner Bros. cartoons — and, when necessary, applying that same eye for style to works on the fringes of the DC Universe as well. An uncharacteristic but welcome stint in the back-ups of The New 52's Action Comics, for instance, proved to everyone who read it that if he really wanted to, Fisch could knock a Big Name Super Hero book out of the park -- but it seems he'd prefer to write for the kids. What we do have, though, is a rich and prodigious run from Fisch on the comic book tie-in series to the irreverent *Teen Titans Go!* series, featuring a bevy of deep cuts and in-jokes laden in each issue which could only come from someone who clearly knows the DCU like the back of their cosmic hand. Rest assured: no viewing of the series is retired to enjoy the comedic brilliance of this series, seriously underrated as one of DC's funniest books of the decade.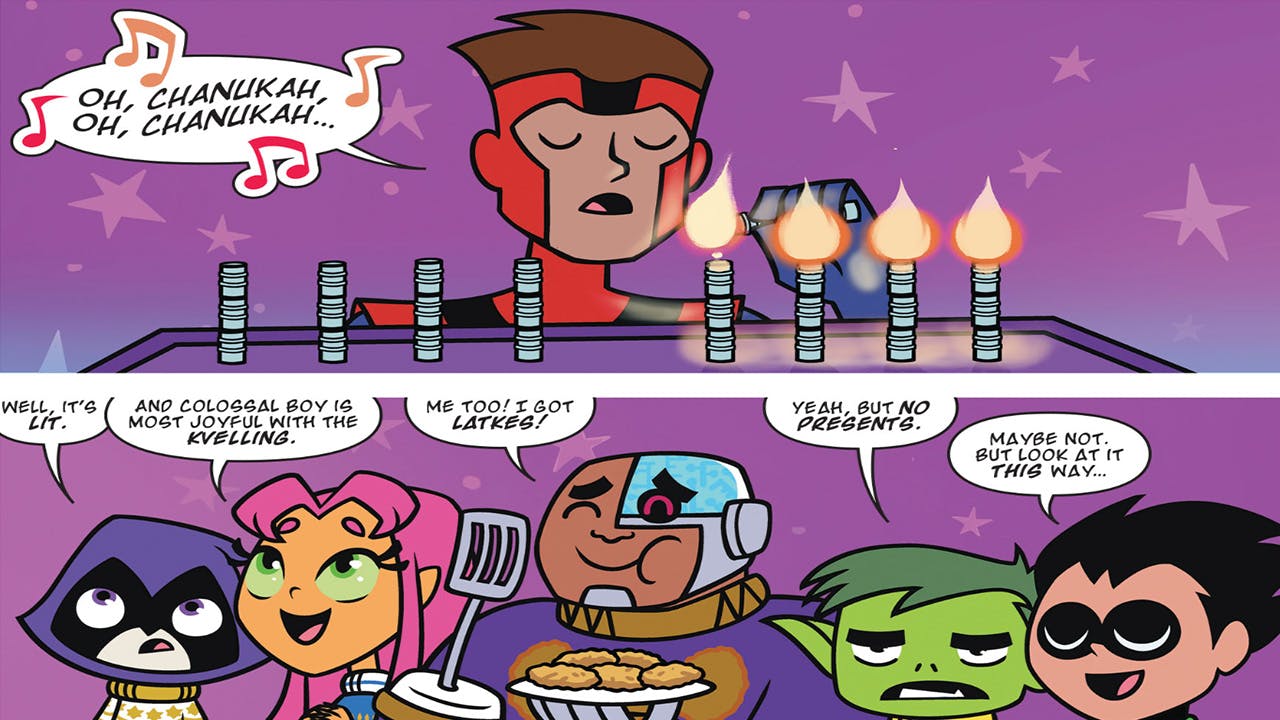 So when it came time for Fisch to celebrate the holidays with the Teen Titans, the only thing that could be expected was that he'd take it in the most unexpected direction: by doing it up 31st century style with the Jewish member of the Legion of Super-Heroes, Colossal Boy. Lo, observe the miracle that we may only have had a special for a single issue, and yet it managed to span a thousand years! If you were ever curious about what the holiday of Hanukkah is really all about, Colossal Boy breaks it all down right here for the Titans as they prepare themselves for some funky candle lighting, greasy potato pancakes, and a superpowered re-enactment of the Israelite Maccabee resistance against the oppressive Greek empire! Just like your favorite multigenerational sci-fi epic, but with dreidels instead of laser swords!
If you enjoyed this one-of-a-kind Hanukkah special (featuring a commendable scene where Raven effortlessly pronounces the preferable "Chanukah"), then do we have good news: there are 60 more issues of Teen Titans Go! In the archive for you to enjoy! This season, while your family sits down to enjoy some holiday turkey, treat yourself to a hearty serving of Fisch.
Who are some of your favorite Jewish superheroes? Talk about it in our Community!