The Teen Titans have thrilled DC readers with their adventures since the 1960's, and in that time they've had more than their fair share of cool comic book covers. With so many decades of cool covers to chose from, it's hard to narrow down the best, but these 10 stand out as quintessentially cool! 
Teen Titans #23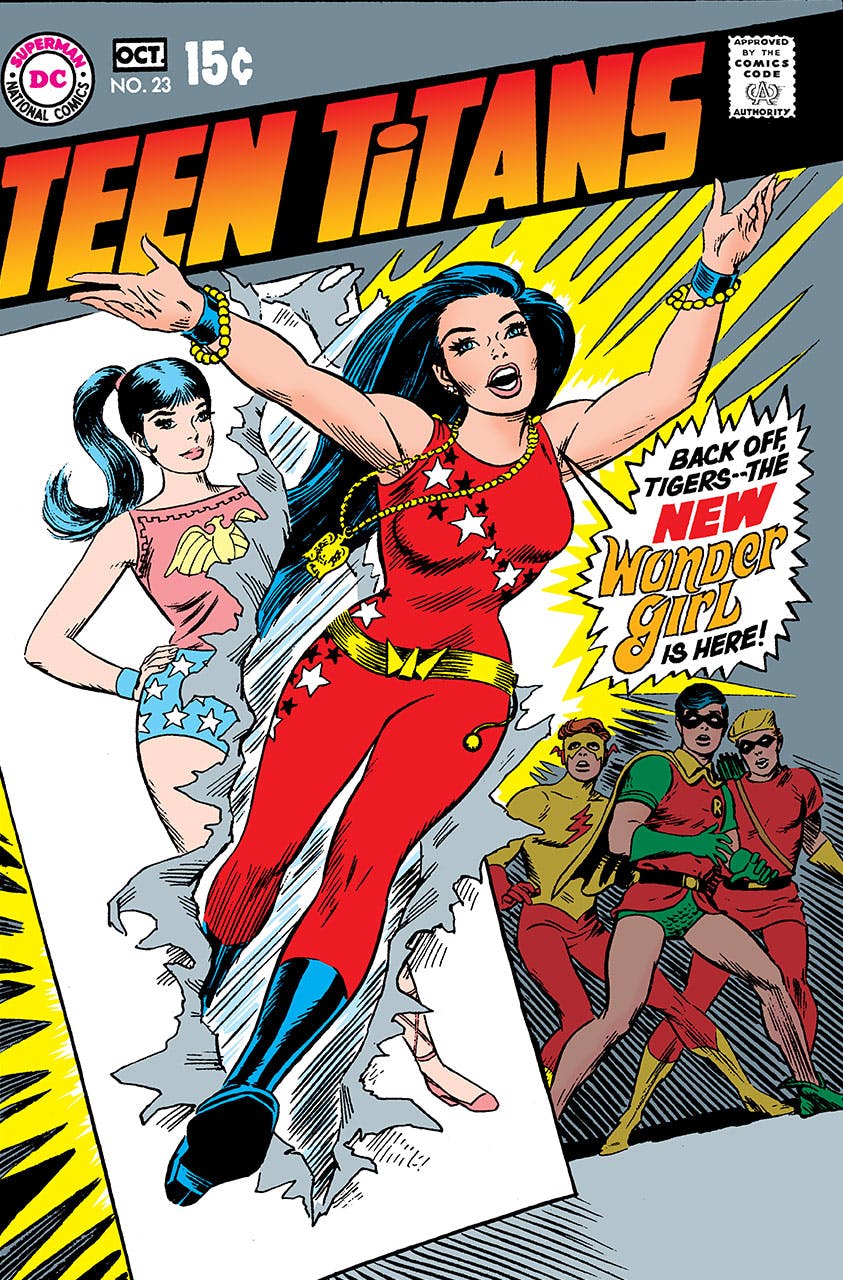 Teen Titans #23 (written by Bob Haney, penciled by Gil Kane with Nick Cardy, cover by Nick Cardy) featured a gorgeous showcase of Wonder Girl's new makeover. The previous issue had ended with Donna Troy finding a new lease on life by adopting a secret identity, and gaining a roommate and a new costume. This cover had Donna showing off her new look to her awe-struck male teammates -- and readers -- by leaping out of the cover itself! The cover was so memorable, that artist George Perez later drew an homage to it with his cover for New Titans #55, when Donna changed costumes yet again. 
The New Teen Titans #1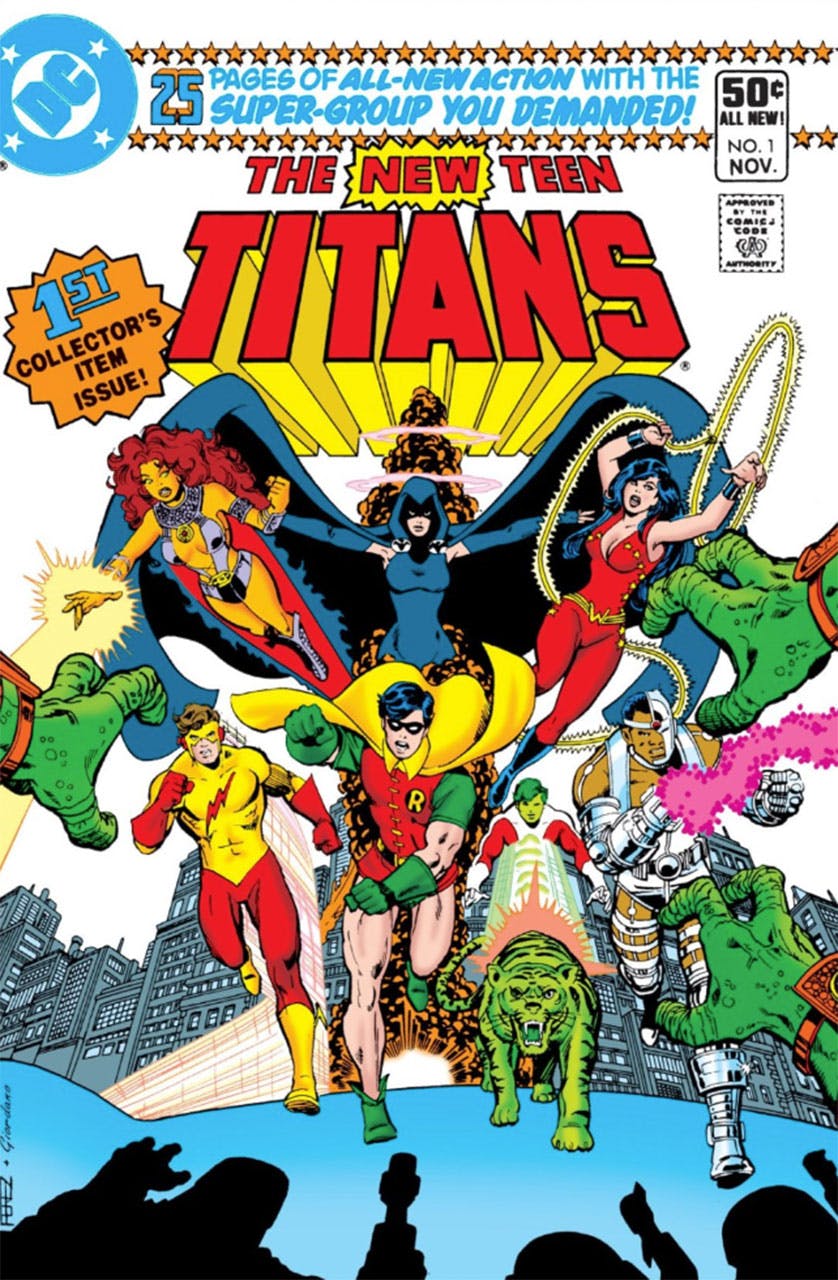 You can't make a list of the greatest Teen Titans covers without including George Perez's iconic cover to New Teen Titans #1 (written by Marv Wolfman, interior and cover by George Perez, read it here). The team is running straight towards the reader, and the menacing shadows of the issue's villains, the Gordanian slavers, in a pose that just screams "Titans together"! Although they had previously appeared together in brief preview in DC Comics Presents #26 (written by Marv Wolfman and penciled by George Perez, read it here), this cover was where most readers got their first look at new characters Raven, Starfire, and Cyborg! There's a reason so many other covers have paid homage to this one (New Titans #130 and Titans Secret Files #1 being just two examples) -- it's completely awesome.
The New Teen Titans #36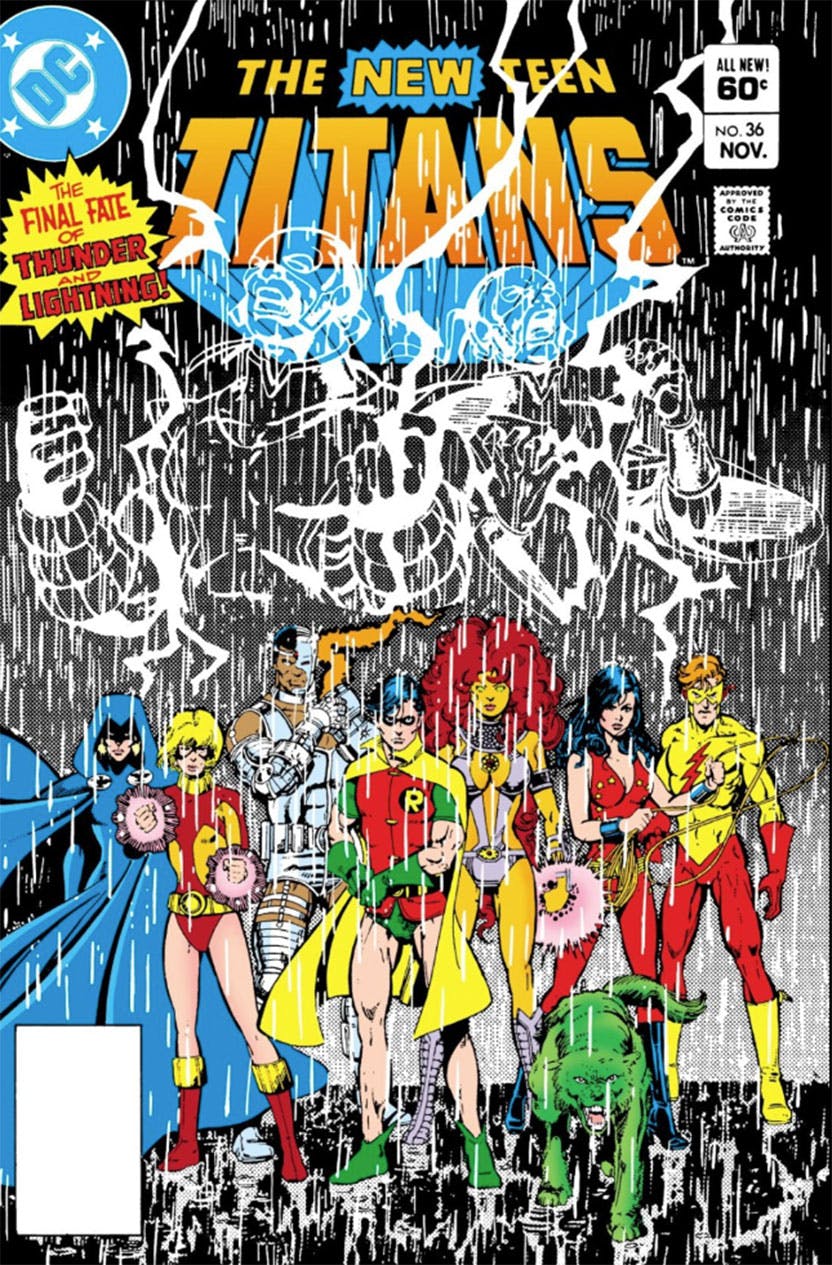 The cover for The New Teen Titans #36 (written by Marv Wolfman, interior and cover by George Perez) came at the height of the book's popularity. It's a great group shot of the team standing ready for action as they're drenched in rain. The thunderstorm alludes to Thunder and Lightning, two unhappy metahumans whom the team tries to "cure" in this issue. Their anguished cries are outlined by Perez's lightning silhouettes on the cover. This shot of the team is so epic, it's a shame there isn't a poster of it. 
Tales of the Teen Titans #42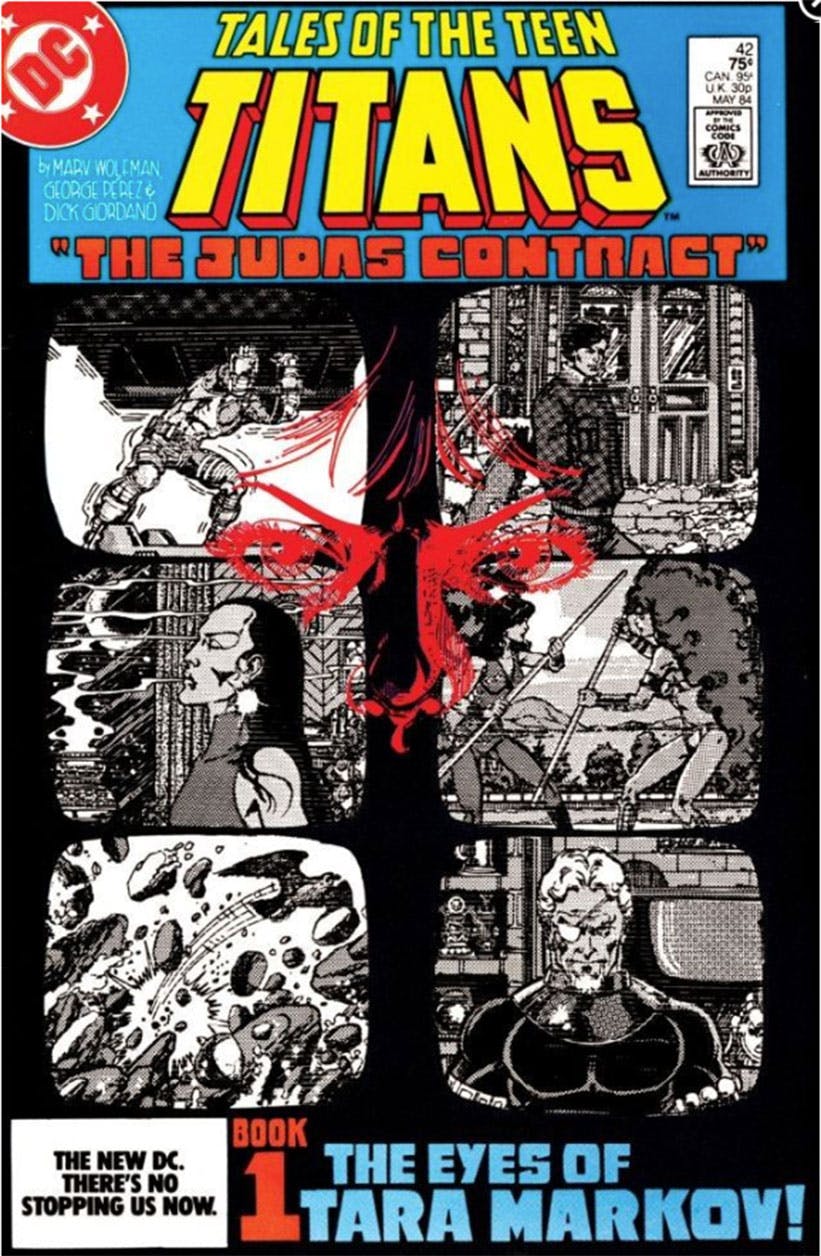 A good cover tells a story all its own, and the story that Tales of the Teen Titans #42 (written by Marv Wolfman, interiors and cover by George Perez) tells is downright eerie. In the months before this issue debuted, the Titans' newest member Terra had been secretly acting as a spy for the team's archnemesis Deathstroke. Everything starts coming to a head in the opening chapter of "The Judas Contract", a storyline often cited as one of the Teen Titans' best. On the cover, the team is oblivious to the danger they're in, as Tara Markov's contact lense camera records all their activities. The black-and-white video feed with faded surveillance adds a cinematic feel and a chilling mood -- as the Titans have no idea how exposed they are or what danger awaits them.
The New Teen Titans #4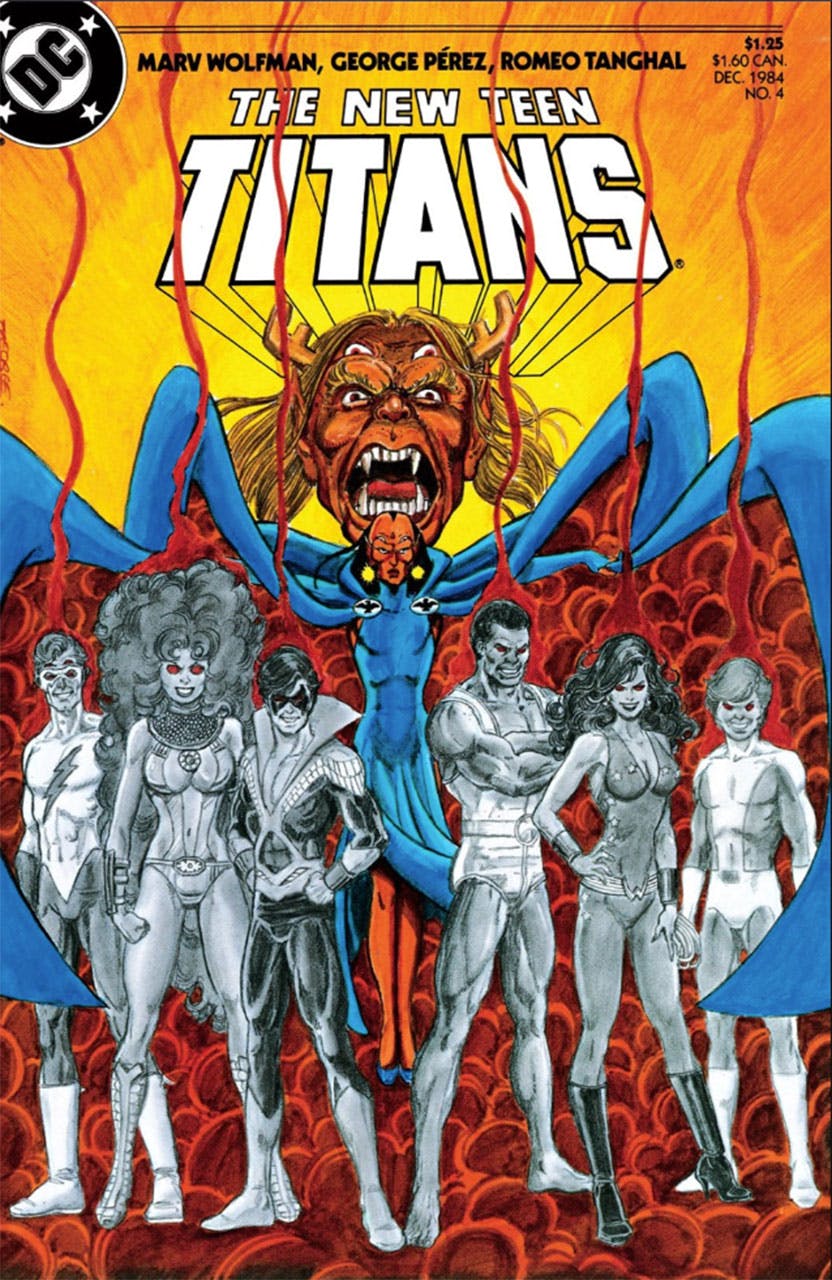 The cover to New Teen Titans #4 (written by Wolfman, interiors and cover by Perez, read it here) is the stuff nightmares are made of! George Perez draws twisted versions of the Titans, who've been overcome by their dark selves, and are now led by their fallen teammate Raven as the demonic Trigon looms in the background. The blue on Raven's cloak is heavily contrasted with the hellfire red and fiery orange that fills the rest of the background. Even the Teen Titans eyes are staring at the reader with dark-red murderous purpose. One look at this cover lets readers know that the stakes are high and that evil has won. 
The New Teen Titans #19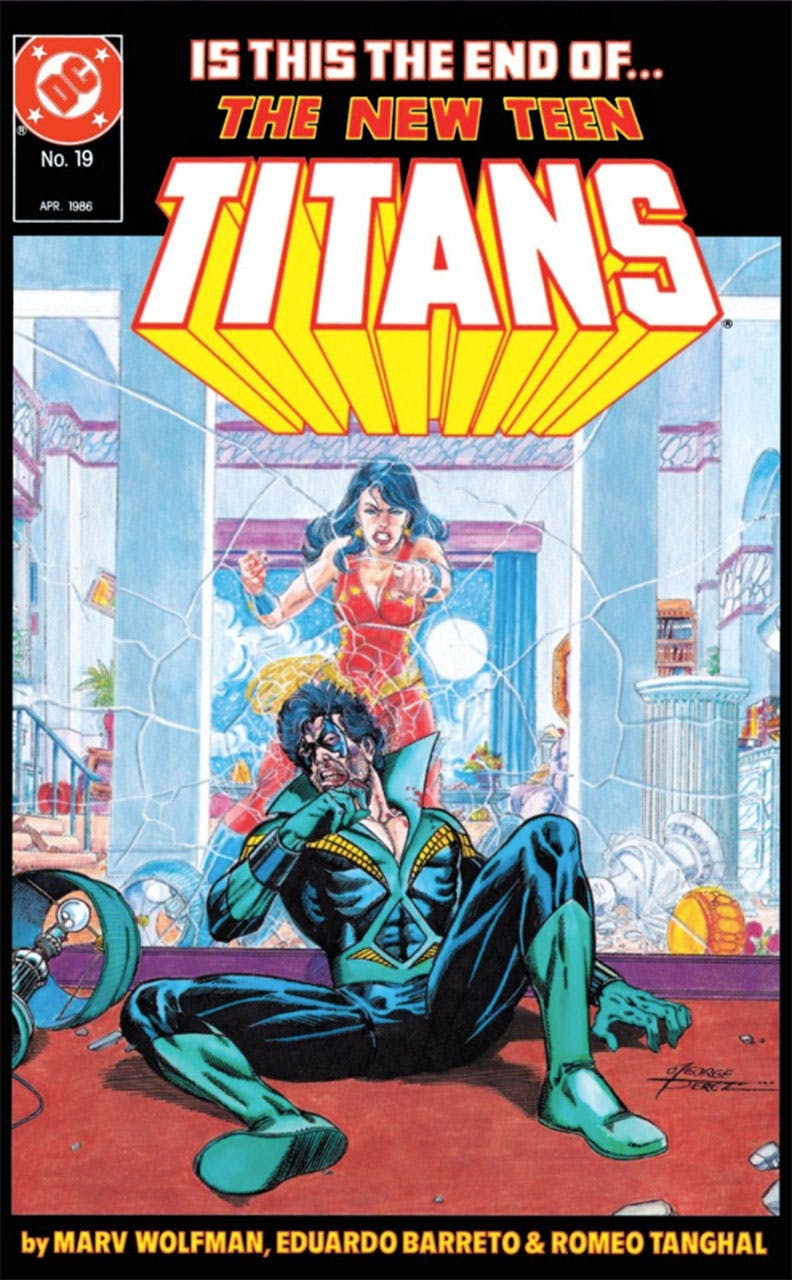 There are times when a cover promises a fight between two heroes, but it turns out to be a hoax or gimmick. The New Titans #19 (written by Marv Wolfman, penciled by Eduardo Barreto, cover by George Perez) delivered on that promise in spades! The weight of Crisis on Infinite Earths, and Kory's recent political marriage on Tamaran, have caused Nightwing and Wonder Girl to snap and let loose in a heated argument that turns violent. Our only glimpse of the rage-filled Donna Troy is through the reflection of the mirror she's cracked with Dick Grayson's battered body. A great choice of composition by Titans grandmaster George Perez!

The New Titans #50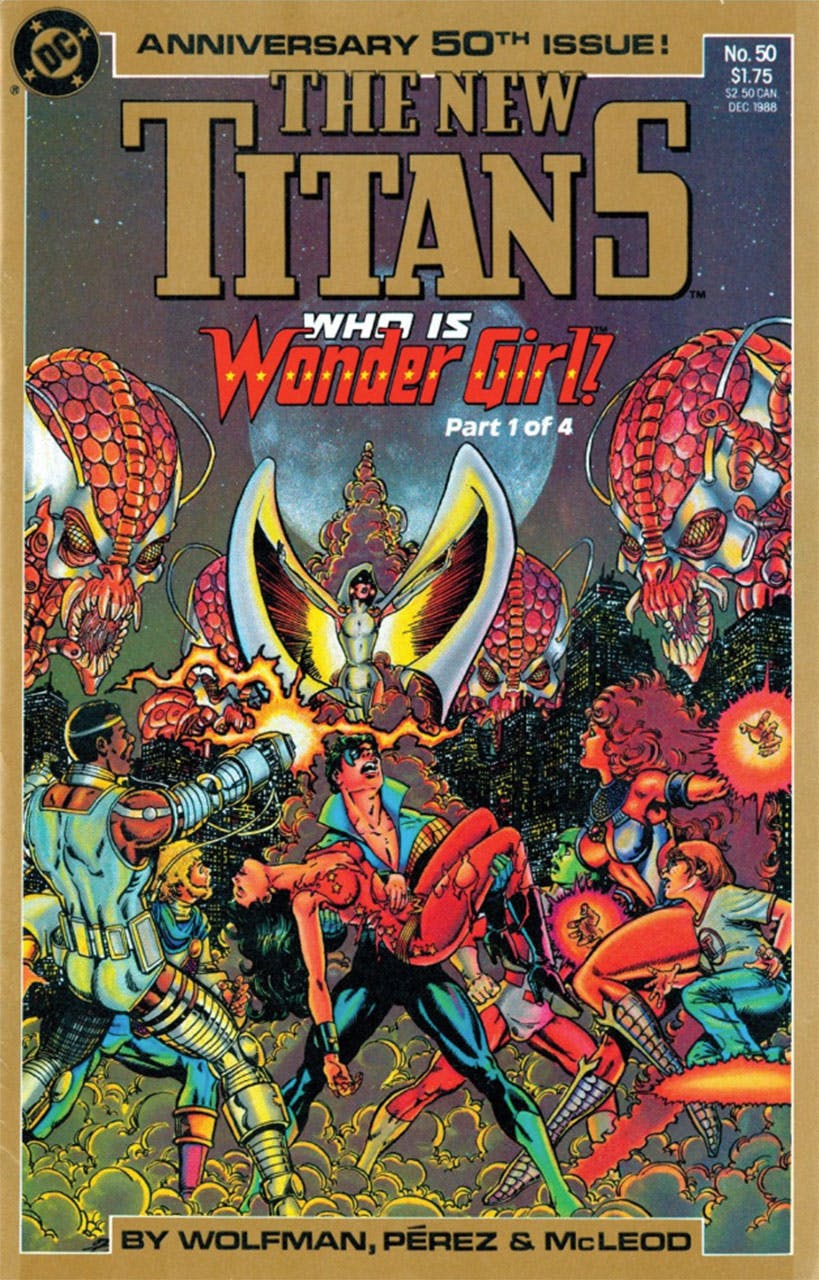 After the reality-altering events of Crisis on Infinite Earths, it was time to clear up some new contradictions in Donna Troy's origin. New Titans #50 (written by Wolfman, interiors and cover by Perez) celebrated the book's fiftieth issue with the return of the artist who launched it – yup, George Perez. The cover is an homage to the opening splash page Perez had done for New Teen Titans #1, bringing things full circle. The bright colors and gorgeous layout immediately let readers know that the artist was back and firing on all cylinders. 
Secret Origins Annual #3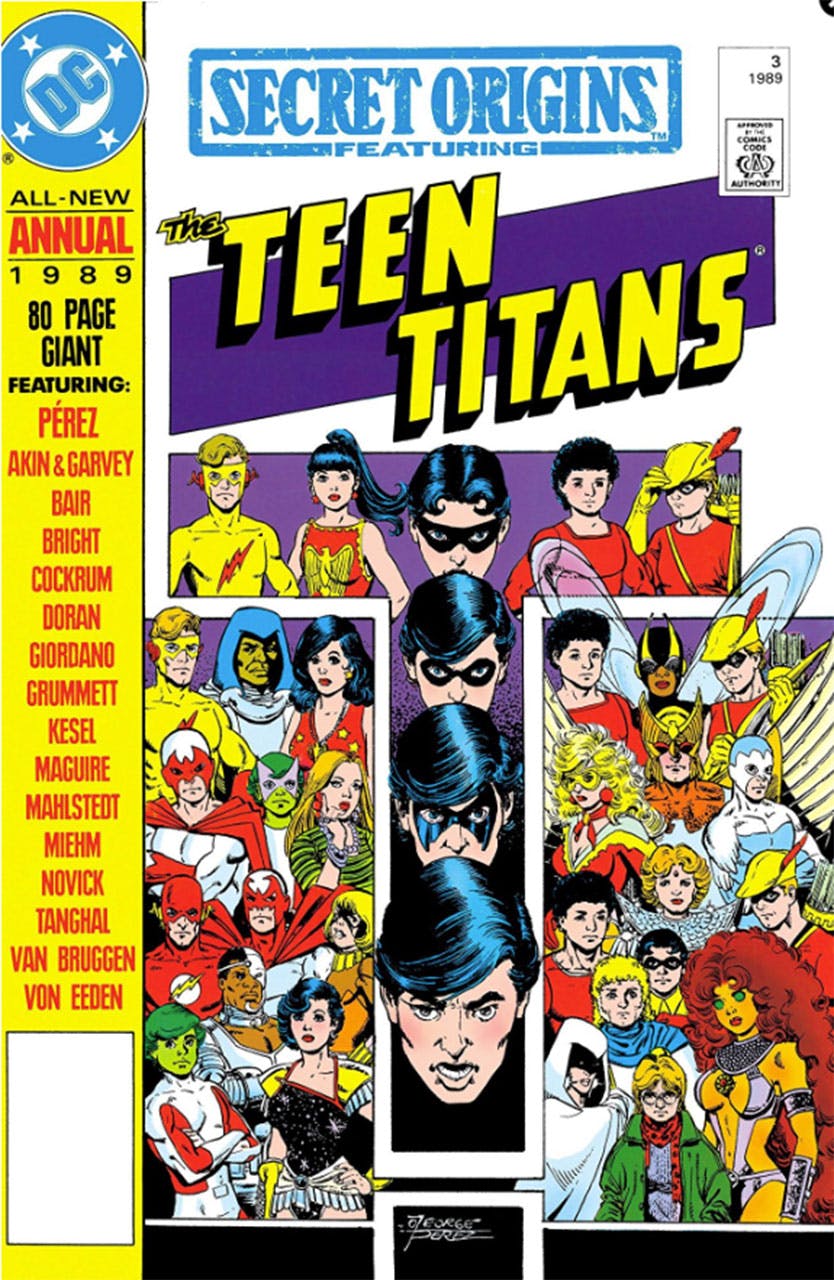 Secret Origins Annual #3 (written by George Perez, penciled by Tom Grummett, cover by George Perez) was a jubilant celebration of Teen Titans history up to that point. Not only did the cover showcase all eras of the team, but Perez used it to show the evolution of many key members over time. If you look at the cover from top to bottom, you can see Dick Grayson go from Robin to Nightwing, Wally West go from Kid Flash to Flash, Donna Troy go from Wonder Girl to Troia, and more! It was a terrific way to honor the Titans and show how far they'd come!
Teen Titans #1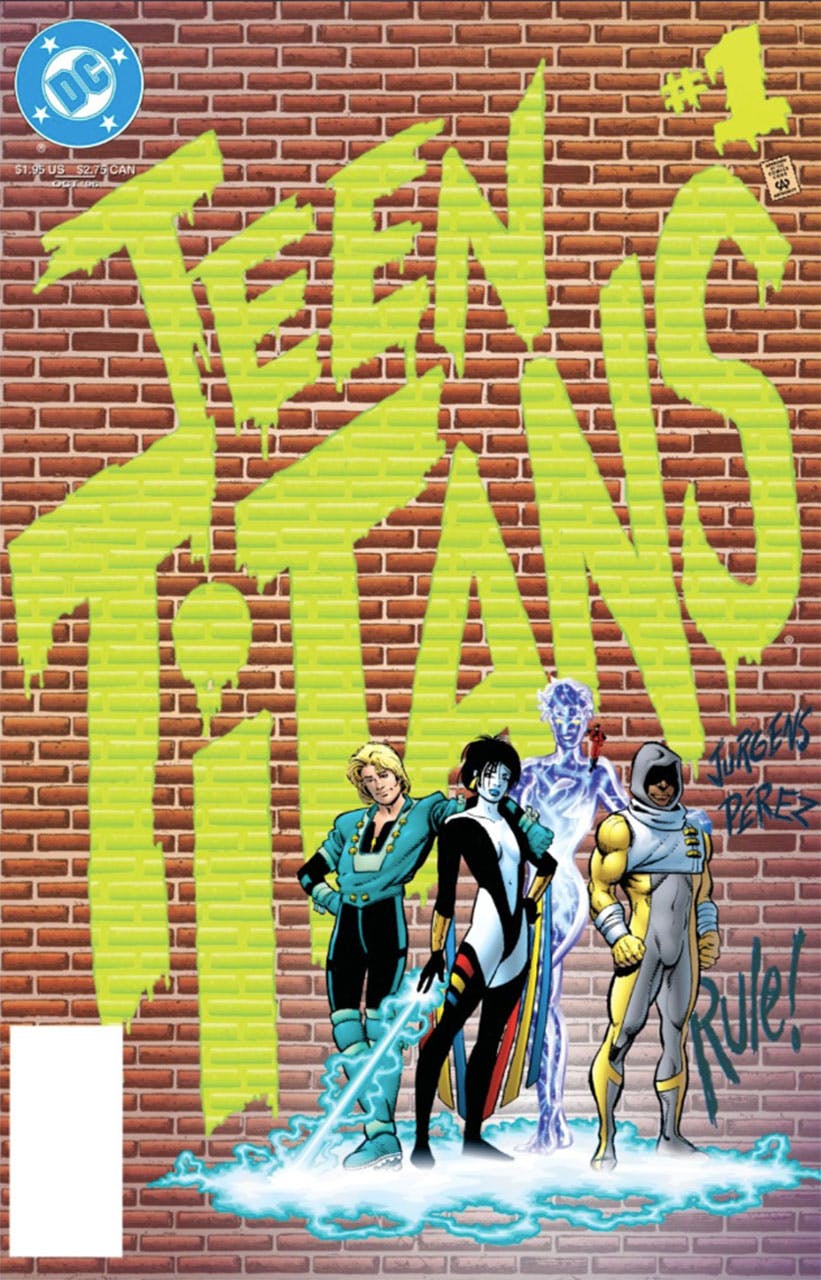 Launching a new Teen Titans book without any of the classic members was a daring move, but Dan Jurgens (the artist known for killing Superman) isn't known for playing it safe. The cover for Teen Titans #1 (written by Dan Jurgens, cover and interior by Dan Jurgens and George Perez) introduced us to new members Joto, Risk, Argent, and Prysm against a graffiti backdrop, in a cover dripping with 1990s attitude. Jurgens' classic cover grabbed the attention of potential buyers, and let them know that this would be a very different version of the Teen Titans.
Teen Titans #24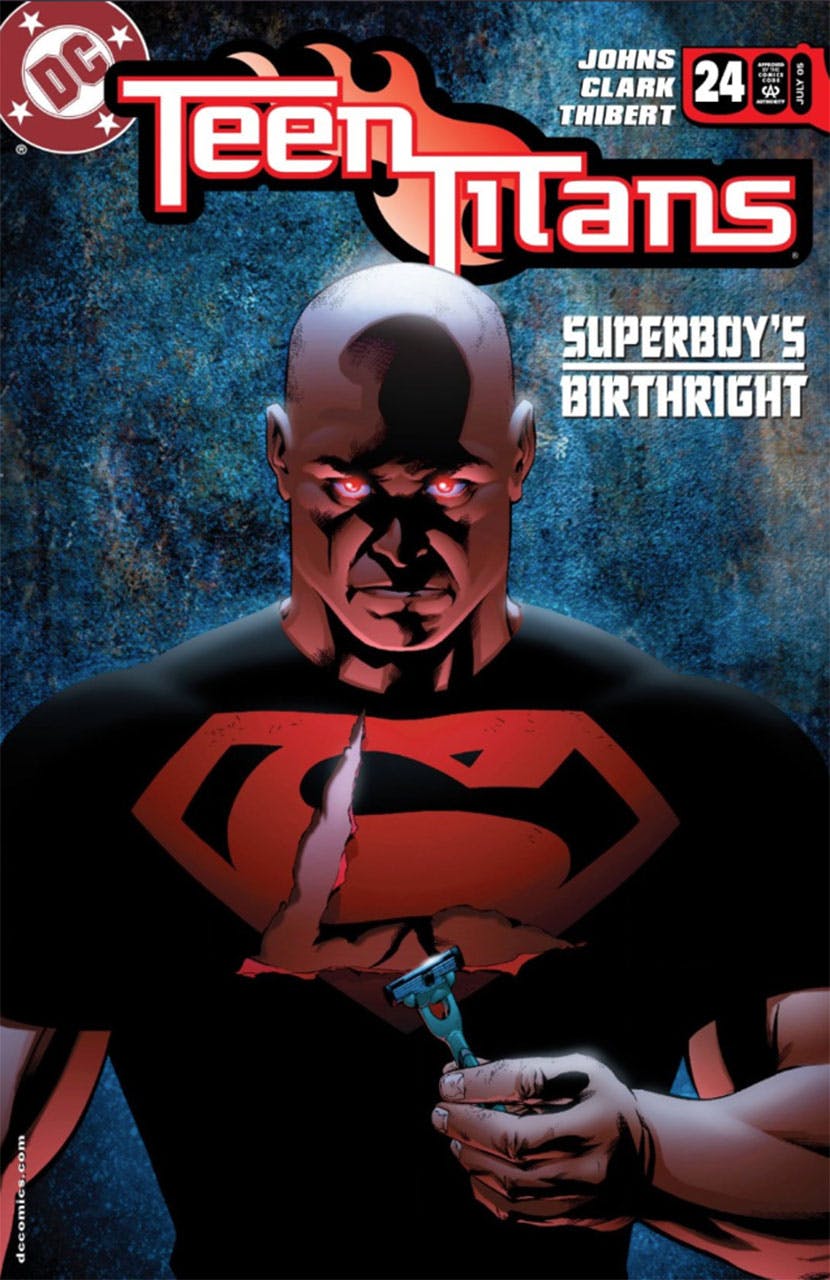 Conner Kent had been wrestling with his inner demons ever since he'd discovered he was a partial clone of Lex Luthor. He feared his teammates learning the truth, turning evil -- and going bald! In Teen Titans #24 (written by Geoff Johns, penciled by Matthew Clark, cover by Mike Mckone), all three of those things happened at once, when Luthor's brainwashing kicked in. The cover makes the readers share Superboy's fear…for himself and for his teammates. The moment fans had been dreading for years was here at last, and the cover hit you with it full force.  
What are your favorite Teen Titans covers? Let us know in our Community!