It's double celebration time here at DC Universe! With Batman turning 80 this weekend and Detective Comics reaching its 1000th issue, now is the perfect time to look at the legacy of both pop-culture bedrocks. For not only was Detective Comics the book that introduced the Dark Knight to the world, it also introduced many of the supporting characters and concepts that have become essential components of Batman's mythos. In the days ahead, we'll be looking at the most important moments from every era of Detective Comics' history. Here are ten from the Golden Age...
Batman Solves His First Case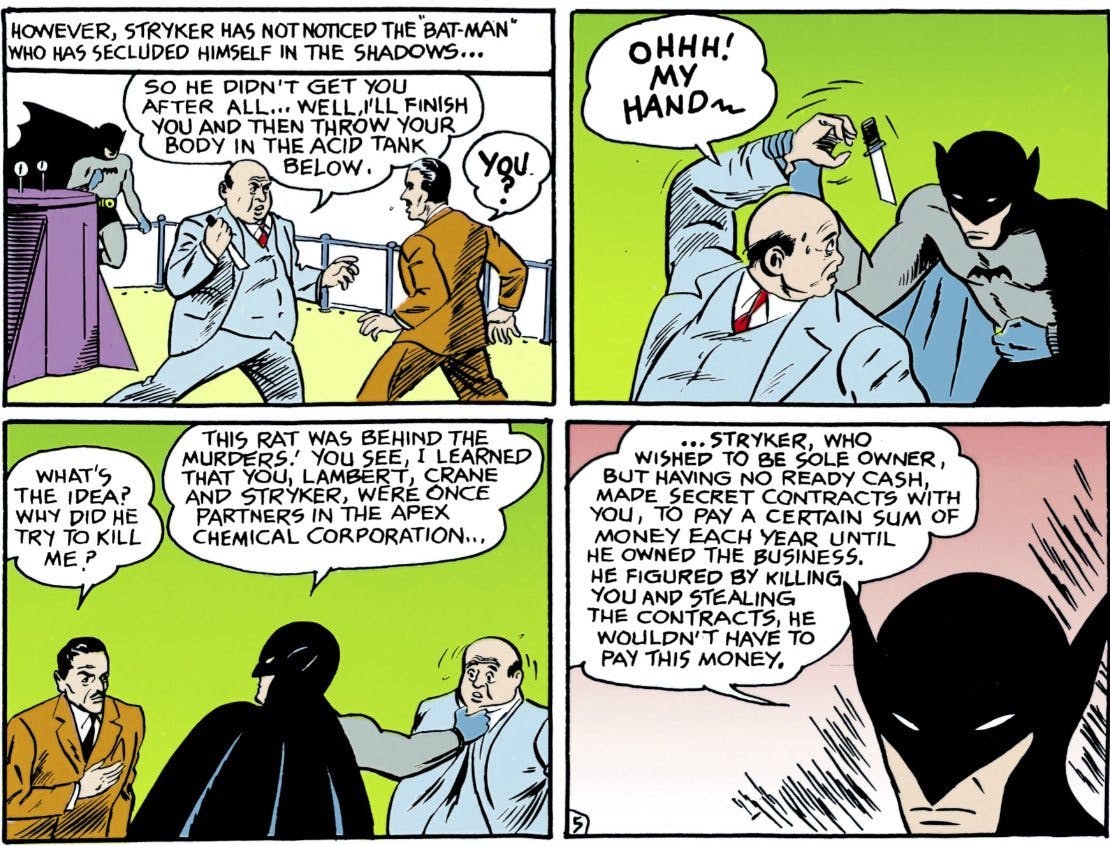 To say that 1939's Detective Comics #27 (written by Bill Finger and penciled by Bob Kane) birthed to a legend would be the biggest understatement in the multiverse. Not only did the comic feature the first appearances of Batman and Commissioner Gordon, it established the Dark Knight as the World's Greatest Detective! Throughout his debut story, readers see Batman silently piecing together clues as he solves a mystery involving murdered business partners. It may not be the greatest mystery story ever featured in Detective Comics, but it marked the first in an endless stream of cases the Batman would crack.
Batman Throws His First Batarang
Batman may be known for all his wonderful toys (to borrow a certain clown's phrase), but in the early days his arsenal was almost non-existent. That started to change with 1939's Detective Comics #31 (written by Gardner Fox, penciled by Sheldon Moldoff and Bob Kane), in which which Batman threw his first Batarang. "Modeled after the Australian bushman's boomerang," the Dark Knight tested it in his secret hangar. Since then, the Batarang has become one of the Dark Knight's signature weapons.
The Murder of Thomas and Martha Wayne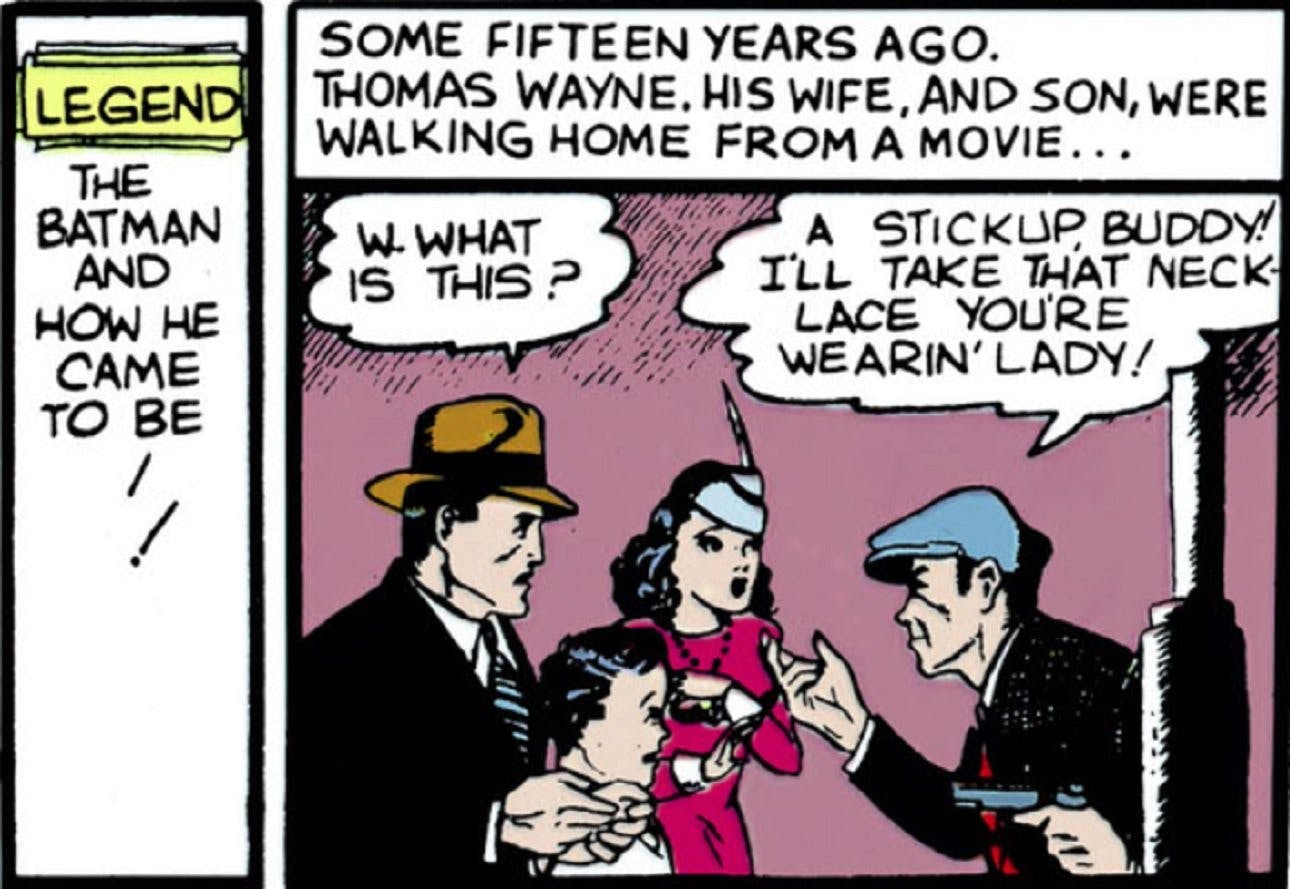 As well-known as Batman's origin is, it's somewhat shocking it wasn't revealed in his first few adventures. The tragic fate of Thomas and Martha Wayne was first depicted in 1939's Detective Comics #33 (written by Bill Finger and Gardner Fox, penciled by Bob Kane and Sheldon Moldoff); and has defined Bruce Wayne's life ever since. The story consists of only two pages, but has remained unchanged, even as it's been adapted into numerous films and TV shows.
Batman Meets Robin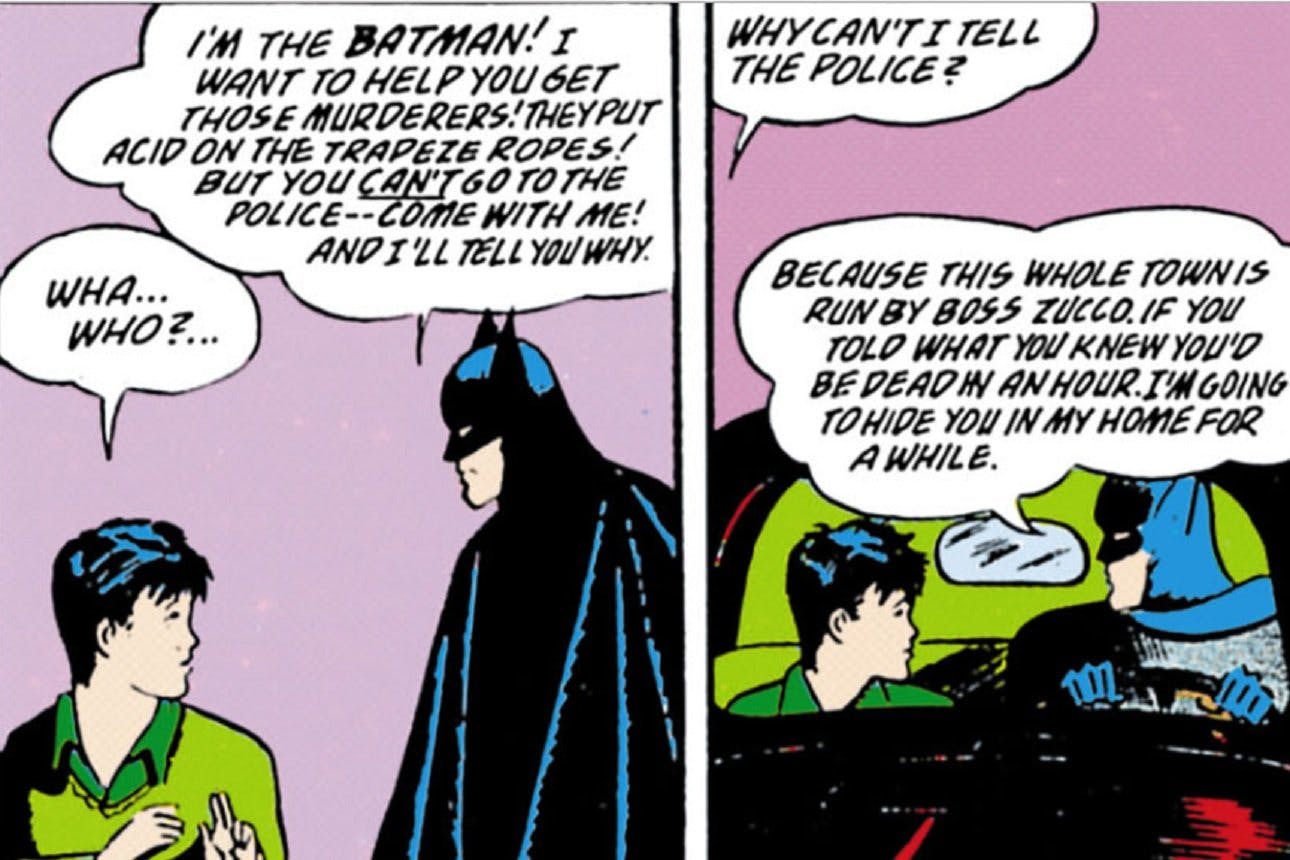 Batman and Robin have the most famous partnership in comic-book history, and it all began when Bruce Wayne met Dick Grayson in Detective Comics #38 (written by Bill Finger and penciled by Bob Kane). After young Dick Grayson watched his parents die, Batman saw his own tragedy reflected in the boy's, and invited him to join his crusade for justice. Young Dick became Robin, and Batman was forever changed.
The Batmobile's First Ride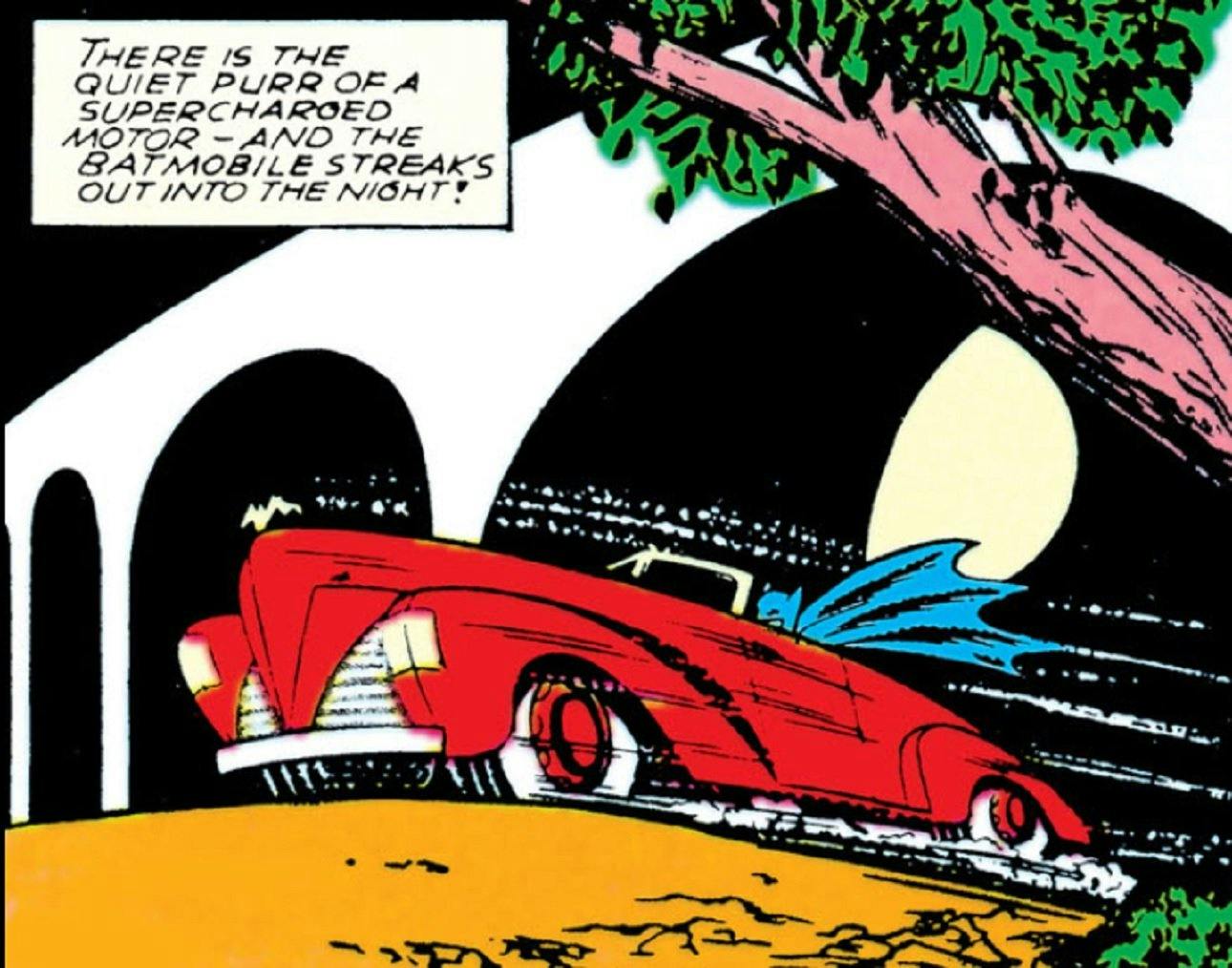 Over the years, Batfans have marveled at the many different versions of the Batmobile, the coolest car in the world. In the early days, Batman just drove around in Bruce Wayne's towncar, despite the risk to his secret identity. That all changed in 1941's Detective Comics #48 (written by Bill Finger and penciled by Bob Kane), in which readers saw the first proper Batmobile. The car wasn't its iconic black yet, but it had a stylish bat-shaped hood ornament and some nifty modifications. This car began the legacy of the Batmobile, the most important tool in Batman's arsenal of justice.
Batman First Battles the Penguin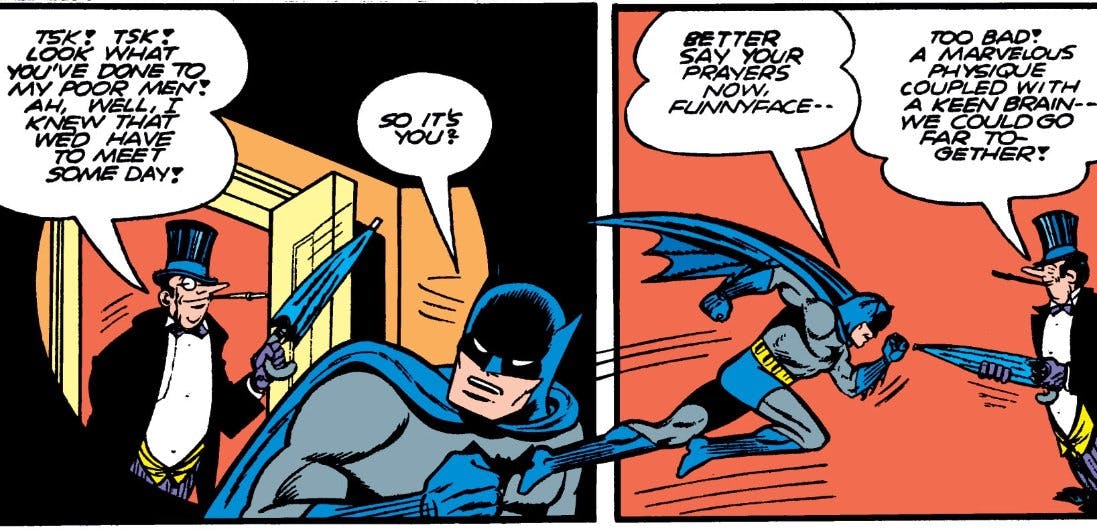 When he first appeared, nobody would have predicted that one of Batman's greatest foes would be a short, portly, tuxedoed man clutching an umbrella, but the Penguin has always subverted expectations. 1941's Detective Comics #58 (written by Bill Finger and penciled by Bob Kane) introduced readers to Oswald Cobblepot, who managed to outwit Batman and Robin. The underworld didn't take Penguin seriously, but that all changed when he gunned down a crime boss using his rifle umbrella... Since then, Oswald has been one of the Batman's most infamous rogues, appearing on screen more often than almost any other DC Super-Villain.
The Bat-Signal Is Turned on for the First Time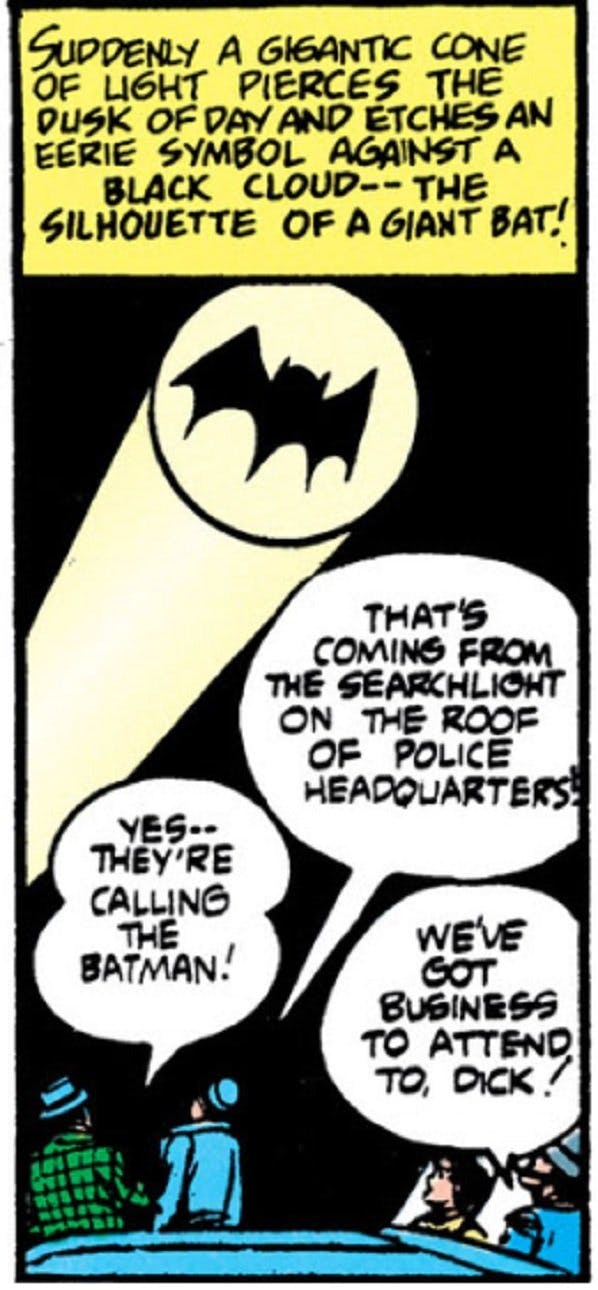 It's hard to imagine Gotham City without the Bat-Signal lighting up its skyline. The famous beacon was first activated in 1942's Detective Comics #60 (written by Jack Schiff and penciled by Bob Kane), letting the Dynamic Duo know their services were needed. The Bat-Signal proved quite handy since Commissioner Gordon hadn't had have a consistent way of getting in touch with Batman, and the signal light helped the citizens of Gotham feel safer. After all, the Bat symbol is a reminder you're being protected by one of the World's Greatest Super Heroes.
Harvey Dent (Kent) Becomes Two-Face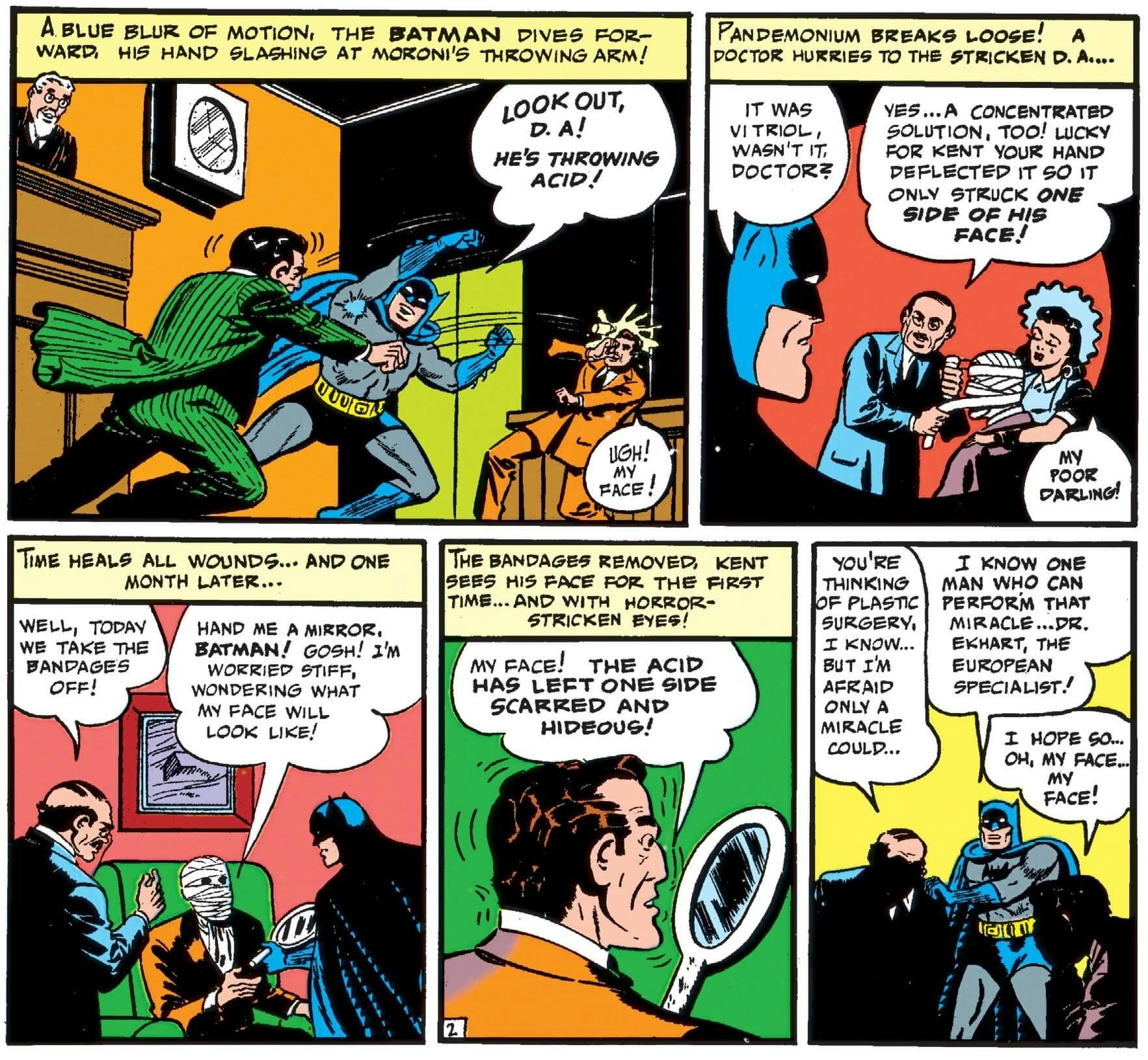 Two-Face has always been one of Batman's most tragic enemies, and his unfortunate story began in 1942's Detective Comics #66 (written by Bill Finger and penciled by Bob Kane). District Attorney Harvey Kent (renamed Dent in later stories) was in the midst of prosecuting Boss Maroni when the mobster threw acid in his face and disfigured him. The change in his appearance drove Harvey mad, and he began a life of crime after rechristening himself Two-Face. Batman has always taken Harvey's sinister turn personally, since Harvey once fought for the side of justice and was later revealed as a personal friend of Bruce Wayne. The Dark Knight has tried to redeem Harvey many times over the years, but alas, his dark side has always resurfaced.
Enter the Batcave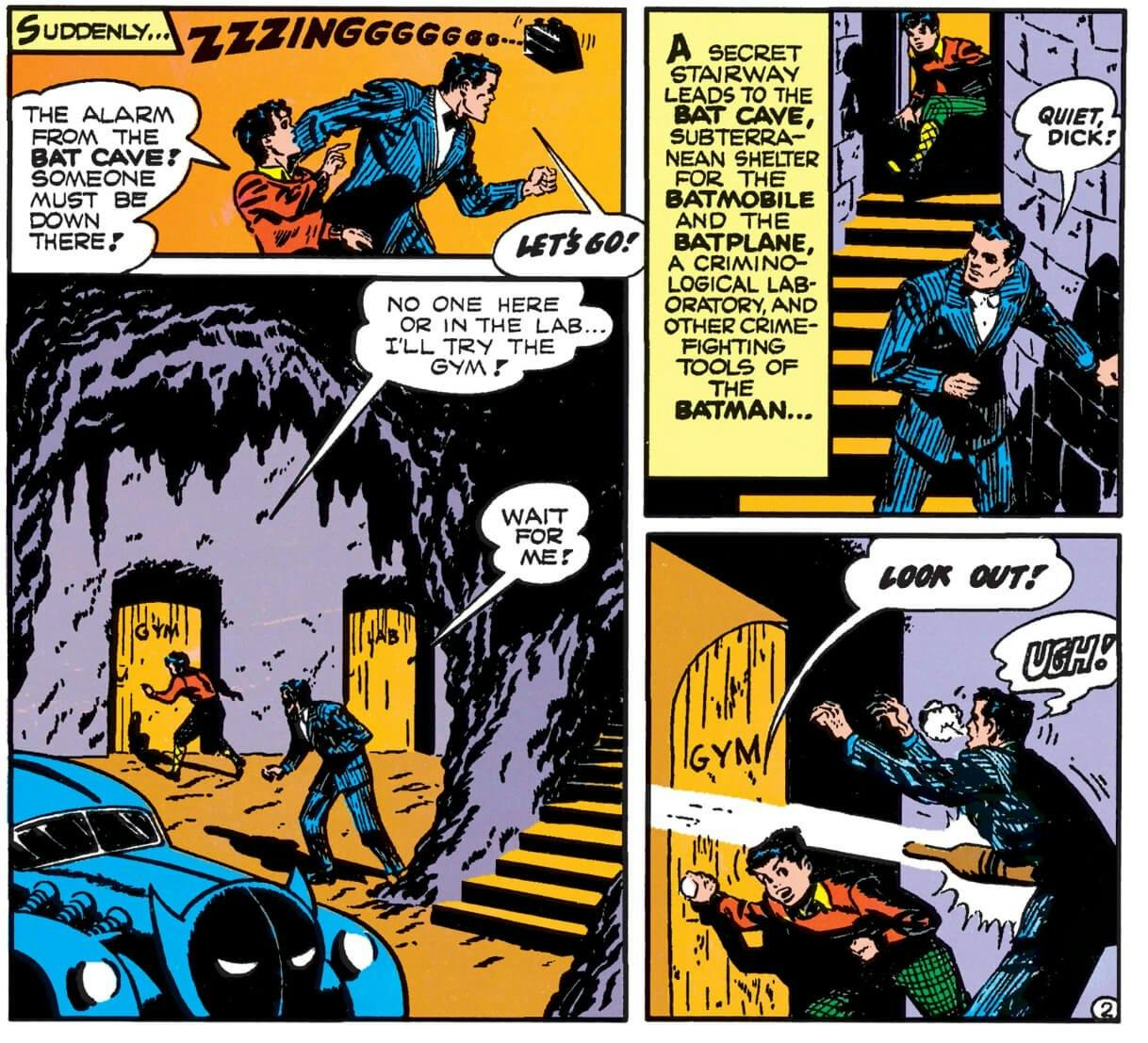 In the earliest Batman adventures, the Caped Crusader first operated out of a secret hangar, and then a hidden barn accessible via underground tunnel. In 1944's Detective Comics #83 (written by Don Cameron and penciled by Jack Burnley), the tunnel and barn were dropped in favor of the much cooler Batcave, which had previously appeared in the 1943 Batman film serial as "the Bat's Cave." But the word "Batcave" was introduced when Bruce Wayne and Dick Grayson walked down its famous stairs, for the first of many times. The earliest Batcave was a primitive one, little more than a closet for the Dynamic Duo, but it evolved into the epic headquarters we know it as today.
Batman Solves the Riddler's First Puzzle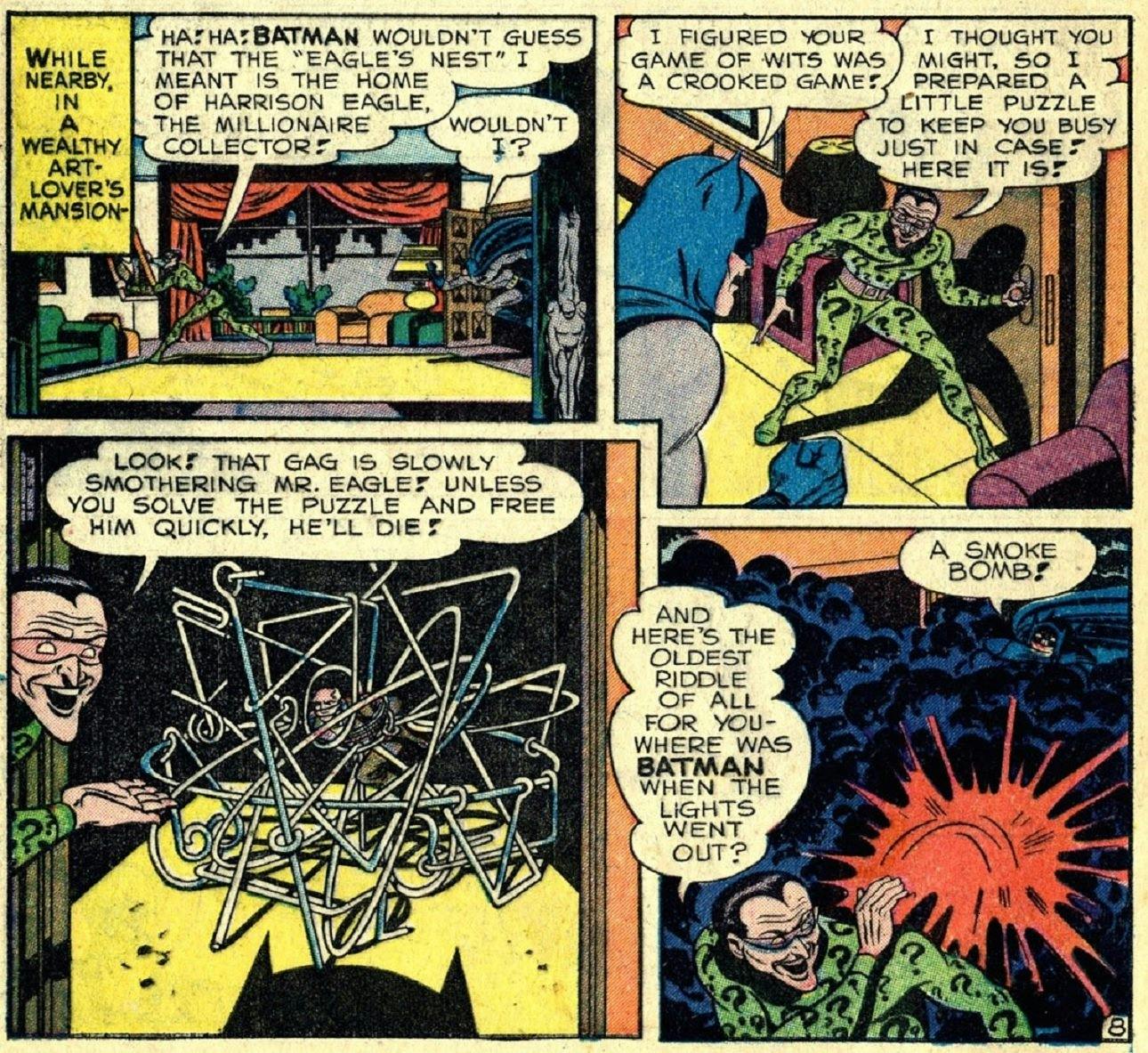 Riddle me this -- when did Batman first encounter the Prince of Puzzlers? If you answered 1948's Detective Comics #140 (written by Bill Finger and penciled by Dick Sprang) then you've been studying your case files! Edward Nygma spent his whole life outsmarting others, until he grew confident enough to match wits with one of the smartest men alive. Wanting to prove his intellectual superiority, the Riddler left clues about his upcoming crimes for Batman to solve. The Dark Knight has been cracking those clues for decades, and it all began here with his first riddle!
While there were lots of events in Detective Comics that changed Batman's life, this is just the Golden Age. Check back here later this week to see how Batman evolved in Detective Comics throughout the Silver, Bronze, and Modern Ages -- as we celebrate Detective Comics 1000th issue and the Dark Knight's 80th birthday!

What are your favorite Detective Comics moments? Let us know in our Community!