Since it debuted back in 1937, Detective Comics has had over eight decades of memorable comic covers. From Dick Sprang to Kelley Jones, a variety of artists have brought their own unique style to create some of the most striking images in comic book history. This month Detective Comics will see its 1000th issue published, celebrating 80 years of Batman. With 1,000 covers to choose from, it's not easy picking favorites. But here are ten of the most iconic…
Detective Comics #27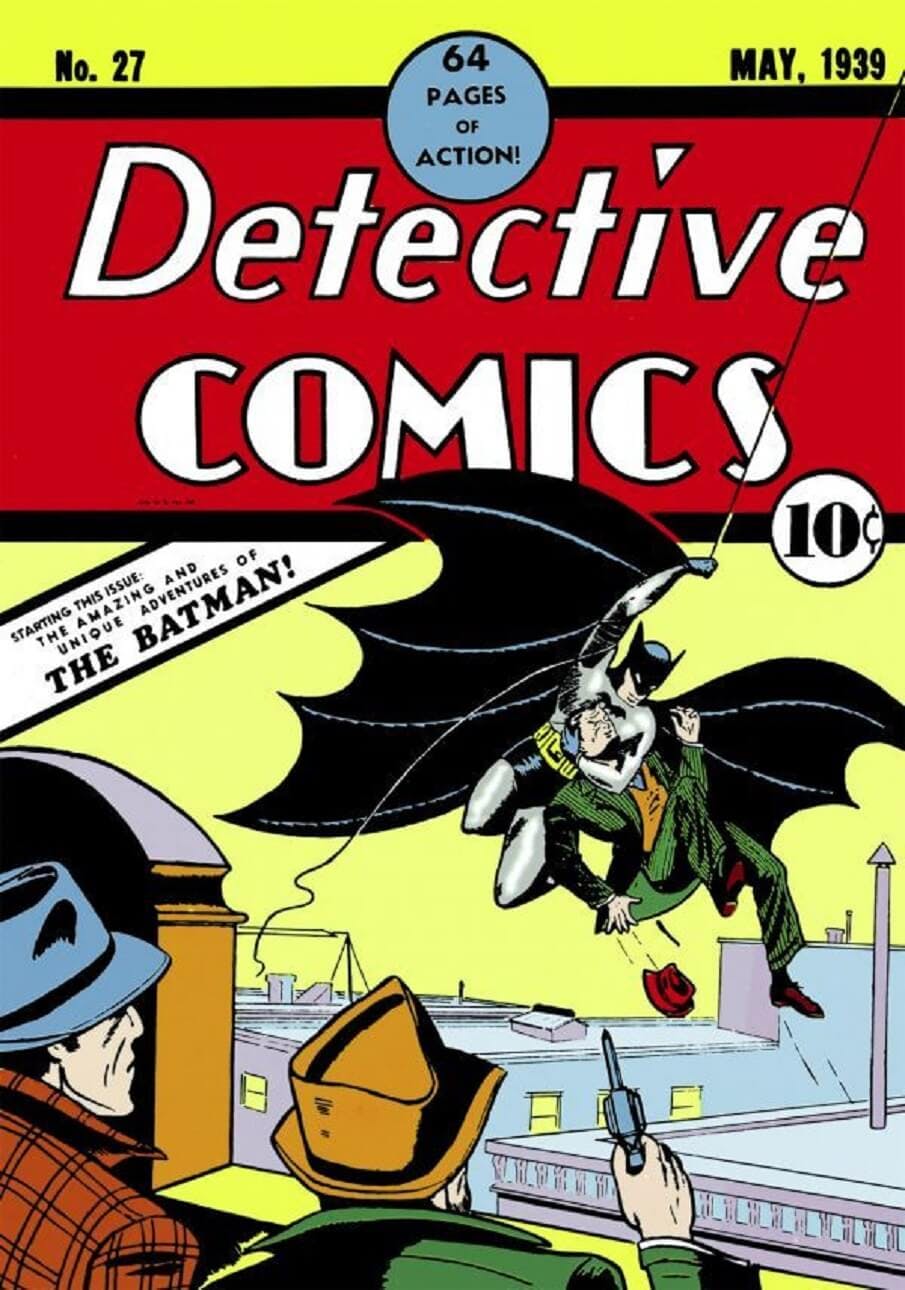 When it comes to classic Detective Comics covers, it doesn't get more classic than this. The cover for Detective Comics #27 is one of the most recognizable comic images in the world. With art by Bob Kane, this cover featured Batman's first appearance, as he grabbed a struggling crook in midair. Without any dialogue saying a word, readers immediately get a sense of who Batman is and the effect he has on the criminal underworld. Not many comic images from 1939 can hold up 80 years later, but and none have the legacy of this one.  
Detective Comics #31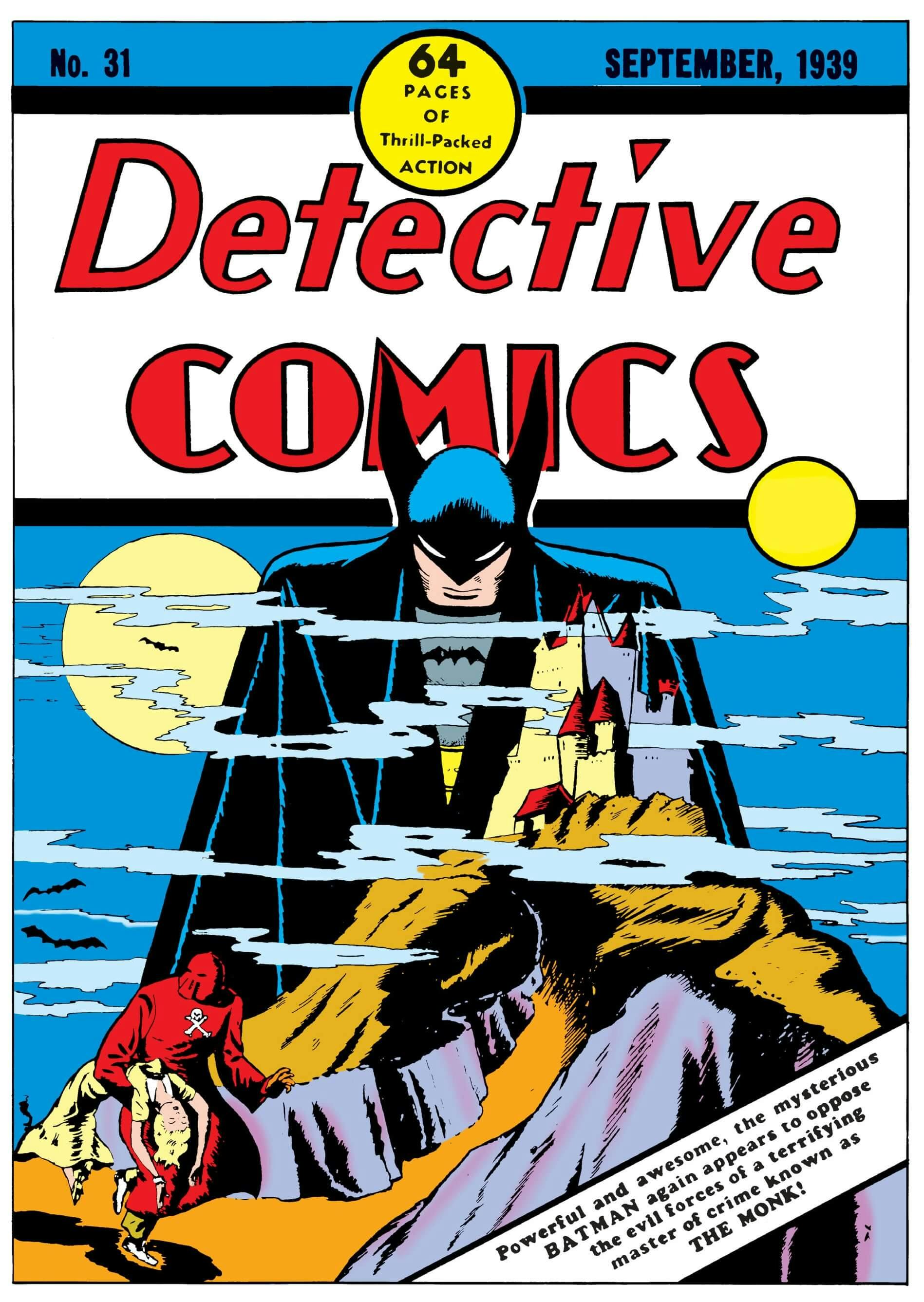 In Batman's first few Detective Comics stories, it's clear the comic was still trying to find his tone. In Detective Comics #31 (published in 1939), Batman tries to rescue his fiancée Julie Madison from werewolves and vampires in a gothic setting perfectly captured in artist Bob Kane's cover. The image looks like it came from the front of a horror pulp magazine, and Batman appears far more terrifying than the villain as he towers over the haunted house. This chilling visual was so memorable that Neal Adams created paid homage to it for the cover of Batman #227. 
Detective Comics #38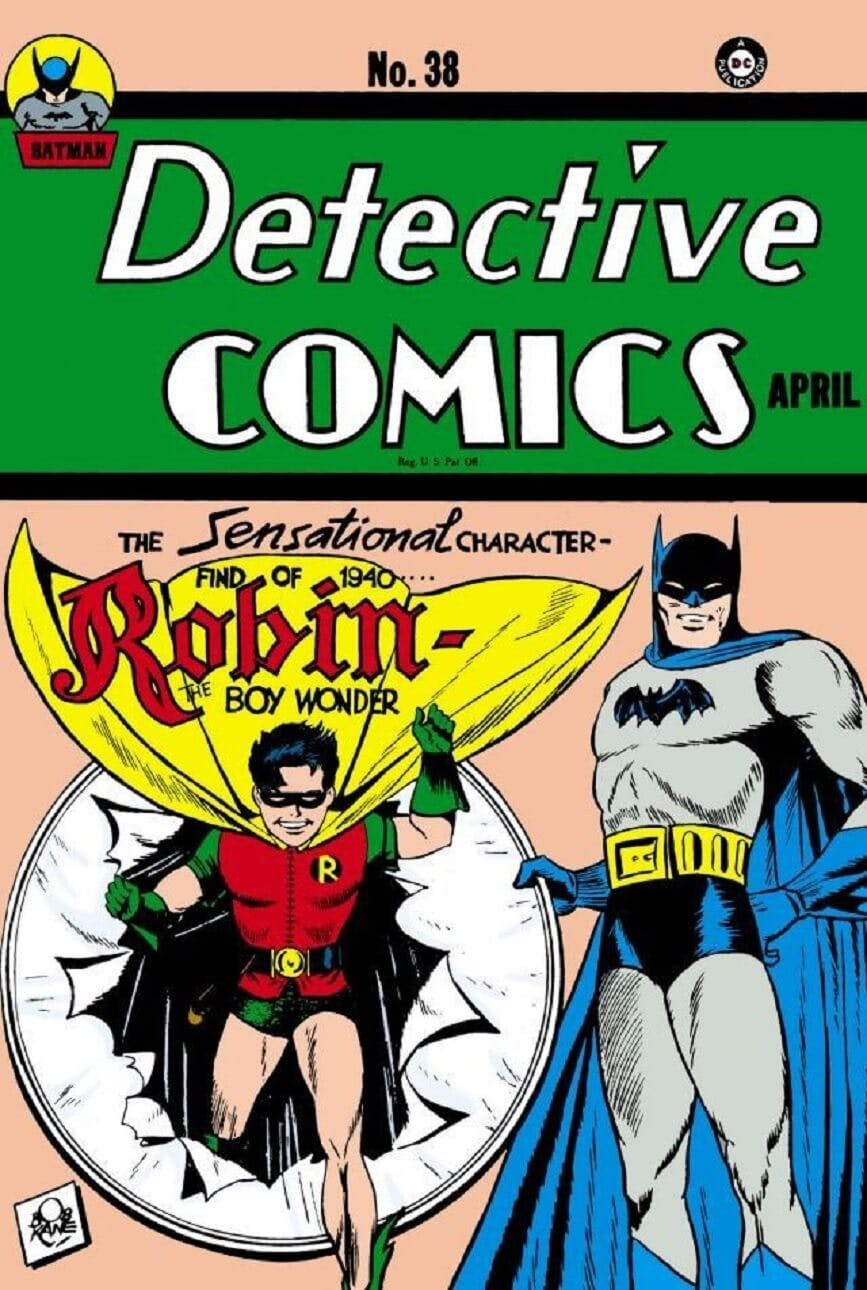 In 1940, artists Bob Kane and Jerry Robinson introduced the world to Robin the Boy Wonder on the cover of Detective Comics #38. Robin's debut changed the series forever, and the first indications of that change can be found in this cover image. Not only is the color pallet brighter, but Batman can be seen doing something he'd rarely done before – smile! When Robin bursts through the cover's drumhead, he took Detective Comics, and readers, in a new direction from which there was no looking back. 
Detective Comics #156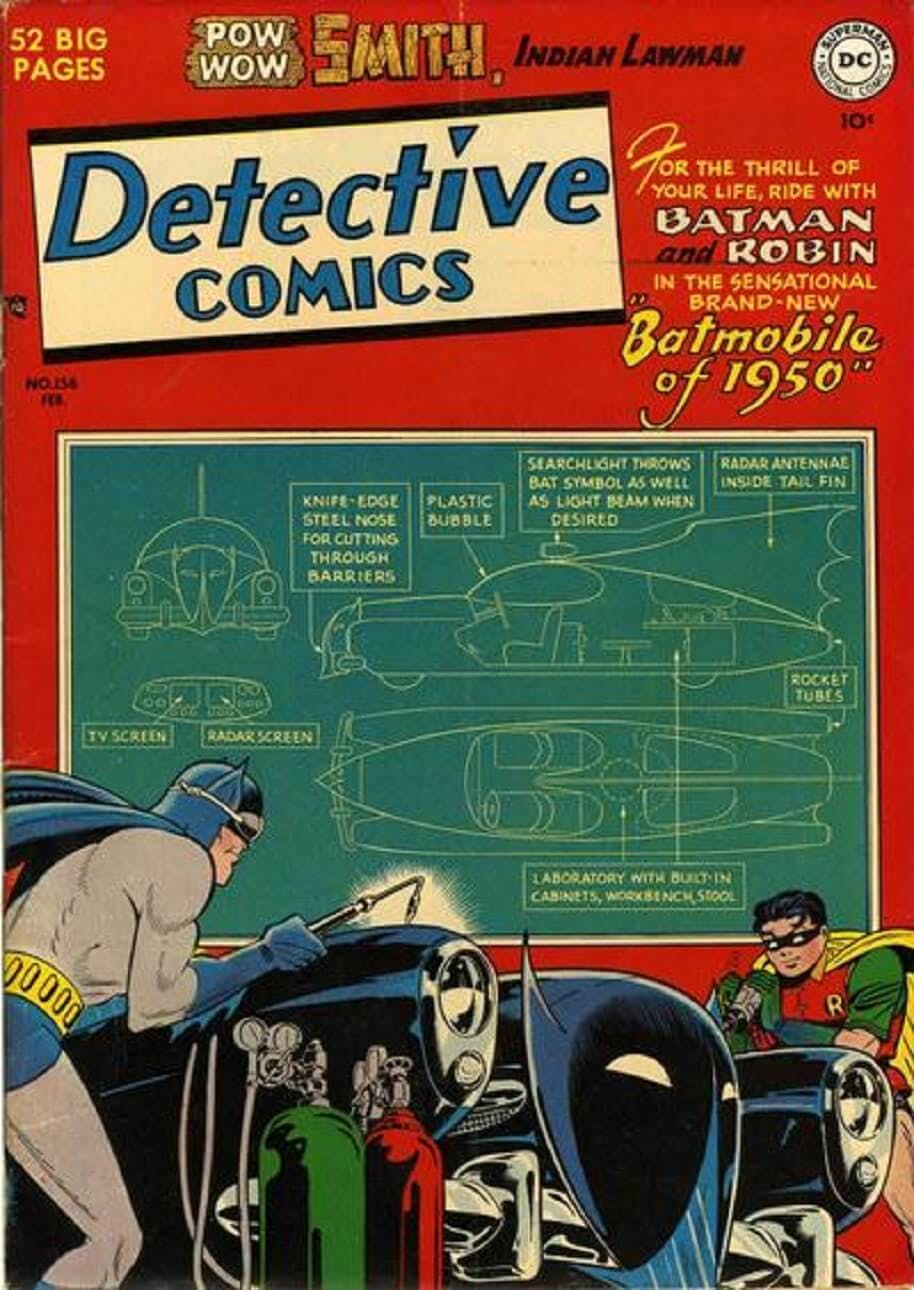 When people think of Batman in the 1950s, the art of Dick Sprang is what usually pops into their heads. Sprang's stylized, impeccably rendered drawings of Batman, Robin, their gadgets, and villains; and defined the decade. Nowhere is that more apparent than on the cover to Detective Comics #156. The image depicts the Dynamic Duo giving the Batmobile an upgrade; which resulted in the vehicle's iconic look for years. Although Batman and Robin aren't fighting crooks, so great a draftsman was Sprang that he had the uncanny ability to make even an image of the Dynamic Duo fixing up a car into an unforgettable cover. 
Detective Comics #359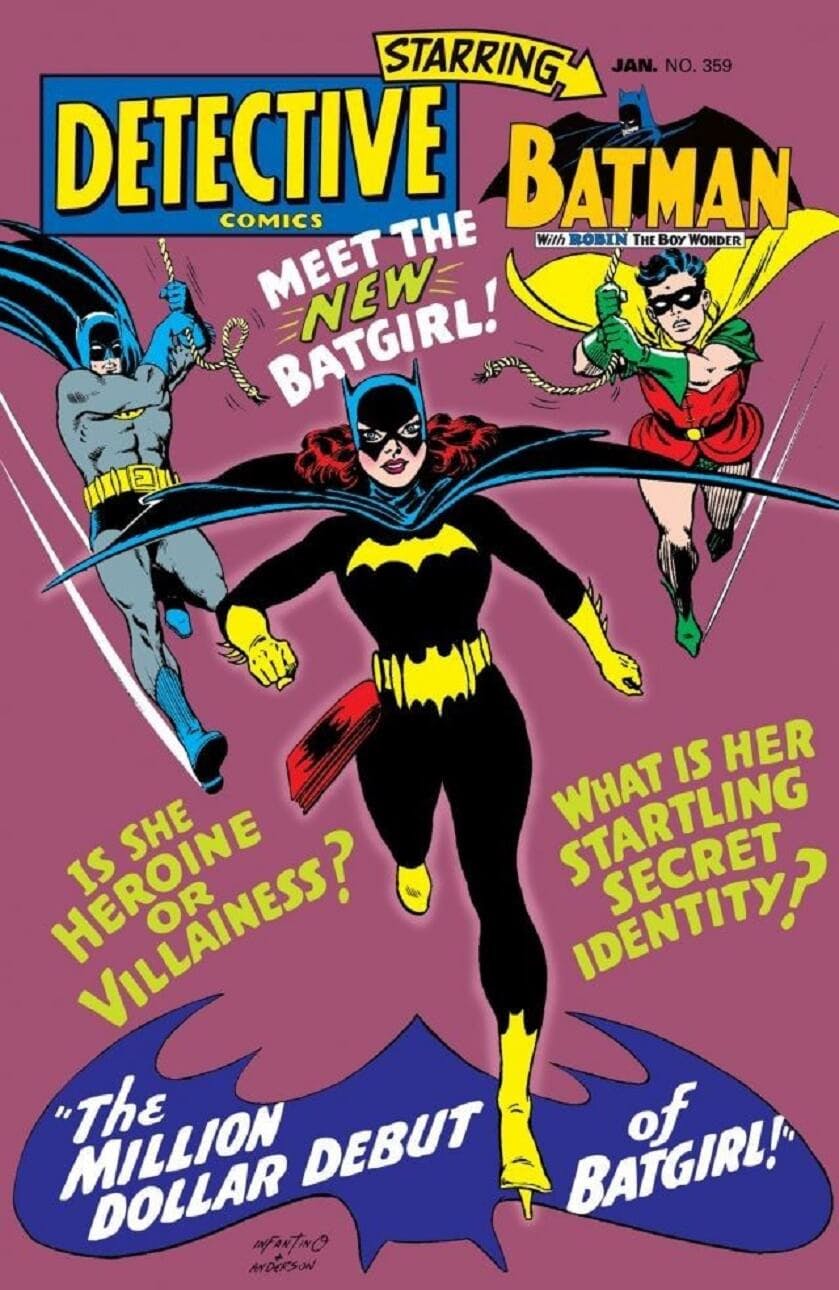 Detective Comics #359 saw the debut of Barbara Gordon as Batgirl, and artist Carmine Infantino made sure she arrived with a bang! This cover, designed at the height of 1960s Batmania, features four different blurbs -- each designed to grab readers' attention and raise their curiosity about the new Batgirl. You can almost hear Batman TV show narrator William Dozier's voice as you read it. Barbara wasn't the first woman to wear the Bat mantle, but the cover made it clear she was going to be very different from her predecessors. While the previous Bat-Girl and Batwoman often took a backseat to the Dynamic Duo, Barbara places herself front and center in the cover's foreground, while Batman and Robin remain in the background. This may not seem like a big deal in 2019, but in 1967 it was nothing less than revolutionary. 
Detective Comics #475

In the 1970s, artist Marshall Rogers partnered with writer Steve Englehart to craft some of the best Batman stories of the Bronze Age -- or any era that followed. Among the team's best-loved stories was Detective Comics #475, "The Laughing Fish" (later adapted into a Batman: The Animated Series episode). It featured a memorable cover by Marshall Rogers featuring the Batman fighting the Joker. In his inimatable style, Rogers achieves the difficult balance of making the Joker both funny and scary at the same time. Batman's foe looks menacing on the cover, but one can't help but smirk at his Joker Fish; lleading readers to ask the same question the cover blurb does: "What is the secret of The Joker's new weapon...?" 
Detective Comics #526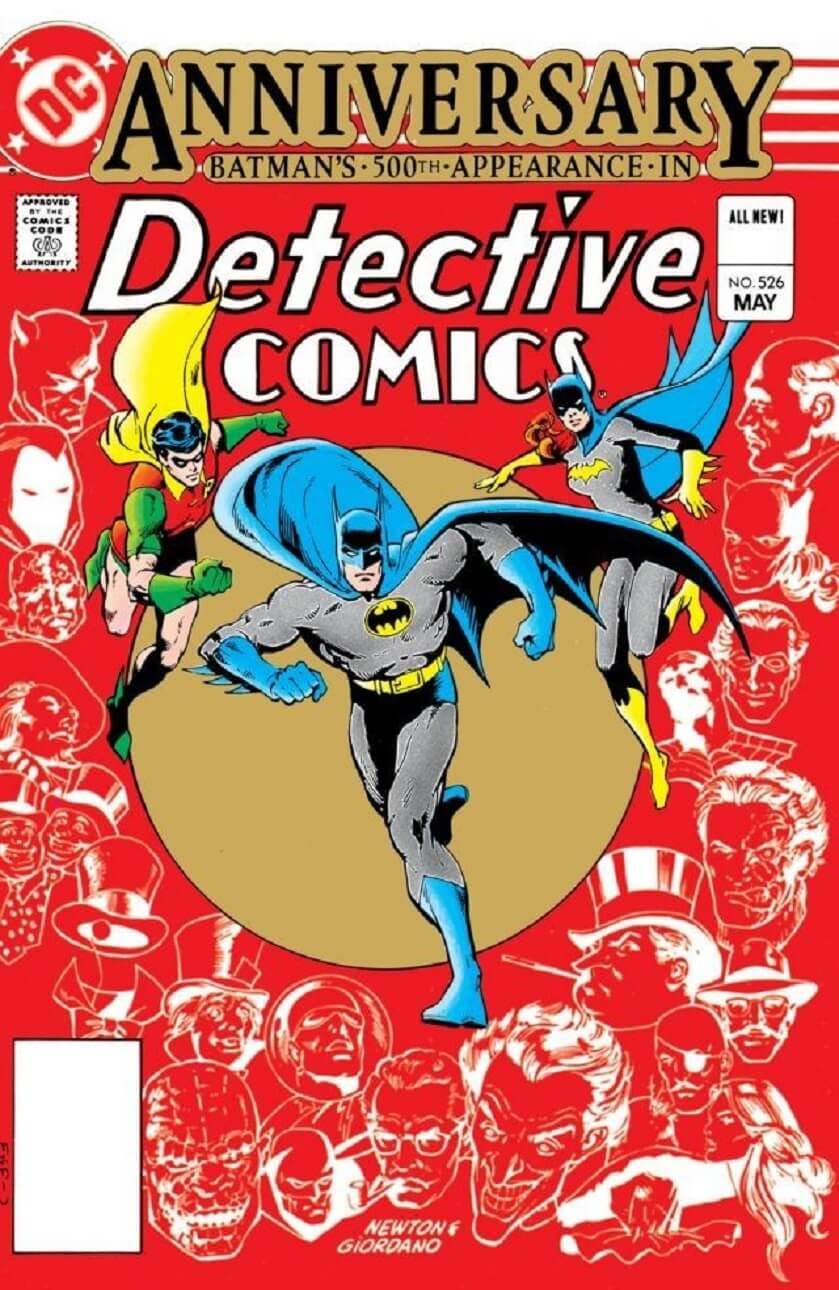 In 1983, DC Comics celebrated Batman's 500th appearance in Detective Comics with a special anniversary cover by penciler Don Newton and inker Dick Giordano featuring Batman, Robin, and Batgirl against a backdrop of their greatest foes. Robin looks intense and ready for action, no longer the grinning boy daredevil he was in 1940; demonstrating just how far the series had come. The cover and the story within also mark the last time Dick Grayson, Barbara Gordon, and Bruce Wayne appeared together as a trio for over ten years. It was also Barbara and Dick's last interaction until the 1990s, making the image even more poignant. With the introduction of Jason Todd (who met Bruce Wayne in this issue), the Batman books were ready to begin their next phase. If Detective Comics #526 was a crossroads, then its cover was the rearview mirror showing readers all that had come before.  
Detective Comics #587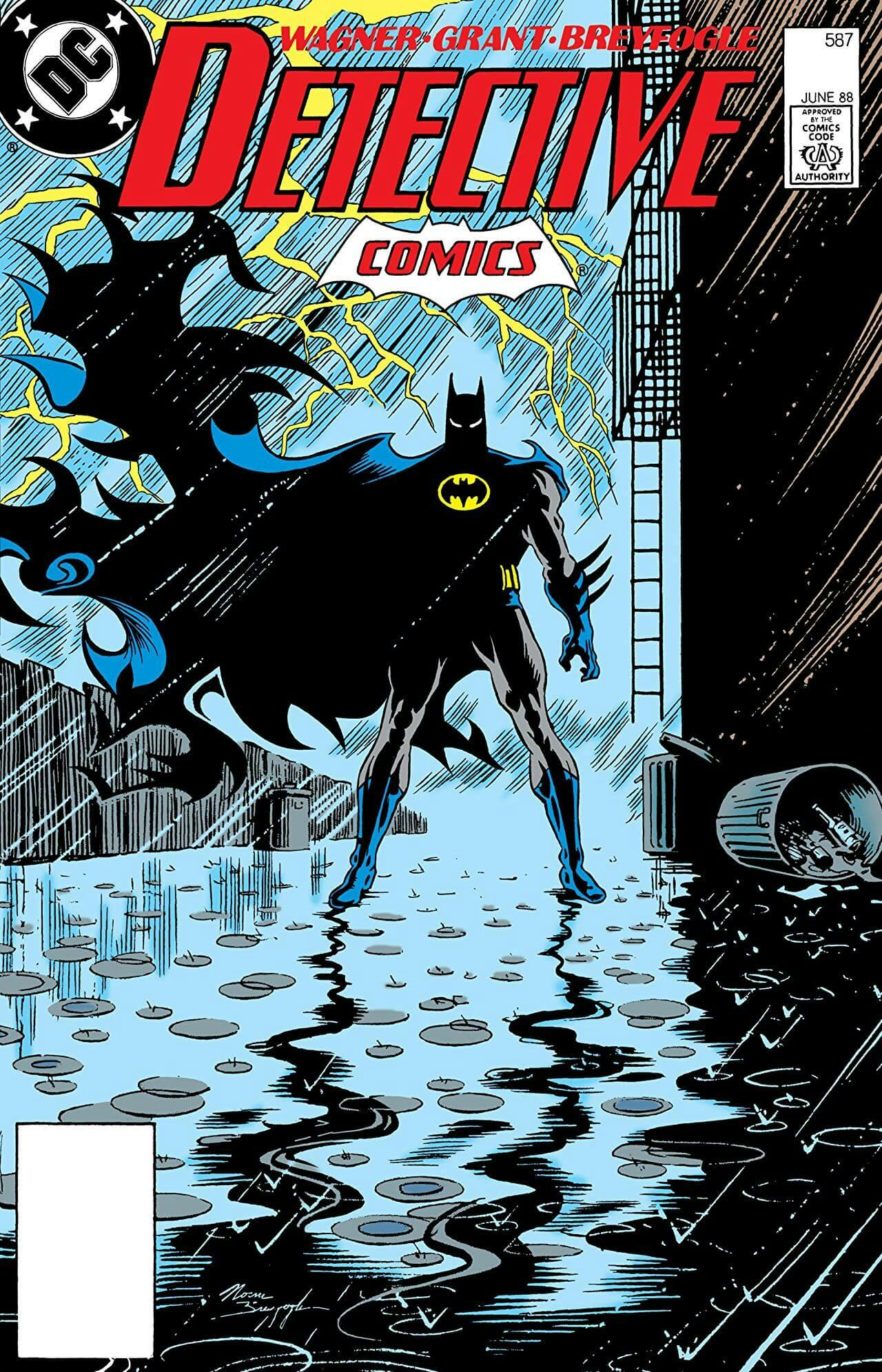 Artist Norm Breyfogle had the unique talent of showing readers how Batman appeared in the eyes of Gotham's criminals. It's easy to see why the crooks of Gotham are a superstitious and cowardly lot when looking at the cover for Detective Comics #587. The Dark Knight's cape has its own presence, a demon rather than a costume accessory. The shadowing over Batman's face, leaving only his eyes visible, makes the Caped Crusader far more than human. The added rain and lightning result in a cover guaranteed to send a chill up the spines of all Batfans. 
Detective Comics #665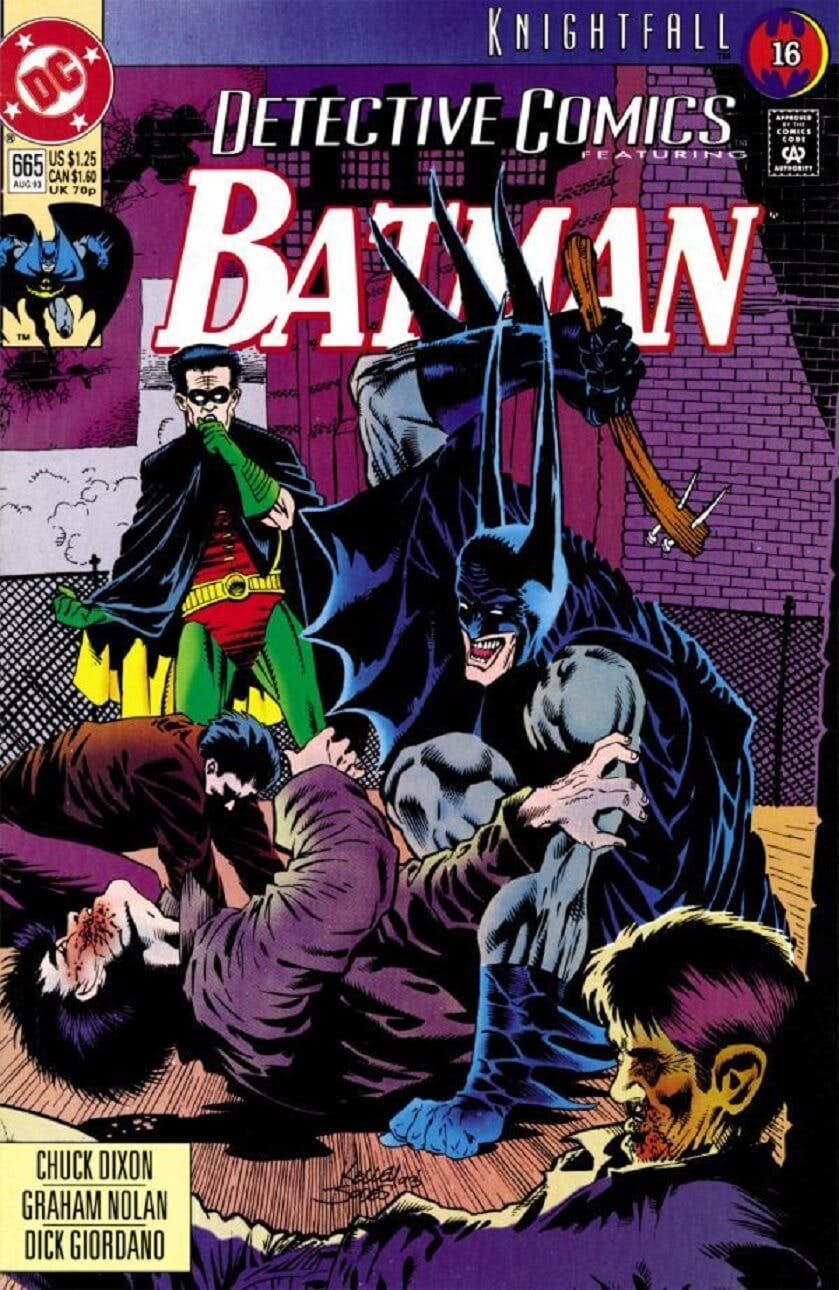 In the classic 1990's event "Knightfall", an injured Bruce Wayne bequeaths the Batman identity to John-Paul Valley. Things don't go so well when it turns out Valley is an unstable assassin. This story beat from Knightfall is perfectly summed up in the cover for Detective Comics #665. Artist Kelley Jones illustrates an unhinged Dark Knight pummeling a criminal in the face. Even though John-Paul Valley is wearing a mask, Jones is able to make his face expressive enough so readers can see the joy he's getting out of the violence. It's easy to feel a kinship with Robin, since we're reacting to the carnage much like he is!  
Detective Comics #854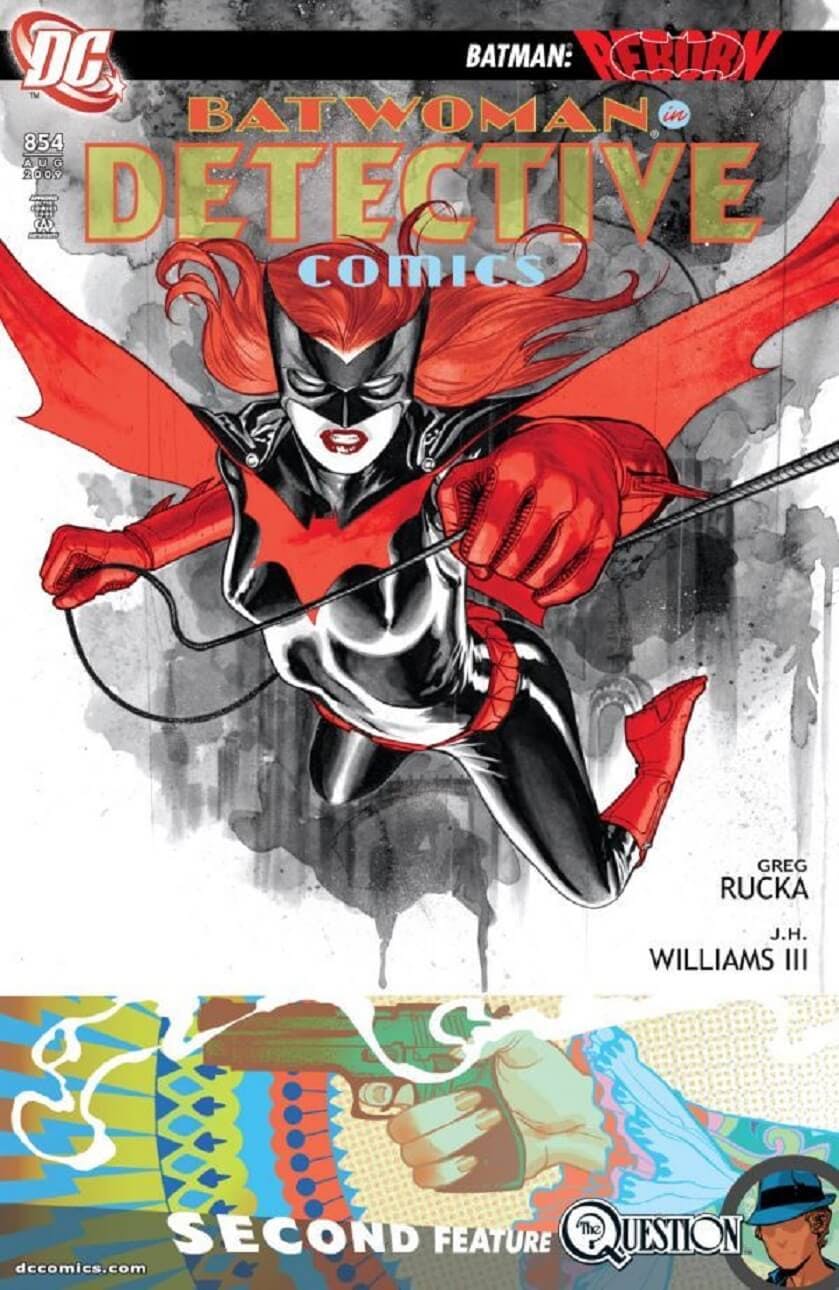 Detective Comics #854 wasn't the first time readers met Batwoman, but its gorgeous cover by J.H. Williams III made fans see her in an all-new light. After the events of "Batman RIP", the Batman comics went through a restructuring which led to Kate Kane taking over Detective Comics. Writer Greg Rucka and artist J.H. Williams III reinvented Kate in the acclaimed "Elegy" storyline, and its covers heralded its beauty. At the time there was no book quite like Detective Comics, and Williams' covers were trendsetters. 
What's your favorite Detective Comics cover? Let us know in our Community.